The Enduring Aesthetic Of Australian Designer Akira Isogawa
A new book exploring the poetic aesthetic of Australian designer Akira Isogawa coincides with an exhibition dedicated to him at Sydney's Powerhouse Museum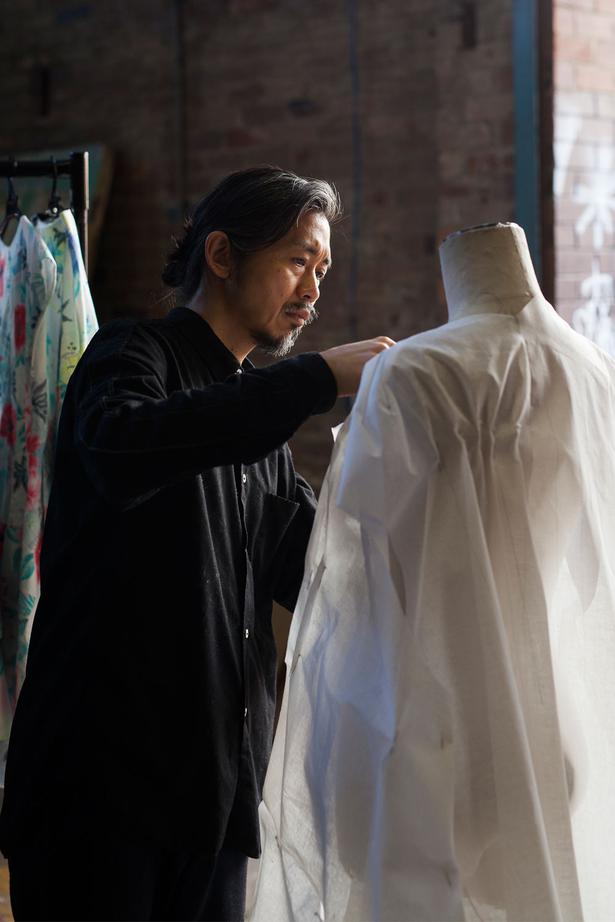 Friday Dec. 14, 2018
Born in Kyoto, Japan, Akira Isogawa arrived in Australia in 1986 as a young man. He graduated from East Sydney Technical College in 1991 and launched his label in the same year. His signature East-West aesthetic and poetic manipulation of fabric, form and embellishment have captivated fashion audiences around the world.
In her new book, Akira Isogawa: Unfolding a Life in Fashion, leading Australian fashion writer and journalist Georgina Safe explores what makes this man and his label so unique. Here we share parts of the book and his story.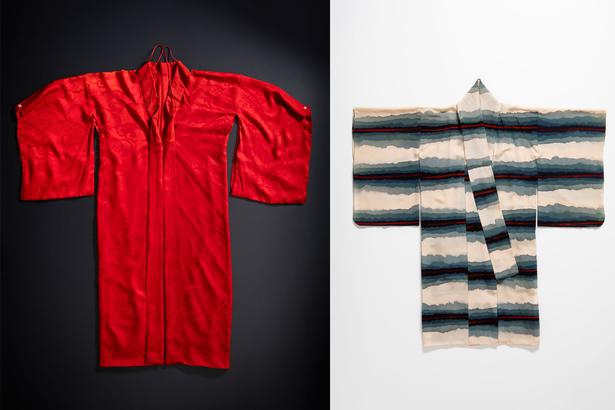 TRADITION
When Akira received his first order from Browns in 1997, he didn't have enough vintage kimonos to meet the demands of London's most influential boutique. "It was a very important order for me, but then I realised I couldn't deliver what they wanted," he says. The solution was to create his own kimonos based on vintage motifs and colour palettes, which Akira started doing with a little assistance from his father.
"Being a public servant and working at the Kyoto town hall, my father made a few phone calls to his connections and set up introductions for me," he recalls. "He helped me make an appointment with a kimono manufacturer in Nishijin, and that's when I started manufacturing brand-new silk kimonos." Nishijin is a district in Kyoto known for its weaving and traditional textiles.
Nishijin weaving began when the Hata clan arrived from China in the 5th to 6th centuries and settled in the Kyoto area, bringing with them sericulture (the cultivation of silkworms) and silk weaving. As Kyoto was the capital of Japan for over a thousand years, many aristocrats lived there from the end of the 8th century, and the luxury silk textile known as Nishijin-ori developed a loyal following among members of the wealthy classes. "Because royalty was there, demand was there, and the Nishijin weavers specialised in exclusive textiles you could not find anywhere else," says Akira.
READ: New Zealand's Best Designers Nominate The Next Generation Of Talent
Those textiles were defined by their skilful combination of different types of coloured yarns, woven together to create decorative designs handed down over generations, including scenes of nature, different species of birds and myriad varieties of flowers. However, today the number of kimono and obi makers is declining. As a result of reduced demand, the families of manufacturers, weavers and other craftspeople are finding their livelihood and vocation harder to sustain.
"The weaving carries so much tradition and history, but it's very expensive and there are no longer as many craftspeople as there once were," explains Akira. In 2015 he shifted his textile operations to Nishiwaki, a small city two hours west of Kyoto that is also renowned for its cloth-making traditions, but with cotton rather than silk. Akira visits regularly and each time stays for three days to work closely with the weavers to develop exclusive textiles.
"Nishiwaki specialises in weaving yarn-dyed cotton called Banshu-ori, which is cotton that is dyed before weaving. This means you can create your own pattern because the yarn is dyed specifically to your requirements," says Akira. "It enables you to create motifs that are highly technical."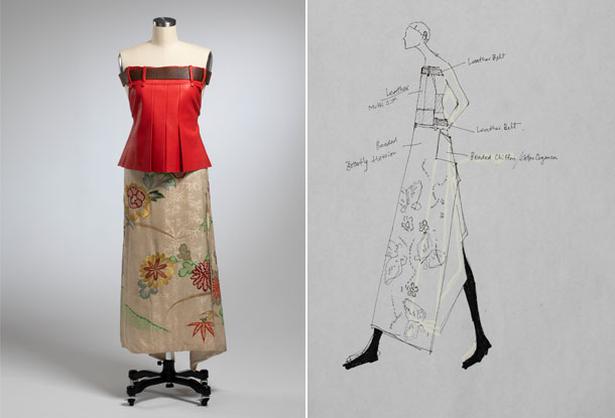 MOTIFS
Birds and flowers are the most common motifs on kimonos, and certainly the most common in Akira's own designs. "The meaning of a bird in Japan is birth," Akira explains. "Anything you want to celebrate, like a marriage or birth, you use a bird because it's a symbol of renewal or a new beginning and it gives a real sense of lifting your spirits." Large, colourful birds are embroidered, beaded and printed onto his garments, as are peonies and chrysanthemums. These flowers are appliquéd or embroidered in delicate cascades down shoulder straps or scattered over light gauzy layers of fabric.
READ: Why We Need A Fashion Revolution
"My first memory of flowers was at the age of 4 or 5, when I picked them during summer vacation in my grandparents backyard," remembers Akira. "I used to crush them so that the juice would come out and then soak them in water so I could see what the colours would do. It was my way of experimenting and playing with flowers, because I wanted to discover the essence of the colours."
Akira's favourite drawing subject was also flowers. "I don't remember drawing anything like cars or aeroplanes; I was more interested in the natural world and organic forms. Drawing flowers was the main theme, along with scenery like mountains and rivers."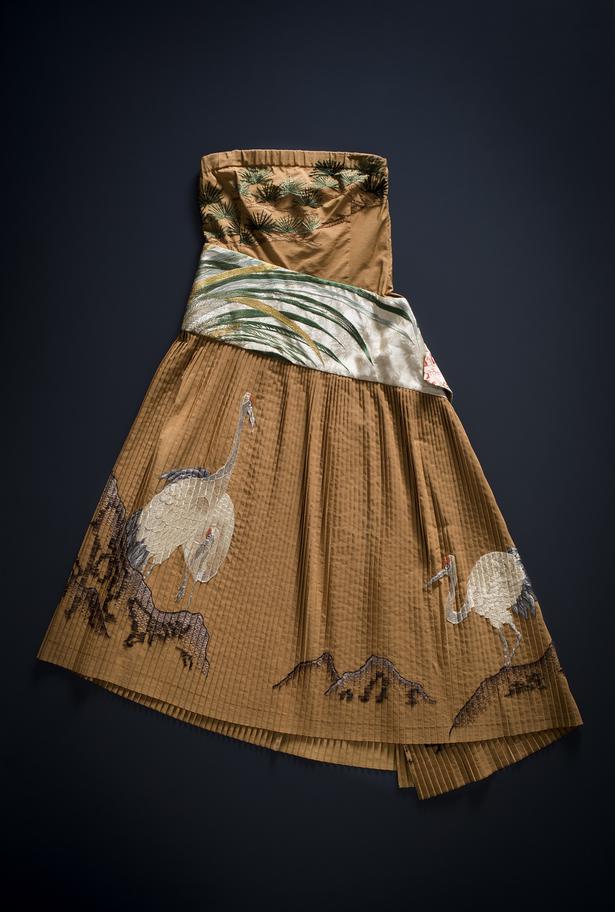 TRAVEL
Akira spends at least one-third of each year on planes and on the road. He journeys to cities, villages and rural areas throughout Asia to work directly with craftspeople to develop the diaphanous, layered fabrics and intricate embellishments that define his designs. "Many designers buy fabrics already made but I've hardly ever bought fabric off the rack. It's always been part of the process that we develop new fabrics. I cannot explain why, but this is what we do," he says. While some designers focus on shapes and cuts, Akira is obsessed with the tactility and movement of textiles.
"My fascination is really in textile design and that's where the design process starts." Each collection begins with him thinking about what sort of textiles he is interested in using for that particular season.
READ: Meet Tigra Tigra, The Cult Clothing Label Celebrating Indian Craft
"It could be a specific colour palette or some kind of decorative element like embroidery, beading or origami smocking." He works with textile weavers in Kyoto and Nishiwaki, while embroidered textiles are produced in Bali, Indonesia, and previously in Mumbai and Kolkata, India. He works with a batik maker in Ubud, Bali, and most of the embroidery for his wedding dresses is done in Suzhou, China.
Shibori is also done in Suzhou, although some shibori garments are made from textiles sourced from Japan. Wherever his globetrotting takes him, at the heart of what Akira does is a commitment to preserving traditional skills while giving them a contemporary update. "It's so important to keep these specialised crafts alive, and to show they can be as relevant and desirable now as they were in the past."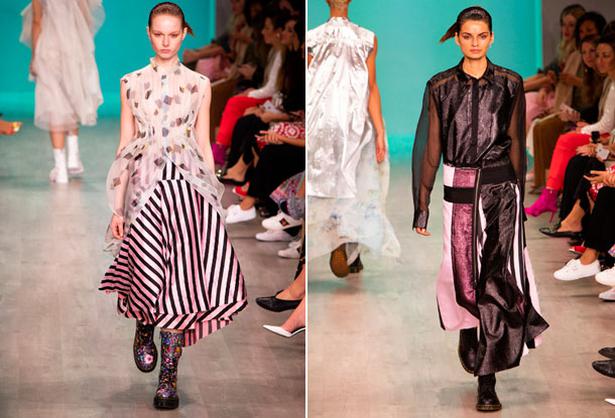 ANDROGYNY
As a garment worn by both sexes, the gender fluidity of the kimono has infused many of Akira's collections. Androgynous and unisex elements run through his designs, in particular those of his Duality collection, Resort 2018, for whichAkira himself became the house model for womenswear and menswear.
"My Duality collection was more gender-fluid than usual because my house model Christiane Lehmann was absent, so I became the fit model,"says Akira. "It didn"t matter if it was a dress, jacket, pants or skirt, I tried it all, and in terms of the shape of the garments I felt I could wear every single piece."
READ: Get To Know Kowtow's Artful New Designer
On the runway this translated to skirts and dresses on male models, man-style trousers, jumpsuits and shorts on women, and juxtapositions featuring the same garments worn by both sexes. The collection was partly inspired by Akira's belief in gender fluidity in fashion, stemming from his childhood in Kyoto.
Akira Isogawa Unfolding a Life in Fashion by Akira Isogawa with Georgina Safe published by Thames & Hudson in association with the Museum of Applied Arts and Sciences (MAAS) $90.
• Akira Isogawa, Powerhouse Museum, Sydney, 15 Dec 2018-30 June 2019. Visit Maas.museum/akira
Share this: