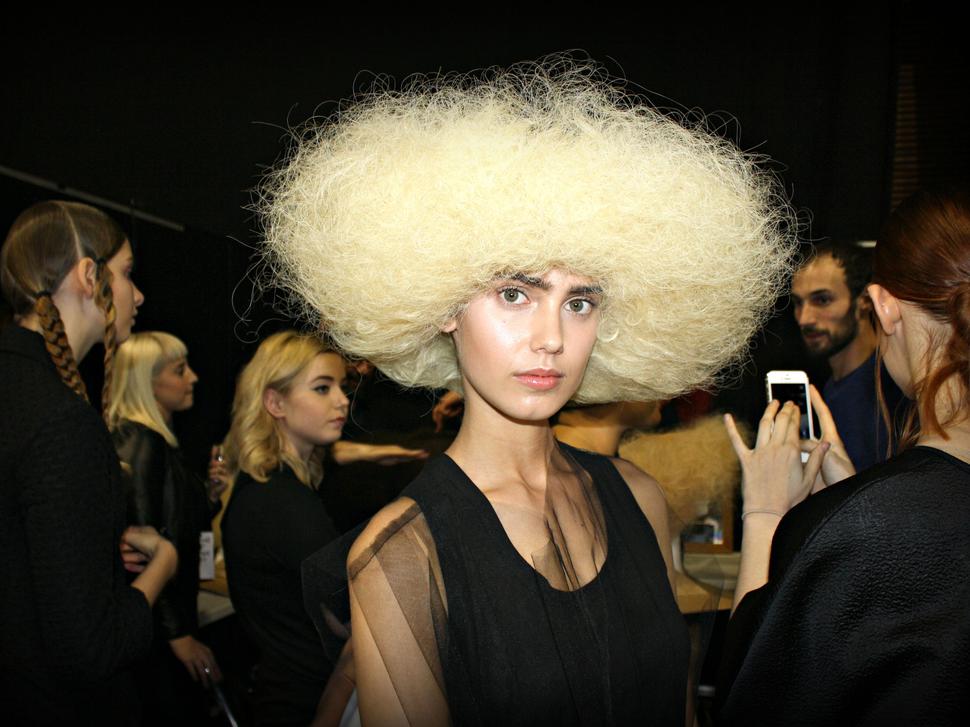 The Fabrication of Hair
Leading stylists turn the tables on concepts of fashion and beauty at New Zealand Fashion Week
Tuesday Aug. 25, 2015
From tonsure and tufts to afros and avian-like aliens, the hair looks at Exhibit were a creative exercise in treating hair as fabric. Shaped and reshaped, styles soared and swung into dramatic relief.
Freed of the restraint of styling for the runway to fit a designer's brief, five salons relished the chance to present their own visions. As a Fashion Week show, Exhibit suffered from too many, too long voice-overs and sponsors clips interspersed between the action, but when attention centred on the runway it was an avant garde exploration of artistry.
Backstage beforehand, Greg Murrell of Ryder salon pointed to a punk influence in his segment that was apparent in other approaches also. "That era is very attractive to us as hairdressers because it was an experimental time, with more individual looks."
Paul Serville, who is celebrating 30 years in business under his own name, summed up how to successfully mine influences while keeping it fresh, by saying it is "about what you're doing now and what you're doing in the future with your trade." Like Murrell, Serville is letting talented staffers extend the salon vision by sharing creative control.
Collaboration was a theme of Exhibit, with hopes it will be a repeat event, involving a cross-section of industry types keen to show their skills outside the competition circuit and free of the constraints of styling for others. The foundation five had plenty to offer, so with a fine-tuned format, hats off to hair as a standalone runway fashion statement.

D&M hair design: Black Swan meets Mohican aliens
From the dancer who opened the show in a black tutu, to models in feathered headpieces and capes, the tribal symbolism of birds and sorcery was underscored by shiny black hair. A feathery mullet, a plait as plumage, a crest formed by two giant sci-fi rolls. Danny Pato and his team are known for striking photographic campaigns, now they can add avian theatre to the salon resume.
Toni & Guy High St: Jane Austen goes to town
Think Georgian heiresses transported to post-punk London for a big night out. Distressed, but prettily textured styles combining loose French rolls and small topknots, crafted with braids. In a New Zealand fashion context, this recalled the styling at early nom*D shows, with the addition of soft makeup courtesy of Smashbox. Each look was individualised. Exaggerated folded quiffs and bold winged eye makeup extended the range on offer. Bronwyn Illingworth explained the varying styles drew on Toni & Guy's long-standing links with London Fashion Week, drawing on work that has been seen there over the last few show seasons. "Makeup, fashion and hair they all inspire each other."
Servilles: Getting wiggy on it
Horizontal halos of white and red were removed at the end of the runway by creative director Raymond Robinson. Each had been teased into a surreal saucer from wigs made of real hair. Revealed were models with slicked down scalps extending into plaits or sectioned into braids of varying sizes. The inspiration: a couture version of a 70s afro. The unveiling: worn this way, braids still have the fashion factor. The impact: Simple and striking.
Fabrik: Bobble-head birds' nests
"I like taking hair out of context and trying to use it," Jaime Dryden explained before the show. This includes using cuttings to fashion skulls of dyed human hair which models carried Hamlet-like down the runway. Not as macabre as it might sound, given the way skulls have become a fashion accessory. Dryden's are colourful, like the hairballs of varying sizes he attached to teased heads. "Hair is a fabulous fabric," he reckons. So we get playful pompoms and multi-colour braids from this Scotsman relocated to Hamilton who called on local label Nyne to outfit his salon's dotty doll-like models. The idiosyncratic mix made me smile.
Ryder: Punk monks and bald beauties
The show set out to explore notions of baldness in feminine beauty, explained salon founder Greg Murrell. Senior staffer Nicholas Macaulay led the way backstage readying 16 models in skin-toned skull caps with human hair attached in tufts, ruffs and topknots, lending a look both punkish and monastic. Eyebrows were exaggerated, with moody eye makeup from the M.A.C team a contrast to the model's pared back pates. AUT fashion graduate of 2014 Jarrad Godman (subs note both names correct) showed he is one to watch by crafting a black collection for the show. It played up tonal texture and drape in keeping with the mood of spare severity and otherness allowed.
Share this: