The First Monday in May: An Honest Look at the Met Gala
A new documentary examines the Costume Institute's 2015 exhibition China: Through the Looking Glass, writes Jessica Beresford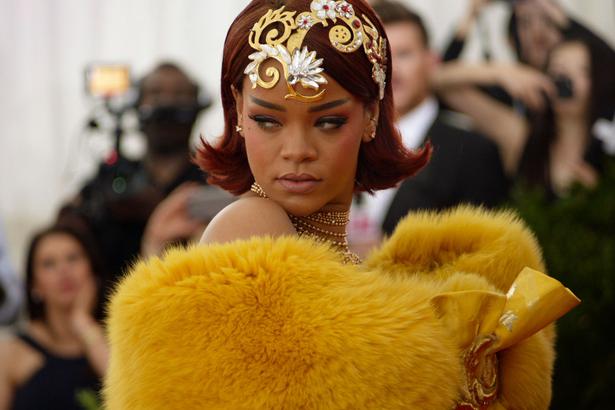 Wednesday July 6, 2016
She walks towards the stairs, pauses, and looks over her left shoulder. A few more steps, pauses, and looks back towards her right, expression poised and severe. Around her there are cheers, flashing bulbs, people standing at attention. She's performing a routine worthy of a member of the royal family — except she's anything but.
As she ascends the red carpet, her buttery yellow cape, made with metres of gold thread and fox fur, cascades back down behind her. Finally, and only for a moment, her face erupts in a smile like an excited schoolgirl, before returning back to that focused glare. "Queen of the Night," exclaims Andre Leon Talley, the larger-than-life contributing editor of American Vogue. "Oh, I love a girl from humble beginnings, who becomes the big star. It's like the American dream."
It was a well-documented moment of 2015, when pop star Rihanna arrived at the Met Gala in that extravagant cape by designer Guo Pei, and one that's highlighted in Andrew Rossi's new documentary The First Monday in May. The film examines the much talked-about annual ball, filled with celebrities, fashion designers and some of the art world's finest, which introduces the Costume Institute's spring exhibition at the famed Metropolitan Museum of Art in New York.
The film-maker, who also directed Page One: Inside the New York Times, was approached to create the film by Vogue's editor-in-chief Anna Wintour, who's tasked with pulling together the Met Ball each year as a fundraiser for the institute, as well as creating buzz for the exhibition itself.
"I was excited to go inside the Metropolitan Museum of Art and to do so in a way that would bring life to the curatorial process, to understand how decisions are made about what the art should be that hangs on these august walls," says Rossi over the phone from New York.
"I think [the film] really tackles a lot of big issues, like the marriage of art and commerce, whether fashion both on aesthetic and cultural grounds should be considered art, how cultural appropriation can in some cases result in politically insensitive work, but also refract into aesthetically interesting work."
The First Monday in May has two main subjects: the institute's curator Andrew Bolton, who is lovingly assembling 2015's exhibition China: Through the Looking Glass, and Anna Wintour who, with the help of Vogue staffers, is preparing for the gala. Together, they represent the marrying of art and commerce, which is integral to the gala and the film.
"It's an argument that's being made throughout the movie, and we see it when curator Harold Koda talks about Warhol redefining art as something that can have a commercial life, but can still be considered art. We see it in terms of the spectacle of the gala, and just constantly shuttling back and forth between this dual narrative structure between Anna and Vogue and the kind of cultural machine that she runs, and then the other cultural institution of the Met," says Rossi.
It's a unity perfectly illustrated by Rihanna's momentous ascent — which acts as a bully pulpit for fashion to create meaning, says Rossi. "Rihanna with all of her biography, as a rockstar and also as someone who's had experiences with her boyfriend and other things, she kind of wears this princess-like dress with the authority and gravitas that makes it special, particularly to certain audiences who follow her or care about her work."
While Wintour discusses the politics of seating plans and examines table decorations, Bolton tip-toes around issues of misrepresentation of China in a western context. "It was already a debate that was taking place in different outlets online, about whether the show was going to be culturally insensitive," Rossi says. "I thought it was important to have Andrew Bolton explain why he supports the prerogative of the designer to take on different cultural influences and create an independent work of art even when some of those sources are compromised."
READ: Andrew Rossi's Full Interview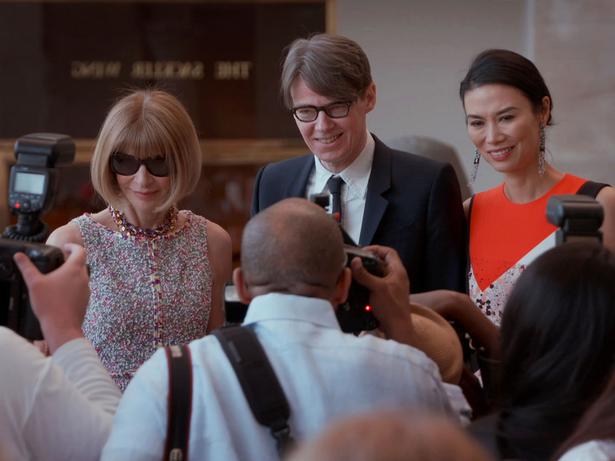 As well as looking at the nature of the exhibition, Rossi turned the lens on Wintour herself, looking at her separate work and personal lives, as a way to draw parallels between western and eastern stereotypes.
"I think that many women who are in a position of power, particularly in the United States, have been talked about as a Dragon Lady, which comes from a Chinese stereotype but it kind of crosses different boundaries as a trope for women in power.
"I think the Anna Wintour we see in the film is not afraid of conflict, and she can sometimes act in a way that may not seem particularly gentle, but nonetheless doesn't seem irrational or unfair."
Although seeing a different side to Anna Wintour will certainly stoke audience interests, one of the most intriguing aspects of the film is the inside access granted to an event that is largely shut off to the public. After the glossy red carpet, the camera follows celebrities in elaborate gowns struggling to navigate stairs, Lady Gaga requesting a mainline of pinot grigio to the arm, Justin Bieber breaking into song with Balmain creative director Olivier Rousteing and Chloe Sevigny being designated a seat on a far-flung table.
"No one can help but feel like it's a little bit like high school, where the popular kids are sitting in a certain place, and there's a pecking order," says Rossi. "It was important to authentically depict this event, and even somebody as cool as Chloe Sevigny has to sort of recognise her place among the other famous people."
And then there's Rihanna, a People's Princess, stripped of her cloak, continuing her performance art while belting Bitch Better Have My Money to the crowd of impeccably-dressed guests: the perfect combination of art and commerce.

• The First Monday in May is showing at this year's New Zealand International Film Festival, July 15 and 17. For tickets, visit nziff.co.nz
Share this: