The Glamorous, Glittering Gaultier Show
Jean Paul Gaultier flew into Melbourne for the opening of his exhibition, with a lot to say. Fiona Ralph meets the chatty Frenchman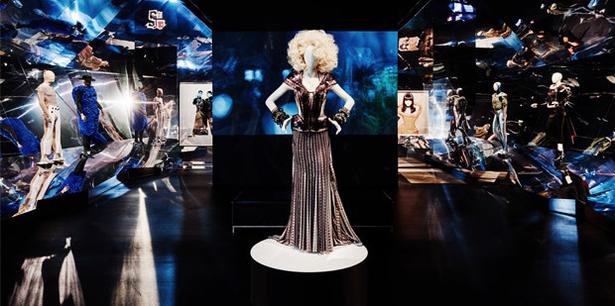 Wednesday Oct. 22, 2014
It's more travelling stage show than collection of dresses. Stage show, crossed with rock concert, outlandish gypsy wedding and most fabulous gay club. A whirlwind tour through the world of Jean Paul Gaultier - featuring as many cultures, genders, sequins and historical references as one gallery can handle. More than 140 exquisite garments, spanning almost 40 years.
From the conical-breasted mermaid on crutches (Mermaids collection, spring 2008), to the caged corset gown with metre-long train, (Around the World in 168 Outfits, spring 1989), to the flesh-coloured jumpsuit from autumn 2003, complete with red sequin veins and glittering heart.
Jean Paul Gaultier: From the Sidewalk to the Catwalk opened at Melbourne's National Gallery of Victoria. Navigating the rooms, you're taken on a journey, through themes such as Skin Deep, The Boudoir and Punk Cancan. In one room, a party of sequinned, mohawked punks stare down a demure Parisian runway, moving travelator and all. Another is styled like Amsterdam's red light district, with mannequins scantily clad in leather, posed provocatively in red-lit windows.
"I didn't want to be like my first outfit I did, the second one, the third one and the third collection, 20th collection etc," Gaultier explains to me the day after the opening. "Not chronological. But more by the themes that I always use. So I put all those things that were important for me, like femininity and masculinity, mixed with androgyny, corsetry ... all that I put in different groups, and it can come from my first collection to my last collection."
It is hard to keep up with Gaultier, as snippets of French mix with rapid, accented English, and stories spill out, one after the next.
The French couturier, who made a conical bra for his childhood teddy from newspaper, first started working for Pierre Cardin in 1970, launched his own fashion house in 1976, and a couture line in 1997. Last month, he showed his final ready-to-wear collection, to allow himself time to focus on couture.
It makes sense really, when you look around the exhibition, every piece is a work of art. Gaultier also spent eight years working for Hermes, finishing in 2011.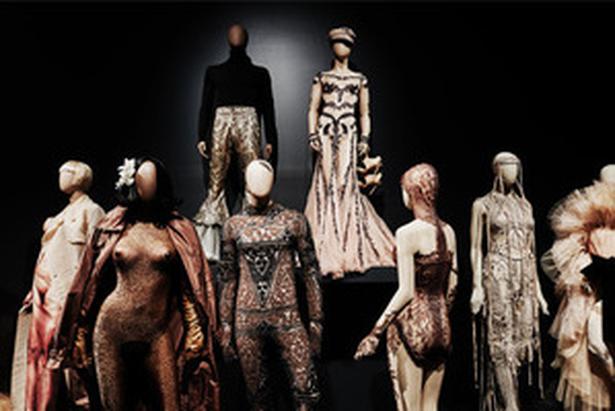 "For me it was funny," he says of this period, "because I could do something that was the opposite of myself in some way, because I was the enfant terrible, and Hermes was the chic of the season, and maybe nobody, even myself, could think that I could do that.
"But for me it was a challenge. I enjoyed. I loved. But I think it was enough. I had too much things. I did movie, I did concert, I did Hermes, I do couture, and now there is a pre-collection, and that, and that. Phew, too much. So, Hermes stopped, it was enough, it was seven years, it was beautiful."
The exhibit is all Gaultier, but, of course, behind the scenes are many hands. From hairstylist Odile Gilbert, who created real hair looks for the mannequins, to projectionists Denis Marleau and Stephanie Jasmin, who bring the mannequins to life in an astonishing virtual reality (including a talking Gaultier figure, in stripes and male-skirt, two of the designer's signatures).
"We're like an old Gypsy family travelling all around the world in the Gaultier caravan," says curator Thierry-Maxime Loriot, who has worked with Gaultier since 2009, travelling with the exhibition from Montreal through eight other stops, including New York, Stockholm, Madrid, and most recently London. Paris and Munich are next.
Also on tour is Nathalie Bondil, director of the Montreal Museum of Fine Arts, who first approached Gaultier with the idea after working on the Yves Saint Laurent retrospective. She was French too, she explains, and had always admired his work.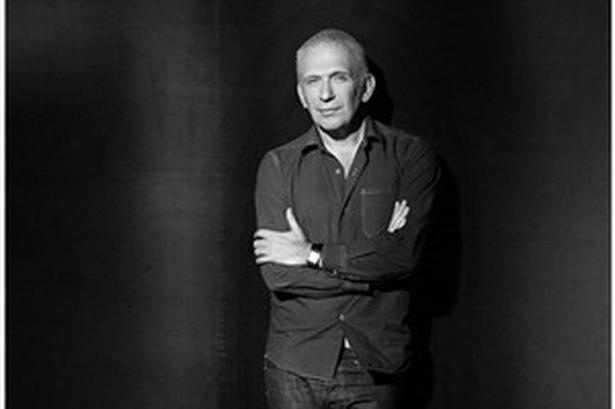 "Jean Paul Gaultier has such important things to say to our society. In terms of tolerance, multi-culturalism, racism, how you can play with yourself, with your body, whatever you want. Just to be who you are. And this is the reason why he had accepted to make the exhibition. It was all about the message and the fact that he wanted to be relevant and to say something."
The need to speak through his clothes runs through Gaultier's work, and explains his choice of non-traditional models. "To conform is to give in," a quote from the designer states in the exhibition. "I always love the difference," he says. "Maybe also because I find myself a little different. Professional, not professional I didn't care."
One of his favourite models is here for the opening. Bosnia-born, Melbourne-raised Andreja Pejic has starred in Gaultier campaigns, and walked many of his shows. Back in her hometown for the first time since gender reassignment surgery earlier this year, she takes the stage with Gaultier.
"She's fabulous, no?" Gaultier asks, before telling Pejic: "I didn't see androgynous or not, I saw your beauty."
"I owe a lot to Jean Paul for being one of the first to take a risk on me when no one else could," Pejic says. "He allowed me to be myself, and to tell my story, and I think that's very important on a social level."
Pejic is just one of Gaultier's Australian muses, whose garments and photos are featured in a new section in Melbourne, the only show in the Asia-Pacific region.
Kylie Minogue (whose 2008 X Tour costumes and some from her current Kiss Me Once tour were designed by Gaultier), Nicole Kidman (his first couture client, who wore Gaultier to accept her 2003 Academy Award for Best Actress for The Hours), Cate Blanchett and models Gemma Ward and Catherine McNeil, are in the company of international muses such as Madonna, who famously wore Gaultier's conical corset on her 1990 Blond Ambition tour. That corset is here, among other pieces worn by Madonna, Minogue, Beyonce and stars such as Catherine Deneuve.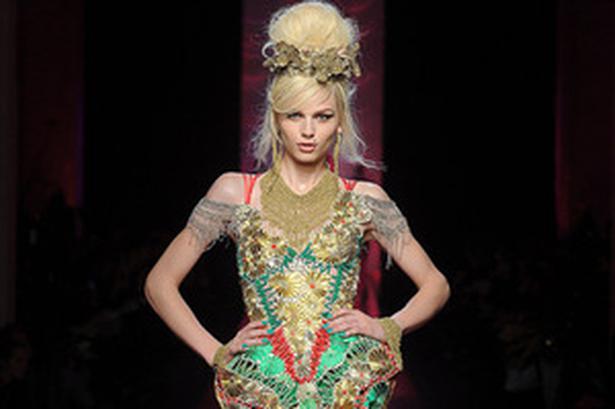 "When I was a child I was surrounded by women. And I realised that all women were clever, strong, fragile but strong also, some time more strong, a lot of time even, than men. There was also that stupid mentality to say that if a woman is beautiful she has to be stupid."
Gaultier has always wanted to show that his models were more than just a pretty face, he explains, and has previously had models speak during his shows. Hence the exhibition projections, which give the impression that the mannequins are talking.
At one point a male mannequin talks to his reflection, who replies, "Don't worry about people looking at you, just be yourself." That self-acceptance message again.
"I wanted to make it lively," Gaultier explains of the projections. He first saw Marleau's trick of the eye at France's Festival D'Avignon, and when approached by Bondil to stage the exhibition, immediately approached him.
"It's not my idea. My idea is to ask the person who do this to do it. I was thinking if it was a French director he should say no, because a French director is always like 'we are art', so lucky it was a Canadian, very nice. He said yes, with pleasure!"
Always evolving, Gaultier's latest trick is the closing of his ready-to-wear line, with a fittingly over-the-top finale last month, to focus solely on haute couture, collaborations, costume, and fragrance.
"I don't want to have some constraint and some cage," he explains of the decision. "I always enjoy to do that profession, always, but to feel free. If I have to make it in a way that I never knew before, which is more constrained, like you have to take again that shirt and to put it only with one button less ... I never did that for myself, so why should I do now? No, I'm 62!"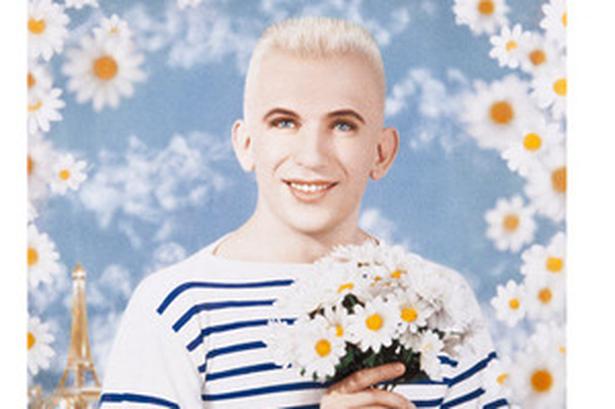 He says of the increased pace of the industry, "It's too much, and I think after you have not the time to think. It's like everybody's running, running after something ... because now people don't buy clothes, expensive clothes, luxurious clothes they don't buy. Only couture. Some client buy, but very limited. So now, clothes are only to make a window.
To make the name to sell something else. But me I like to create clothes, so in couture I can do it, for capsule not expensive at all, I can do. But me with my organisation, it was impossible to make clothes in a very low price, like now. Now, you have Zara, you have H&M."
But he has himself designed ranges for chain stores such as Target and Swedish brand Lindex, and doesn't rule out another collaboration, for the likes of H&M or Zara.
"I think that maybe now, if I had the possibility, if I was a young designer maybe I should work for some brand like that. But what is the problem is that those brands need also to have some people that make creation. And they need a creative and they have to copy, and they're cutting the price. But now they do the copy at the same time, even before it's in your own boutique. So I think it has something to find maybe with those people and to work directly with them. I think it's better."
He likens the current copy-cat industry to an incestuous family. But when asked if he finds this current state sad, he is pragmatic.
"I zink sad, or not sad, it happens. So, it is there, so what to do with that, and to find other solution." Hence working directly for these brands. "At least it's like doing directly. I think there's too much people. That makes it expensive, complicated. It's better directly."

•  Fiona Ralph travelled to Melbourne with Tourism Victoria.
Share this: