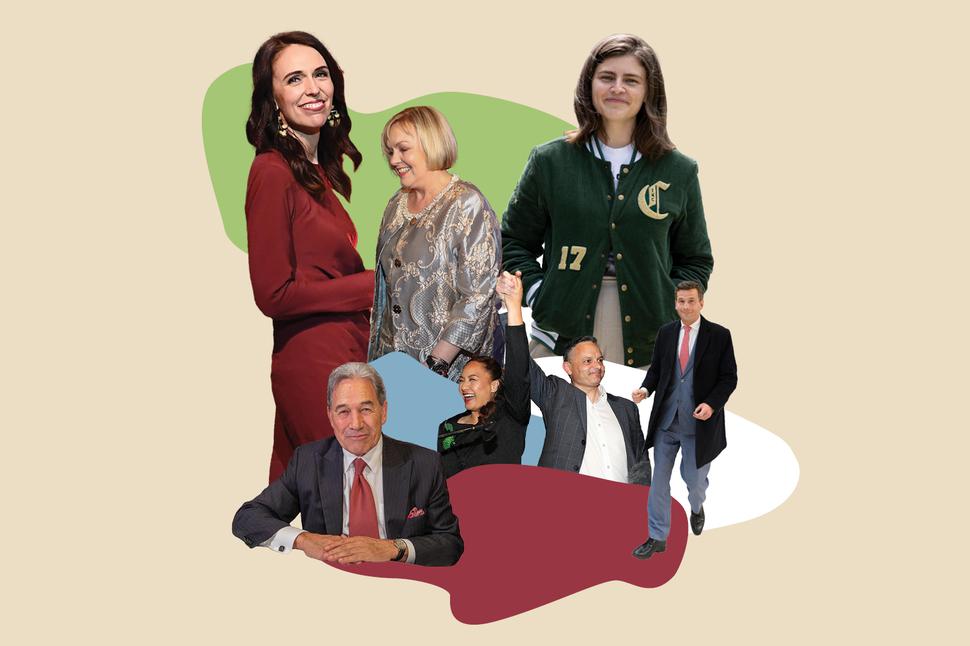 Opinion: Is It Okay to Talk About Fashion & Politics?
Politicians have long harnessed the power and symbolism of clothing. Zoe Walker Ahwa explores why this is more visible now than ever before
Wednesday Oct. 21, 2020
A version of this featured on Ensemblemagazine.co.nz
It was a visual metaphor of New Zealand's changing political landscape and attitudes to dress; a symbol of election success and new political power dressing.
At the Greens' election night party in Auckland on Saturday, co-leader James Shaw arrived beaming with pride; the picture of smart-casual in a grey check blazer, no tie - and jeans.
Up north in Russell at New Zealand First's party at the Duke of Marlborough, the gathered crowd was a little older and the mood slightly more subdued.
Winston Peters made a brief appearance, in his signature pinstripe suit with a maroon tie and matching pocket square. It was a traditional look for a stalwart of New Zealand's traditional political landscape, whose fortunes had turned after four decades in Parliament.
The two had butted heads throughout the campaign - and the generational shift of politics and election night success could neatly be summed up in their clothes.
Or maybe I'm reading too much into it? I know that what politicians wear is not essential analysis right now. It's about the numbers and results - and how these will shape our government and country for three more years.
Clothing and politics is a divisive conversation: it can feel superficial in the context of the important issues - and is also one that often focuses unfairly on women.
But politicians across the spectrum are aware of the power and symbolism of clothing.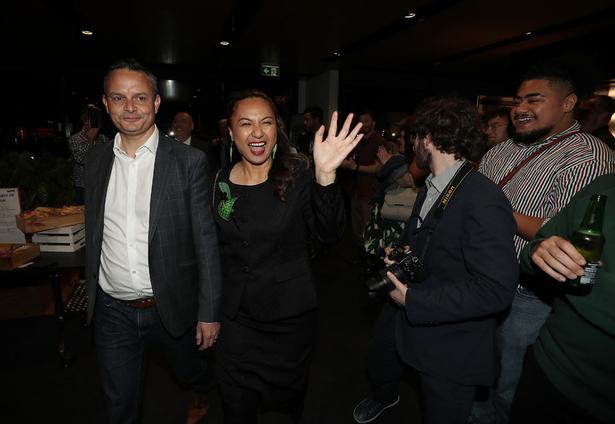 Following the much closer 2017 election results, Winston used a well-placed accessory to send a message and make a little joke - with an appearance after drawn-out coalition negotiations while wearing a tie emblazoned with the acronym "TGIF".
Auckland Central winner Chloe Swarbrick made wearing your political leanings cool with her vintage Green Party jumper, which the party had replicated as merch and sold more than 1000 in a few hours (she wore hers throughout the campaign).
Political image-making is more important than ever in the information and social media age, where the public is always watching, whether it's on TV or on a phone screen. Even if a politician isn't speaking, that image is a moment of instant communication.
In the United States - granted, probably not the best example of a political landscape right now - there are multiple examples. Many of them right now involve face masks.
It's Joe Biden and Kamala Harris in matching blue suits, striding out on stage for their first joint appearance together in matching black masks - a striking image of power, stability and trust.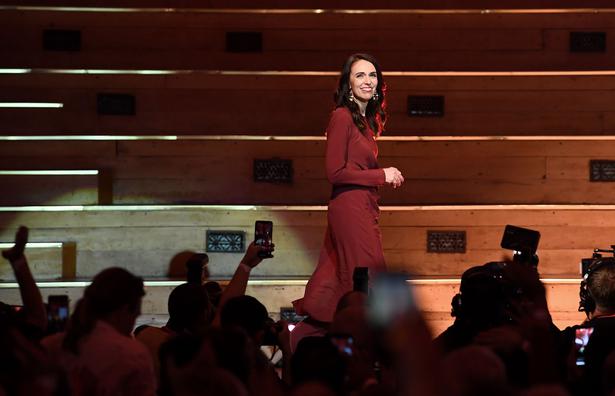 It's Donald Trump wearing a face mask adorned with the presidential seal as he made his way to the helicopter set to take him to hospital after testing positive for Covid-19 (you can bet this was a strategic decision that involved various high-level conversations; an attempt to "look presidential" even while sick).
It's congresswoman Alexandria Ocasio-Cortez wearing red lipstick and gold hoops to be sworn in as the youngest ever woman to serve in the US Congress - and using the moment to make a statement about sexist and racist stereotypes.
"Lip+hoops were inspired by [Supreme Court judge] Sonia Sotomayor, who was advised to wear neutral-colored nail polish to her confirmation hearings to avoid scrutiny. She kept her red," she wrote on Twitter. "Next time someone tells Bronx girls to take off their hoops, they can just say they're dressing like a Congresswoman."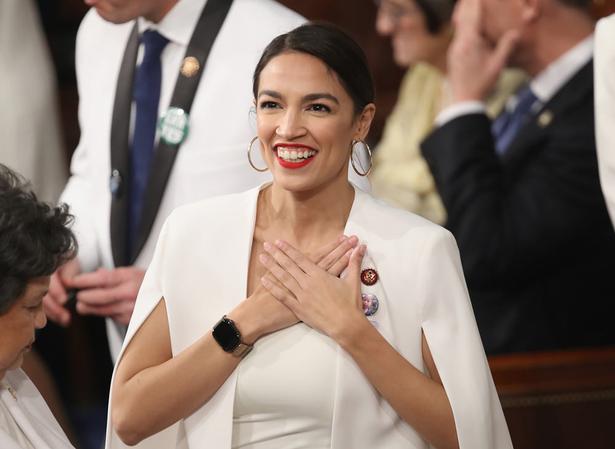 Later, for Vogue, she joyously shared her beauty routine and explained why that's okay: "There's this really false idea that if you care about makeup or if your interests are in beauty and fashion, that that's somehow frivolous. But I actually think these are some of the most substantive decisions that we make and we make them every morning."
And look, it's 2020. A person can be a respected politician and world leader and value good design and creativity.
"This is not to say that ties are more important than the peace process - or any other policy proposal," wrote Vanessa Friedman of the New York Times in August, when explaining why the newspaper of record covers what politicians wear.
"Of course substance comes before style. But substance doesn't exist entirely independent of style."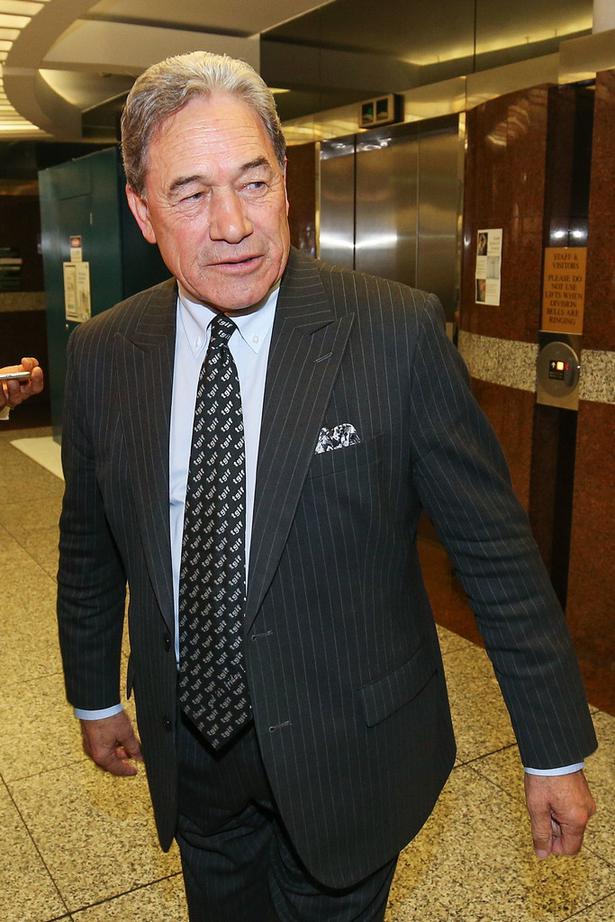 Case in point is Prime Minister Jacinda Ardern, who made history with an outstanding landslide win and 49.1 per cent of the overall vote - the largest share since MMP began.
Our Prime Minister clearly values creativity and enjoys fashion and has shown her support for New Zealand-made design and the local fashion industry which is made up of many small businesses (retail, manufacturing, etc) that have been hit hard by Covid.
Speaking with Viva in 2019, she discussed her understanding and support of our local fashion and retail industries when wearing it while overseas on trips - one of the rare instances that she's acknowledged fashion.
"When I'm away my focus is always obviously on the work in front of me but I'm also mindful I should represent New Zealand in every respect. Ultimately though, I think the New Zealand fashion industry stands on its own, we have so many successful, incredibly creative designers that make us all proud when they take their work overseas."
As she walked on stage at the Auckland Town Hall to address the nation and her supporters, she also displayed her increasing confidence at selecting fashion that showcases her ongoing support.
On the campaign trail she favoured Kate Sylvester and Juliette Hogan and her election night look was a custom-made, draped burgundy dress layered over matching trousers, designed by Auckland-based fashion brand Maaike.
It was a throwback to her previous election night in 2017, where she wore a similar look from Maaike designers Emilie Pullar and Abby van Schreven.
"The colour is a connection for sure and definitely a nod to our past election look for her but more than anything we are quite limited for colour on election night — no blues or greens and patterns are too busy," says Emilie. "She looks sensational in burgundy, so it's an easy job for us."
The pair have worked with the Prime Minister for a number of years but Emilie was quick to stress that they feel what she wears shouldn't be of importance.
"We almost feel slightly uncomfortable discussing it as we feel it is often unfair on women in power to have to deal with people discussing their clothes, as men's suits are rarely mentioned. That is why we opted for simple and clean lines so it wouldn't be a distraction or huge talking point."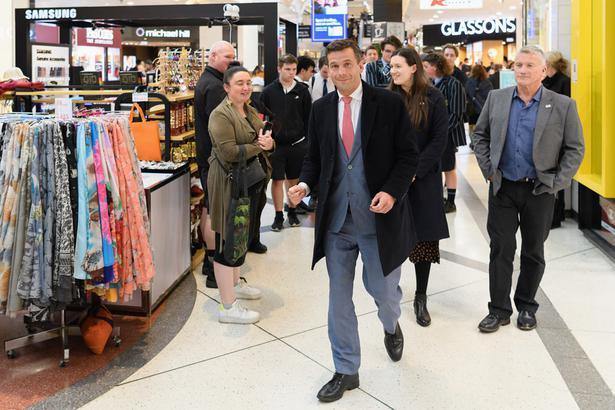 Elsewhere on election night, there were various moments of clothing as a statement. James Shaw in jeans (casual, modern). Winston Peters in pinstripes (establishment, traditional).
National leader Judith Collins opted for a matching jacquard coat and dress by Trelise Cooper - a brand that has traditionally been a go-to for politicians and was also worn by Maori Party co-leader Debbie Ngarewa-Packer.
Pink was the preferred colour for Act leader David Seymour, who chose a vibrant tie that he has worn throughout the campaign for his party's celebration.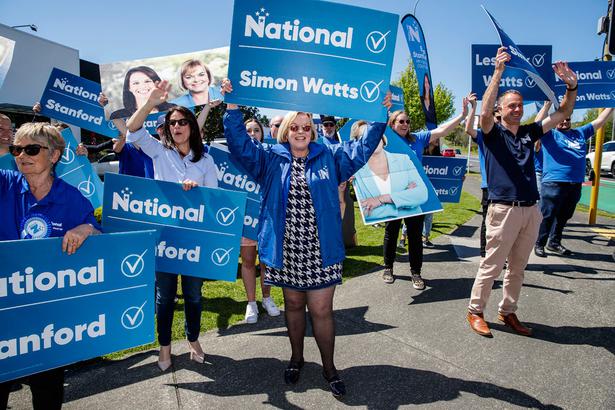 Greens' co-leader Marama Davidson continued her sustainable approach in a vintage skirt suit sourced from Trade Me by local vintage shoppers and stylists Duo Drops, with a bag from Manukau store Panikeke and a harakeke hair piece spotted by her daughter at home and turned into a brooch.
Marama had earlier shared an Instagram post talking openly about clothing and its role in her campaign - a refreshing but extremely rare occurrence for a politician, particularly in New Zealand.
"I would say 95 per cent of my wardrobe is hokohoko/recycled/pre-loved/op-shop or whatever you want to call it. This has been a way of life for generations of our whanau," she wrote.
"I have to look and feel confident and credible when I dress for media and public appearances and just doing my job. A reality that I come to terms with because those close to me know I'd prefer to live in track pants and T-shirts all day!"
Here's hoping that's what many politicians were able to relax in at home, even for a moment, after a seemingly never-ending campaign - before the parliamentary power suits reappear.
• A version of this story appeared on fashion and culture website Ensemblemagazine.co.nz
Share this: