Dan Carter on Style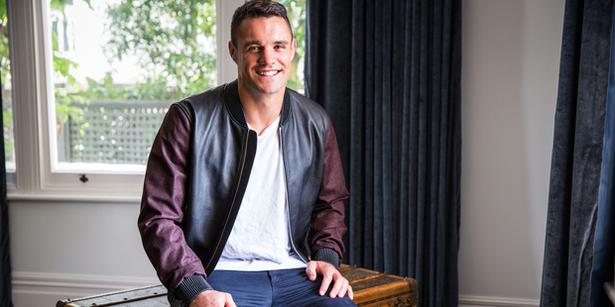 Wednesday Nov. 5, 2014
Dan Carter's prowess on the rugby field is well matched by his sartorial savvy. Always a stylish figure at charity parties and public events - often with his beautiful wife Honor - he never puts a wrong foot forward on or off the field. Carter's good taste is well-known to his team-mates.
For his 100th test against England in 2013 - which they won - the team followed tradition by presenting him with a gift: an antique Louis Vuitton trunk. "I wanted something I would keep for the rest of my life and an antique trunk ticked all the boxes. Timeless, beautiful, historical and practical," Carter said last week from Chicago. Here are a few of his favourite things.

CULTURE
Favourite artist: Charles Frederick Goldie, but right now I'm pretty happy with a crayon scribble handed over with a cheeky smile.
Film-maker: Sir Peter Jackson.

FASHION
Luxury brand: Louis Vuitton. Dan is pictured wearing a Louis Vuitton leather and wool jacket, $7250 and made-to-order shoes, POA.
Designer: Tom Ford, Marc Jacobs, Nicolas Ghesquiere.
Online store: Mr Porter.
Trainers: Y3.
Underwear: boxers or briefs? Boxer briefs.
Swim: Boardshorts or speedos? Boardies.

GROOMING
Product you can't live without? I'm pretty relaxed in the product department.
I tend to use whatever cleanser I find in the shower and I try to use sunscreen most days in the summer.
Perfume: Rexona.
Shampoo: Clear.
Toothpaste: Everyday.
Hairdresser: Stephen Marr.

CLOTHES
What are you wearing today?Shorts and a T-shirt (we're in camp in Chicago).
Shoes: Adidas trainers
Jeans: Ksubi.
Blazer: Not often, to be honest.
Sunglasses: Always
Underwear: Jockey of course.
Luggage: We travel with team luggage it's all easily identifiable by our initials and our team numbers.
Wallet: Louis Vuitton.

FOOD
Restaurant: Cibo.
Dish: Cibo's eye fillet.
Bar: Meadow.
Café: The Local.
Death row meal: Roast lamb.

SPORT
Favourite sports team: All Blacks, of course.
How do you keep fit? Gym. I'm lucky I genuinely enjoy keeping fit. Apart from the team training, I go to the gym and I swim a lot. It's great for fitness without wear and tear on the body.
Snowboard or ski? Not allowed to do either.
Surf, or paddle board? Paddle boarding.

AUCKLAND
Best thing: Being so close to the ocean.
Worst thing: Rush hour traffic.
Must see or do: There are such great cafes and restaurants, the walks are beautiful, fishing in the Hauraki Gulf and the rugged west coast are just a couple of must-sees in my book.

• Watch an artist demonstrate Louis Vuitton's traditional trunk personalisation at the Queen St store on November 6-7 at 2pm-4pm, and November 8, 12pm-2pm.
Share this: