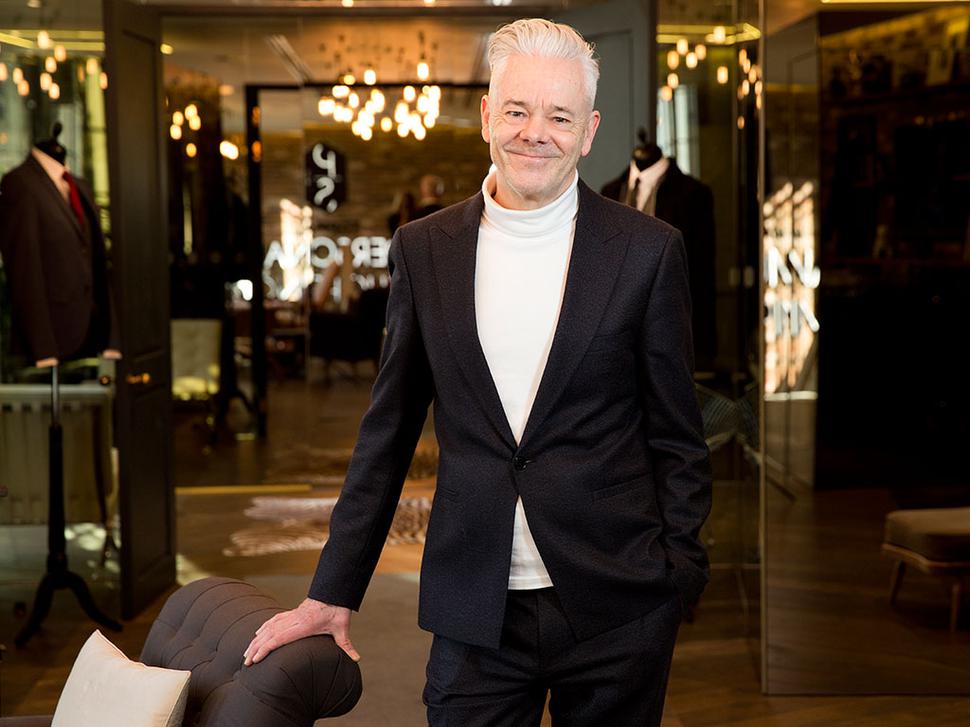 The Manifesto Interview: Gordon Richardson
Topman's top arbiter of dressing well believes every man should wear the clothes that befit his age — as he does
Saturday March 7, 2015
A key member in the British fashion cognoscenti, Gordon Richardson must be one of the most stylish men I know. Richardson's role as creative director of Topman has earned him cult figure status, a powerful force who has single-handedly launched menswear trends in the UK and, subsequently, the world.
Think skinny jeans. Hedi Slimane may have ignited the trend a decade ago for Dior, but Topman certainly amplified that message to the masses. Topman single-handedly allowed British men to celebrate fashion, and we owe a lot of thanks to Richardson for that.
After graduating from the Royal College of Art in 1976, having studied menswear design, Richardson set up his own menswear label stocked at Harrods, Joseph and Fiorucci. Moving to Paris in 1978 to design women's accessories for Daniel Hechter, he progressed to designer of the international menswear collection. He's also been an educator, as principal lecturer of fashion at Britain's Kingston University between 1986 and 1997.
In 2000, Richardson joined Topman, overseeing all the visual creative handwriting of the brand from actual garment designs to seasonal campaigns.
With more than 200 stores across the world in multiple seasons and climates, Richardson's role requires him to work on several seasons at once, designing for counter-seasonal and UK markets simultaneously. "We have to keep constantly reminding ourselves what season we are designing for and for whom!" he says.
With a Topman store now open on Queen St, Auckland men will be one step closer to Oxford St cool — without breaking the bank.
LIFESTYLE
Where do you live? West London, where I've lived in the same house for over 35 years.
Stationery: Anything that has been hand-pressed on old letterpresses. The antithesis of computer printouts.
Sheets: Anything as long as they are white.
Car: SEAT estate as I'm always carting stuff around in the back of it.
How do you keep fit? The gym and weekly running wherever possible.
Surf or paddleboard? Neither.
Ski or snowboard? Neither. I like to be warm. I don't function well in the cold.
Kindle or iPad? Both. I love a good read on the train to and from work.


GROOMING
Product you can't live without: Hair wax, which, in my case, has to be purple-based.
Moisturiser: Shiseido Energising Concentrate.
Perfume: Depends on the mood but Byredos Gypsy Water and Sunday Cologne not only smell great but, also, they are simply packaged. DS & Durga make a cologne called Sir Cologne that I like the sound of but have yet to try.
Shampoo: Sachajuan Silver shampoo and conditioner.
Toothpaste: Anything that I can lay my hands on.
Do you have manicures? Never.
Shave or trim? Wet shave. I find the whole procedure with the brush and the creams very meditative and a calming start to the day.
Where do you cut your hair? Someone called Vas has cut my hair for the past 10 years at Billy & Bo London.


FASHION FAVES
Designer: A mix on any given day of the following: Martin Margiela, Dries Van Noten, Acne Studios, Marc Jacobs and, of course, Topman.
Store: Dover Street Market for inspiration and Liberty's and Selfridges for their extremely well-curated menswear; online store Oki Ni. I love the look and feel of this site.
Eyewear: Eye Respect, a new company producing the most interesting designs at the moment.
Swimwear: Orlebar Brown for plains and Paul Smith for prints.
Tie maker: I very rarely wear a tie.


PERSONAL STYLE
Bond St or Oxford St? Dover St, which is in between the two.
Boxers or briefs? Jersey trunks.
Trunks or speedos? At my age, definitely trunks.
Satchel or briefcase? Backpack. I like to travel hands-free.
Single or double-breasted? Day to day, single-breasted. Double-breasted for occasions.
Flat front or pleats? Mainly flat, although I'm increasingly drawn to a wider leg pleated trouser, but my whole wardrobe will have to change to accommodate it in terms of proportion and silhouette.
Skinny jeans or straight leg? Skinny only if you have the thighs for them. Otherwise, stick to straight leg.


CLOTHES
Shoes: Black Oliver Spencer monk strap.
Shirt: I wear a knit over a tee in winter.
Jeans: I prefer a trouser to jean at my age.
Blazer: Christophe Lemaire cotton unconstructed jacket.
Sunglasses: Ray-Bans.
Trainers: Nikes for the gym, Lanvin or Topman for day to day.
Wallet: A well-used white, perforated leather cardholder from Jack Spade.
Watch: I never wear a watch.
Share this: