Fashion That Leaves a Little to the Imagination
Online shopping website The Modist caters for covered-up fashion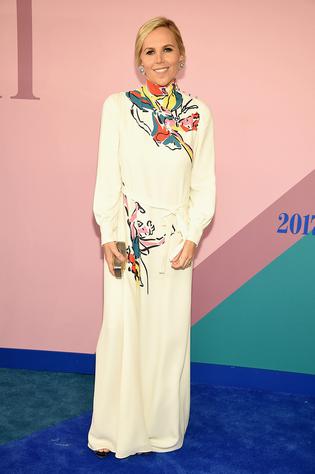 I'd found it: the ideal dress for a black-tie summer wedding. This particular dress was long but lightweight and just embellished enough, with a neckline that wouldn't scandalise the grandmother of the bride. Except — I realised as I clicked ahead to the rear-view photo — that this otherwise perfect chapel-to-dance floor gown was backless.
"That's incredibly frustrating," says Ghizlan Guenez, founder and chief executive of The Modist, an online store focused on the more decorous side of high fashion.
The elegant 38-year-old who grew up in Algiers, Beirut and London before settling into a private-equity career in Dubai, has a lifetime of experience with let-downs like these.
She and many women in her circle choose to dress modestly, making every shopping expedition into a series of elimination rounds for nonconforming features. "If they find something they like, either it has a slit, or it's sleeveless or it's sheer ... There are millions of women who dress this way and they've been completely underserved."
Until now, that is: Ghizlan launched The Modist earlier this year. With the tagline "Luxury modest fashion for extraordinary women", the site is primed to reach a worldwide audience of women who prefer their fashion a bit more covered-up.
You won't find any crop tops, shorts, spaghetti straps or (ahem) backless gowns. What you will find is flattering dresses, midi skirts, interesting shirting and other assorted ready-to-wear that leaves a little something to the imagination.
Ghizlan and her team leave defining what constitutes modesty to their shopper. "Really it's 'little-m' modest," Sasha Sarokin, the site's buying and fashion director and a 10-year alumna of Net-a-Porter, says with a smile. "It's more understated and a bit more refined. I enjoy buying for a woman who doesn't necessarily identify as modest or not; she just likes the look."
READ: Victoria Beckham on How to Stay Stylish
The site launched with a stable of 75 brands ranging from the established (Marni, Alberta Ferretti, Robert Clergerie) to the emerging (London-based Rejina Pyo and Racil; Turkish brand Mimya).
Fashion undoubtedly is in the midst of a modest moment. The covered-up vision of beauty that Valentino pioneered has infiltrated every corner of the industry, prevailing at Gucci, Celine and Balenciaga. The breakout star of the autumn/winter runways was Halima Aden, a 19-year-old Somali-American model who wore her hijab on the MaxMara runway and on the covers of CR Fashion Book, Vogue Arabia and Allure.
Clearly, some of this shift stems from brands' growing awareness of the importance of the Muslim fashion market — it's projected to increase to £380 billion ($680 billion) by 2019, according to a report from Thomson Reuters. Dolce & Gabbana introduced a line of hijabs in 2016, and Spanish high street brand Mango has quietly built its special collection for Ramadan into an impressive offering over the past 10 years.
"Modest fashion is witnessing a revolution without precedent," a spokesman for Mango said. This revolution will be hashtagged, with more than 600,000 Instagram posts tagged as #modestfashion.
It's a trend that cuts across religious lines, with Christian, Jewish and Muslim-style bloggers all cheering over the same modest, fashionable pieces The Modist specialises in.
Not that the trend for modest dressing is limited to certain religions or cultures. Ghizlan's brainwave may have come in Dubai, but half of the site's sales so far come from outside the Middle East: the US is the second largest market, followed by the UK.
Ghizlan knows the online shopping field is crowded and challenging. Earlier this month, Conde Nast closed Style.com after nine months and about US$100 million ($135 million) in investment.
GALLERY: Inside the Exhibition Celebrating 70 Years of Dior
Brand executives tell Ghizlan the world doesn't need another e-commerce player. "What makes them stop and think is that they can very clearly see how we are different. We're talking to a different population of women — women who have not been spoken to before, who are frustrated, who need this service."
And maybe they'll need a nice tiger-print dress too.
— The Daily Telegraph
TIPS FOR MODERN MODESTY
If you're ready to try a more covered-up look, heed these tips from The Modist's Ghizlan Guenez and Sasha Sarokin.
Think beyond the obvious
A mini-skirt that's just a tad too short for comfort can make a smart tunic when worn over tailored trousers. A corset that exposes too much skin looks sharp over a crisp cotton shirt.
Balance volume
If you've got a statement top, keep the trousers or skirt slim, and vice versa. "It adds drama in all the right ways," Sasha says.
Layer it up
A black polo-neck bodysuit is a modest dresser's best friend. Wear it under camisoles, shirts and bustiers — but if you layer the top of your outfit, keep the bottom simple, with a long skirt or chic trousers.
Enlist a fashion magician (aka a tailor)
Sometimes all it takes to make a piece modest is a little tinkering: closing a slit, adding a lining or lengthening the sleeves. Find a local, reliable tailor to help make your wardrobe work for you.
SHOP: Flattering and Fun Dresses with Sleeves
Fabric is everything
When you're wearing more clothing, the quality of the fabric becomes even more important. Look for substantial fabrics that sit beautifully.
When in doubt, wear a dress
"The long-sleeved maxi-dress with a Victorian influence is the piece of the season — don't be afraid of a fabulous print," Sasha says.
Share this: