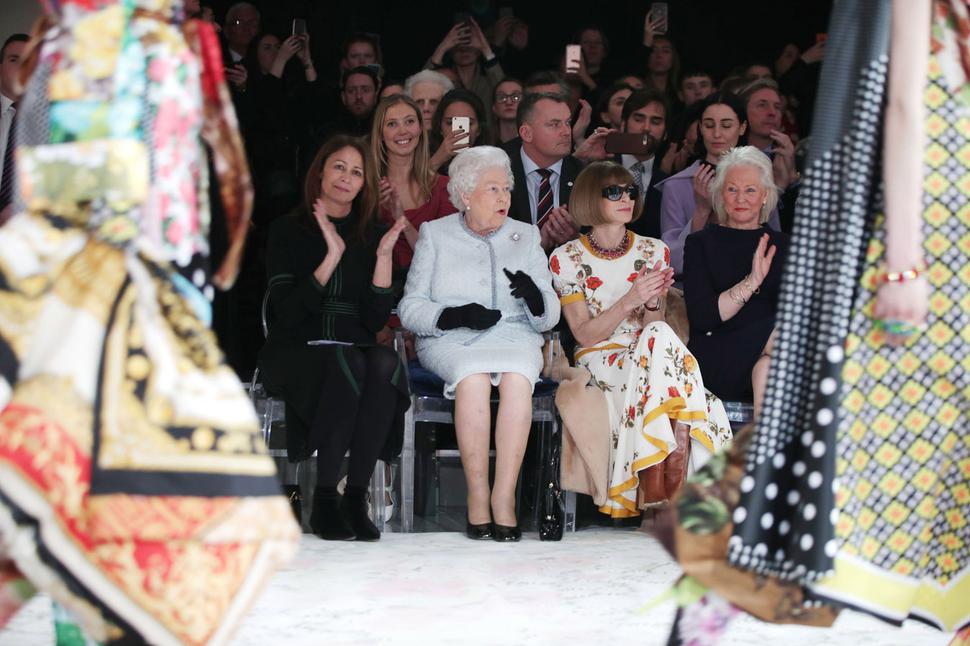 The Best-Kept Secret of London Fashion Week
After the Queen sat in the front row at his fashion show last week, Richard Quinn tells Bethan Holt how his lips were sealed
Saturday March 3, 2018
During her 66-year reign, the Queen has become a style icon, inspiring some of the world's most famous fashion names, from Dolce & Gabbana and Gucci to Stella McCartney and Erdem.
But when Her Majesty decided the time had come to attend a fashion show — having never done so before — it was a designer who works from a railway arch in Peckham upon whom she chose to bestow the honour.
Last week, London Fashion Week saw the fashion moment to end all fashion moments when Her Majesty made an unannounced visit with her personal dresser and wardrobe adviser, Angela Kelly, to sit front row at Richard Quinn's show.
After the show — which saw motorbike helmets, foil capes and pleated dresses paraded down the catwalk — the Queen presented the 28-year-old with the inaugural Queen Elizabeth II Award for British Design.
"Surreal" is how Quinn, dressed in his casual uniform of hoodie, baseball cap and trainers, sums up the experience when I meet him a couple of days later.
"I had known for weeks [that the Queen would be attending] but had to keep it a complete secret, so more than anything it was funny hearing people trying to guess what was going on when all I could tell them was: 'It's something big'," he recalls.
"My team were convinced Kate Moss was coming, and they were telling me that I was making too big a deal out of it. If only they'd known. Once the models had walked out, they kept coming backstage screaming: 'That's the f****** Queen out there!'"
As word spread that there would be a royal presence at Quinn's show, some senior fashion insiders hastily rearranged their plans to attend. When British Vogue editor Edward Enninful, en route to Milan Fashion Week, heard he had missed the chance to meet HM, he is rumoured to have been in tears.
READ: Runway Report: London Fashion Week
Quinn finally met the Queen when she presented him with the award that she, Kelly and the British Fashion Council, had decided to give him for his "bold and forward-thinking, unafraid vision".
After the weeks of build-up, their meeting came in front of hundreds of showgoers, with Quinn laughing as the Queen handed over the trophy that had been designed by Kelly.
He was not given strict instructions about etiquette, and their meeting was remarkably relaxed.
"She was so positive and kind," he tells me, still a little bemused. Perhaps unsurprisingly for a monarch known for her botanical shift dresses and bright coats and hats, she confided in Quinn "that the colours and florals were her favourite part".
Quinn couldn't have been happier, because, since he'd known she would be in his front row, he had reworked sections of his autumn/winter collection — which had been influenced by the erotic practice of bondage, dominance and submission — to include something that would be more pleasing to Her Majesty's eye.
This included a nod to the silk scarves that the Queen ties around her head when she's at Balmoral.
"Before, it was stuff like scarves tied in knots, but I changed it to be more like a dark take on Balmoral," he explains.
Her Majesty wasn't the only "queen" in attendance that afternoon. Anna Wintour, the editor-in-chief of American Vogue, is widely considered to be the high priestess of the fashion world; her presence alone would have been the kind of recognition a designer on his second show after graduation could only dream of.
"Anna came backstage before the show and told me how refreshing she found my clothes," says Quinn. "But the funniest bit was when she came up to my parents and introduced herself afterwards. My dad had no idea who she was."
Quinn still lives at home in Kent with his parents, Eileen and Patrick. He went to sixth form at Chislehurst and Sidcup Grammar School, from where he could apply directly to Central Saint Martins.
READ: Karen Walker & Tukua Turia Debut at Buckingham Palace
It was the weird and wonderful worlds of Tim Walker, the fashion photographer, and Tim Burton, the film director, that inspired him to study womenswear.
"I didn't really look like a fashion person. Everyone thought I did graphics or something. I wasn't going to change just because I was at St Martins, and start wearing a skirt or something."
Although no accolade could rival an award from the Queen, Quinn's star was already firmly on the rise. He has made show costumes for Lady Gaga, created a collection for H&M, and held his first show after finishing his master's course at Liberty.
He has designed a bag collection for the store, which will be available later this spring. He invested the money from his H&M collection into buying printers for his studio, which he allows other fashion labels and young creatives to use at rates far more affordable than the industry norm.
British department store Debenhams has also announced that Quinn will be part of a refreshed line-up of its "Designers at Debenhams" offering.
While the pieces he makes in his studio must be sold for thousands of dollars to cover costs, he is keen to make his designs available to as many people as possible.
Who knows, maybe we'll soon see the Queen wearing one, too.
THE ROYAL EFFECT: HOW THEY REACTED
Five things that only happen when the Queen attends London Fashion Week
1. Everyone arrives on time. Attendees were told to arrive at 3.30pm for a 4pm start, and the fashion pack obliged, with even the most influential editors seated long before they'd usually be stepping out of their cars.

2. Swapping selfies for curtsy practice. As soon as word spread that the Queen was in the building, the bobbing began.

3. Even Anna Wintour was nervous. Usually all swanlike calm, the fashion editrix was seen tapping her heels and checking her watch.

4. There are proper chairs. Most shows come with wooden benches only. But the Queen had a chair. With handles! And a cushion!

5. Impeccable organisation. Harried PRs rushing around receiving instructions through earpieces were replaced with polite tannoy announcements inviting "Lords, ladies and gentlemen to please take your seats". But some things never change ... Anna Wintour will never be parted from her sunglasses.
— The Telegraph
Share this: