The Real Housewives of Auckland Fashion: Episode Eight
Sporty leathers and plenty of pink as the real Brand Angela Stone stands up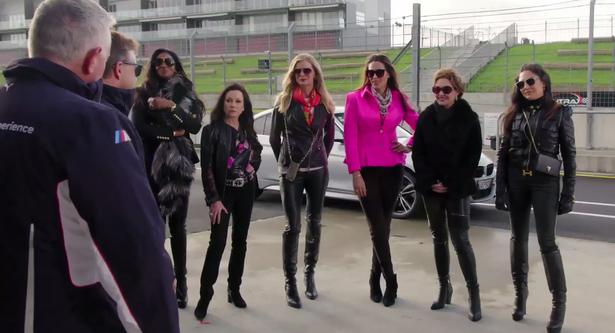 Wednesday Oct. 5, 2016
Each week we're going to look at the fashion and clothing choices of each of The Real Housewives of Auckland - with the housewives using their personal style to outdo and outplay each other.
Emotions are high, particularly for Brand Angela Stone who lets down her guard when she reveals a long lost brother and relationship troubles. "I felt like I was talking to a human being rather than just a smiley face who's always promoting a brand," says Gilda, who invites the group for a spot of racing at Hampton Downs. Cue racing leather jackets and driving gloves, as the women take out their competitiveness with each other on the track.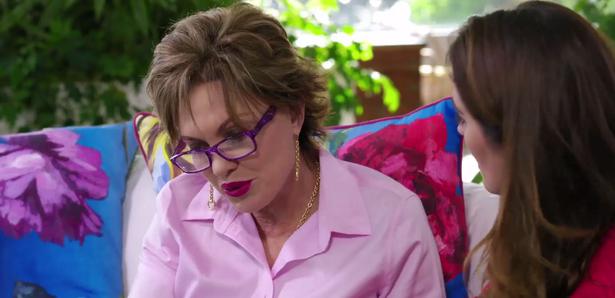 Louise Wallace
Think pink. The stern disciplinarian shows a softer side as she gets teary hearing about Angela's long lost brother. As evident in previous episodes, Louise is partial to bright, fuchsia pink. When Angela comes over to show her the layout and photos from last week's photoshoot for her book Being Real, Louise wears a pale pink shirt, signature gold Gucci earrings, a slick of bright pink lipstick and a fun pair of purple marble spectacles. It's a contrast to her otherwise stiff upper lip demeanour, and highlights an endearing eccentricity that "old money" folk do particularly well - like wearing sequins to the race track, as Louise does later in the episode.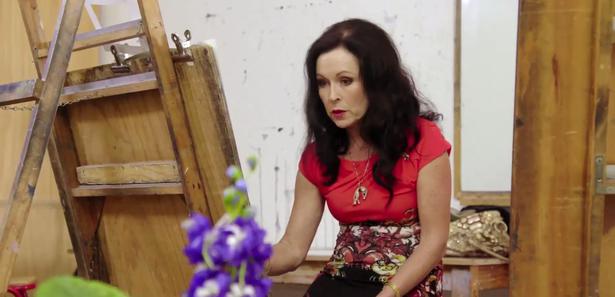 Anne Batley-Burton
Inviting Julia and daughter Ella for lunch at Tribeca with her dapper nephew Rowan, Anne's in black fur again this week. When Gilda invites her to an art class, little prepares Anne for the nude male model who appears - her cheeks the same reddish hue as her floral print dress. But Anne's key look this week is at the race track, getting into the theme in a black leather Fiorelli motorcycle jacket, jeans and studded rhinestone belt.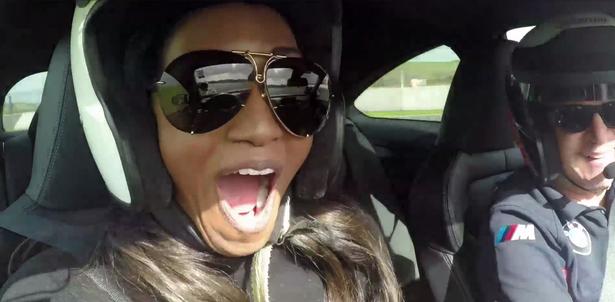 Michelle Blanchard
Tight black leather again as Michelle meets with Gilda for lunch at Takapuna Beach Cafe, with her now signature yellow nail polish. Her key look this week is also at the track, wearing a black tailored double-breasted blazer, grey fur scarf and a pair of oversized gold Porsche Design aviator sunglasses.
READ: The Real Housewives of Auckland Fashion Episode Seven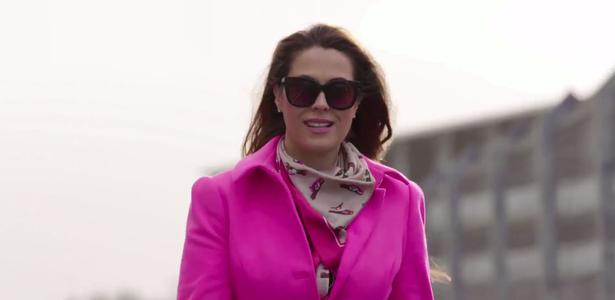 Brand Angela Stone
The revelation of a long lost brother and the breakdown between her and boyfriend Kirk showcase a more vulnerable side to Brand Angela Stone - perhaps the first time we've seen some of the 'being real' Angela. Always an advocate of positive thinking, her colour choices in this episode are bright and positive; whether it's walking in the park in Christchurch in bright orange trainers and matching jacket, meeting Louise in a bright red jumper or a pink bird printed scarf and bright pink blazer at the race track. To which Gilda remarks, "she didn't need a safety jacket did she?"
Making an effort to dress up for a date night with Kirk at Clooney, Angela chooses a blue strapless cocktail dress, nude pumps and a Louis Vuitton Sunset Boulevard Amarante Monogram Vernis Clutch. It is futile effort, when Kirk moaning about not being able to catch up with friends while in Auckland, to which Angela says (and rightly so), "I believe that in a relationship, you should make your partner a priority - number one."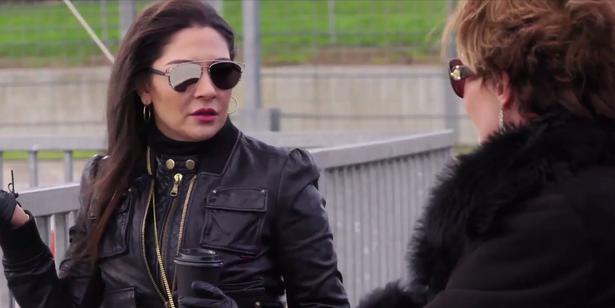 Gilda Kirkpatrick
It's Gilda's turn to instigate activity this week, taking a nude life drawing class with Anne while wearing a plaid red and black shirt - glamour not sacrificed in the form of a gold choker, gold hoops and red lipstick. Later, her devilish streak comes out when she invites the women to Hampton Downs for a race around the track - going from last week's country chic quilted jackets and tartan hats to sporty leathers and aviator sunglasses.
Gilda wears black easily - it's all in the accessorising - with her leather jacket, pants and boots finished off with her signature reflective Dior sunglasses, gold buckle Hermes belt and black leather driving gloves. She tells the others she isn't a competitive person, but the gloves indicate to the others she is very much in control of this race...even though she comes second to a determined Louise.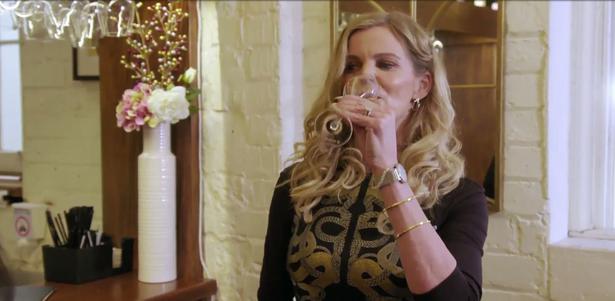 Julia Sloane
Julia wears her best ladies who lunch outfit when taking daughter Ella to lunch with Anne. She chooses a black sheath dress with a spiral - or is it a snake? - print across the front, complete with black Lady Dior handbag. Her outfit to the track channels motorcycle chic like the others, with a black leather jacket, pants, boots and red scarf around her neck. The chain bag, phone case seen in episode four makes another cameo, but otherwise Julia is continuing her campaign to blend in the background post Port Douglas.

For more on The Real Housewives of Auckland, visit spy.co.nz
Share this: