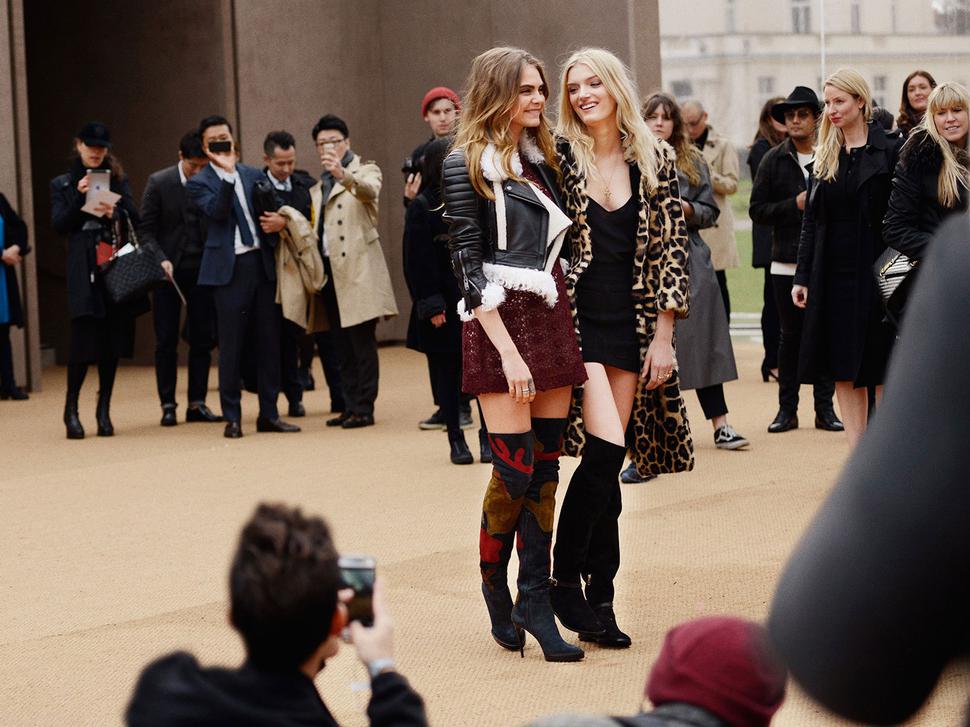 Thigh High Boots are Back
This season we'll be wearing the over-the-knee boot
Tuesday Sept. 8, 2015
Thigh-high boots are two accoutrements that, along with nipple tassels and a nose ring, I always felt reasonably confident would never be a part of My Look. But the world moves on. And with it apparently, One's Look.
I'm not alone in reconsidering my position on thigh highs — and the marginally less brash over-the-knee boot (two inches makes more than all the difference in this context). Thigh highs and OTKs seem to have been widely reappraised in recent times, and found to have hitherto undiscovered virtues.
At any rate, they're set to be available all over the place, from fabulously indulgent suedes in expensive looking "off"-shades of mushroom and elephant from labels such as Saint Laurent, where the perfectly chiselled toe and ideal block heel, in 50mm or 60mm versions, come with price tags over $1000, to far more affordable high-street versions.
Admittedly, some of the pricier offerings, such as Tamara Mellon's waist-high pull-on boots have me baffled, but many others border on the downright practical.
It is fashion in its purest and least adulterated form, rather than sad little men with Miss Whiplash fantasies, propelling this trend. According to M&S, "the over-the-knee boot has gathered real momentum this season, mainly because of the popularity of the A-line skirt. Worn with a flared midi, the knee-high boot channels the 70s aesthetic beautifully and provides an elegant alternative to trousers in the winter months."
Spot on. The A-line midi skirt sweeps all before it this autumn, including pencil skirts. Button-through midis are particularly popular — and this is where the over-the-knee's main window of opportunity lies, since a long boot provides plenty of modesty without frumpiness.
The other key item abetting the over-the-knee boot's entry into polite society is the inexorable rise — in every sense — of the cropped trouser. In line with hem-lengths, trousers are increasingly being lopped off around the shins, or just above the ankle. That leaves a potentially messy pile up of sock-wear and not-quite-long-enough ankle boots — unless you opt for a longer boot.
Roberta Benteler, founder and managing director at Avenue32.com, says the key to making over-the-knee boots chic is "not to wear anything tight on the top half". Apart from that, she says, "anyone of any age can wear them. It just depends which over-the-knee boots you choose.
We have so many different styles this autumn: Paul Andrew's are "dressy" whereas Alexander Wang's are more casual and can be worn with skinny jeans paired with an oversized jumper or a blazer for laid-back style. Or be inspired by the 60s and wear them with a mini skirt".
The clincher, at least for me, is that many of the re-vamped over-the-knees are in suede. That sounds ridiculous, given suede's talent for wrinkling, bagging and looking clapped-out two hours after its first wearing. But some of the better-quality suedes are surprisingly robust (look out for a lustrous, generous pile when you're shopping).
Others, such as Isabel Marant's and Robert Clergerie's are backed with stretch for a perfect fit. Some protective Scotchgard sprayed on to your boots before you put them on for the first time should transform them into a reasonably robust ally.
Really, there's a lot of potential — not just with midi skirts and culottes. They'll add some guts to the new floaty midi dresses and provide those of a certain vintage with the dignified means to wear shorter (by which I mean just above the knee, not thigh-high) skirts. In suede, and with a low heel, there's no danger of looking like a superannuated wannabe rock chic. Personally I'll be channelling a sort of Robin Wright in House of Cards meets Julie Christie in Don't Look Now vibe. Consider one's look subtly rebooted.
— The Daily Telegraph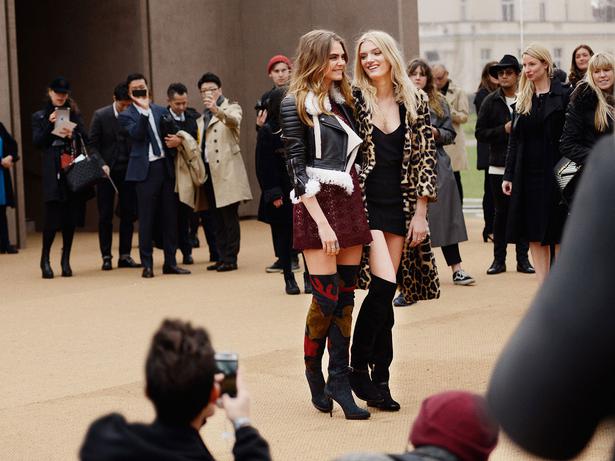 Cara Delevingne wears Burberry boots while posing for photos with Lily Donaldson outside the brand's AW15 show. Picture / Facebook.
Share this: