How Thom Browne changed the way men dress
The designer's shrunken suits have caused a revolution in menswear. No mean feat for a former actor from Pennsylvania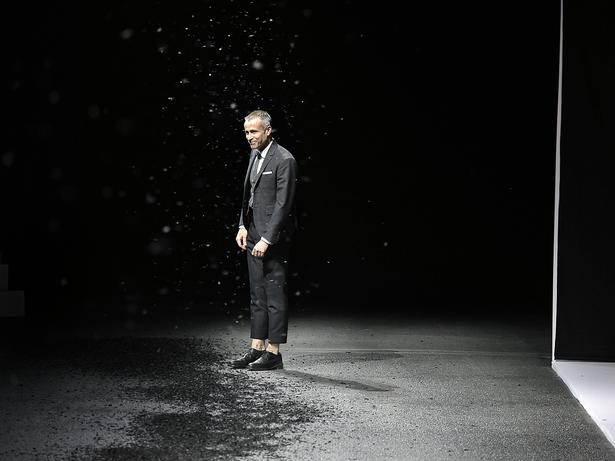 Wednesday April 8, 2015
Unlike most fashion designers, you know exactly what Thom Browne will look like before you meet him. You know this because, day in and day out, Thom Browne wears pretty much the same thing: a grey suit. Dimensions variable - not that he changes much in size. He's trim and fit, clean-cut, handsome enough to be the jobbing Hollywood actor he once was, with good thighs. You know the latter because the variations in Browne's suiting frequently causes his hemlines to soar up the legs of both himself and his legions of ardent fans. Even when it's cold, Browne's trousers never entirely close the gap of skin between their hem and the top edge of his shoe.
That's Browne's trademark. It sounds like a small thing, but it's actually caused a veritable revolution in menswear over the past decade. Browne's shrunken suits, hiked close to the body with proportions skewed so sleeves clamber up the arm several inches high of the wrist and trouser hems sit at half-mast, can be seen in a multitude of stores at every level. Only some have his name attached. A tailor told me that bespoke clients come in and now want suits tugged taut and abbreviated at the extremities. Thom Browne's clothes have caused a subtle shift in the way men - not necessarily fashionable ones - dress today. That's incredibly difficult, and almost unique. The only comparable silhouette shift, since Giorgio Armani's deconstructed tailoring in the 1970s, came via Raf Simons' pipe-cleaner-skinny suiting in the 1990s.
"I didn't think that I wanted to change menswear," says Browne. He's not being grand - I've asked him how he came up with that influential silhouette, and he's unpicking the process. "It was personal. It was just something that I liked myself and I wanted something that felt very, almost American classic, very late Fifties, early Sixties... In my head it was just a shorter jacket and shorter trouser. I didn't really think about it, other than think about it for myself." Browne had already been interested in clothes, despite that original push to pursue acting ("I was a horrible actor and I couldn't get any work," he states, bluntly, today). He moved back to New York from Los Angeles and worked with Armani and then Ralph Lauren's Club Monaco brand before starting his own label, off the back of demand for the few suits he'd been wearing, created by a New York tailor Browne still works with today. His first stockists were Bergdorf Goodman and Colette in Paris - stores other designers fight to be stocked by.
Browne's clothes are compelling products. They are impeccably made - and extremely expensive as a result. The designer's signature three-button wool jacket is a four-figure commitment, but can easily stretch to five depending on the level of complexity and embellishment (he's encrusted them with rosettes and veiled them with lace before, for his adventurous clientele). Nevertheless, there are hordes of men who wear little else, so embedded are they in the life that Browne offers. Maybe it's a nostalgia for an America before the nostalgic 'America' invented by Ralph Lauren in the Seventies? But Browne's universe is as intoxicating and as fully-realised as Lauren's, albeit on a smaller scale. There's a remarkable synchronicity of vision: you get the same feeling walking into Browne's space in Dover Street Market's outpost in Tokyo's Ginza district as you do when you walk into Browne's store in New York (opened in 2003). The same preponderance of the designer's greyscale colour scheme, like a mid-century television set; the same metal Venetian blinds, like a provincial bank in an Alfred Hitchcock movie.
"What you see in my stores is basically how I live. I love the idea of midwestern blanket blinds and marble walls," says Browne. Others do too. Underlining that Lauren-esque lifestyle, a number of customers ask when he'll branch into interiors. Others want to buy the shop fittings themselves. Of course, in all Browne's identical marble-clad, metal-framed office-ish outlets, there's also the same proportions on those same suits, with the same signature tricolour ribbon details (another instantly-identifiable trademark). Browne has collaborated with Brooks Brothers on their high-end Black Fleece line and, latterly, with Moncler Gamme Bleu, a line the skiwear giant presents during Milan menswear week (although Browne also created womenswear for the label). In both cases, Browne cuts his cloth very much the same.
Browne's suits suit best men with good bodies - bodies like his own, their pecs packed into wool like clingfilm-wrapped chicken fillets, thighs bulging. That sounds fetishistic. There is definitely something fetishistic about Browne's love of a man in the uniform of a middle-American accountant. Maybe it's something from his childhood: Browne was born into an Irish Catholic family in 1965 in Allentown, Pennsylvania. "My mother was always very well put together - she was an attorney so she always looked very professional," he says. "And my father, too; if he didn't have a suit on I don't think he'd know what to put on." Browne himself studied economics before his move to Hollywood, and then to fashion.
But fashion is something of a sore point. "I sometimes wonder if I am really interested in fashion," Browne says. "I think I'm interested in making clothes, in putting interesting ideas in front of people and that is what I've been interested in ever since I left school. It wasn't even specifically in the world of making clothes, but I always wanted to do something that involved putting interesting ideas and stories in front of people. That was how I initially moved to LA; I really wanted to get into acting and maybe it didn't work out because maybe I'd rather direct other people, as opposed to being the one acting."
How to satisfy that with suits? Well, they're not the sum total of the label - although grey tailoring is undeniably the stuff that ends up on the majority of rails around the world: the designer even has a lower-priced line subtitled 'Grey' to satisfy retail demand. At the end of 2014, he created a capsule with online store Mr Porter focused on the interplay of grey on grey. It's very Dorothy in Kansas.
Browne's catwalk shows, during New York womenswear and on the Paris menswear schedule, are his Oz. His spring/summer outing for men recreated the film Tron, models clad in suits that focused on the contrast of curvaceous, steroided musculature and android-inspired angularity. Arnold Schwarzenegger meets Kryten from Red Dwarf. His womenswear was set to a spoken-word soundtrack of the actress Diane Keaton (an early Ralph Lauren poster-girl via Annie Hall, incidentally) reading a story written by Browne himself. It focused on the sartorial style of six sisters, who meandered through a surreal grass lawn erected on the top floor of a New York gallery space in elaborately sequinned, patchworked and feathered suiting. If there was anything grey about it, it was Grey Gardens, that madcap tale of the eccentric East Coast socialite cousins of Jacqueline Kennedy. However, despite the extremity of that aesthetic, Browne declares that, "We do sell close to 90 per cent of what you see in the show".
Given that output, there's something incongruous when Thom Browne quietly intones that his work, "just comes from a very classic, American sportswear point of view... Growing up, we wore very placid, very American brands like J Crew." Yet at the same time, his work is rooted in American preppy classicism - the sort of stuff exported world-wide as the epitome of US style. He even trims everything in red, white and blue via that grosgrain ribbon taping (although, he insists, there's no patriotic significance to that colour-scheme). "There's something really refreshing and charming about that American sensibility," says Browne. "I think sometimes when you think of American sportswear you think commercial, so it's that sensibility mixed with the best quality that you can give." And with invention: a memorable show in 2012 faced off Marilyn Manson-esque punks, masked faces pimpled with studs like Hellraiser's Pinhead, with lurching, Herman Munster-esque quarterback-shouldered jocks. A clash of Americana imagery: not just jocks and punks, but those mashed-up cinematic and televisual reference points.
Those looks, those archetypes, are instantly recognisable - like Browne's suited and booted office drones. They're uniforms, without being uniform. Indeed, his racks and racks of grey suits only serve to emphasise the difference between them, and their wearers. "It's easy," reasons Browne, of his approach to fashion. "It just makes living easy because you don't have to think about it. I could get dressed in the dark." There's evidently something seductive about that, as well as those 50 shades of grey.
- The Independent
Share this: