Meet Tigra Tigra, The Cult Clothing Label Celebrating Indian Craft
Emma Gleason meets Bailey Hunter of Tigra Tigra, an L.A brand that celebrates the expertise, luxury and history of traditional Indian handicraft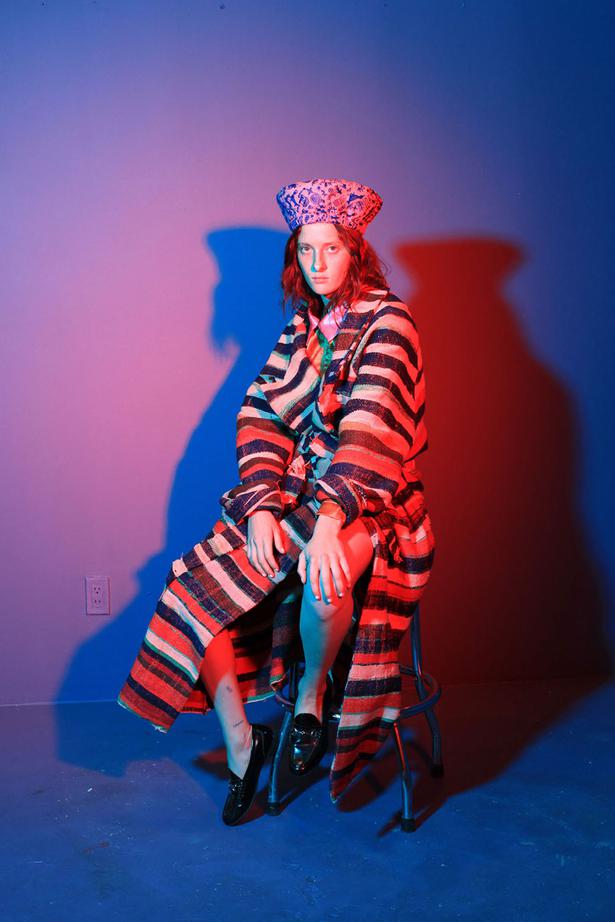 Thursday Oct. 25, 2018
With distinctive figurative embroidery and lustrous silks, fashion label Tigra Tigra stands out. Its unique visual language comes from the way designer Bailey Hunter works with artisans in India and Africa to create textiles that celebrate craftsmanship.
"Tigra Tigra explores this common ground between cultures and what binds us together," she says.
READ: Go Inside Kowtow's Ethical Production Line
I meet her in the Gujarati city of Ahmedabad where some of Tigra Tigra's fabrics are created. This city, once India's textile hub, has been faced with mill closings, but it is still one of the leading producers of cotton in India and home to many manufacturers and artisans.
Bailey was raised among the sun-drenched colours of Miami. As a child she took ballet classes in a mall next to a Taco Bell, a memory that captures the oddly symbiotic relationship between culture and consumerism that is a hallmark of modern America.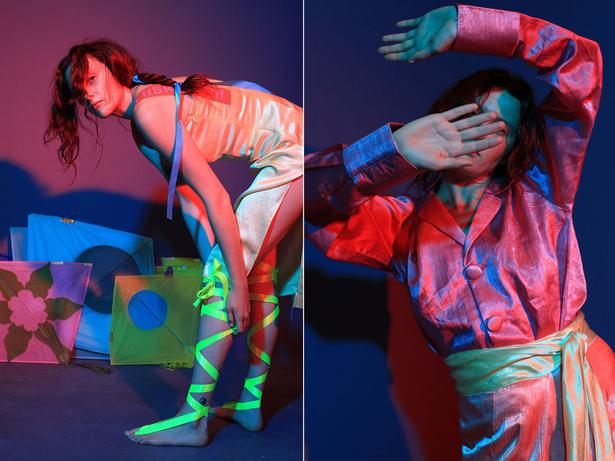 Pieces made from mashroo, an ancient fabric woven from both cotton and silk, sourced from NGO-afiliated artisans in India. Photo / Chuck Grant

Such contradictions, and the bright hues of Florida, influence her textile work — joined by the totems of Californian subcultures and the surf and skate brands she grew up with, an aesthetic she aptly describes as "beach-rat".

The label has been embraced by like-minded souls. "All of the women (and some men) who have bought into the brand have very strong personal style and have a strong appreciation of art and culture."

READ: How Local Label Maggie Marilyn Is Taking Ethically Made Fashion To The World

Notably, it has been worn by significant artists like Solange Knowles and Erykah Badu. "It's so crazy because Solange and Erykah are two of my biggest inspirations and idols, so it is so serendipitous that they also have worn Tigra Tigra in a big way," she says.

Bailey credits her social media community with helping give the brand this exposure. "Solange found Tigra Tigra on instagram (@Tigraxtigra) and so did Diamond (Erykah's stylist). Solange wore a mashroo suit during a performance with Dave Chappelle in New York and Erykah wore one while hosting the Soul Train Awards."

READ: The Local Designers Embracing The Slow Fashion Movement

Much of the inspiration for her clothing is drawn from Indian culture, exploring the relationship between heritage and modernity. "I'm influenced by how mass-consumerism permeates and is also rejected in Indian daily life."

Bailey nods to India's hand-painted signage, with its faded colours and imperfect lettering, as well as the old packaging of tobacco bidi (traditional leaf-wrapped cigarettes). "I'm very interested in 'jugaad' which is a Hindi word that embodies the sort of off-beat and innovative low-cost solutions to problems that is so uniquely Indian."
But it's process itself that leads her design output. "It has a continual flow instead of particular 'collections'. I start first and foremost with the process and textile and then I adapt my inspiration into that. I think that's why it's worked out thus far working with Indian handicraft, which doesn't have that formal Western production structure."
Bailey has been working with artisans and non-government organisations [NGOs] in India for the past six years, and visits the country twice annually. She began exploring Indian craftsmanship while studying at Parsons School of Design in New York, working for a small company that produced cashmere shawls in India. After college, she did textile design for various labels, then moved into garment design and knitwear.
READ Favourite Things: Knitwear Designer Areez Katki
Her focus is now on her own label, Tigra Tigra, based in Los Angeles and made with the support of an NGO. Two textiles in particular are key to Tigra Tigra: figurative warli embroidery and mashroo silk. All fabrics are coloured with non-toxic synthetic dyes or, if the hue calls for it, naturally derived pigments.
Hand-embroidering a single metre of warli fabric takes a month, with several women working simultaneously. The textile projects provide them valuable income. "It allows [the women] to work mostly from home, enabling them to make their own money and have a self-reliance," she explains. "They can contribute financially to their families rather than relying on their husbands."
READ: How To Be A Conscious Clothing Consumer
Bailey visits her makers at home whenever she's in India, drawing inspiration from their lives as much as her own. "Once when I was in [embroiderer] Varsha's home, she had a painting that she bought in the local market that was decorated with the Apple logo, Shell Gasoline logo and Sinclair Gasoline dinosaur logo — all harmoniously working as a great print — we adapted it into an all over hand-embroidered textile ... Tigra Tigra is all about re-interpretation and off-beat inspiration."
Mashroo silk, the label's other signature fabric, is dense in weight and richly luminous. "I deeply love the textile and it was what I really wanted to build the brand around. It's so unique and has that 'rugged luxury' that is so exemplary of my brand. It's this beautiful ancient textile that looks luxurious and decadent, but you often find little pieces of twigs and dye/weave inconsistencies in it — that's all part of its value and what makes it so special."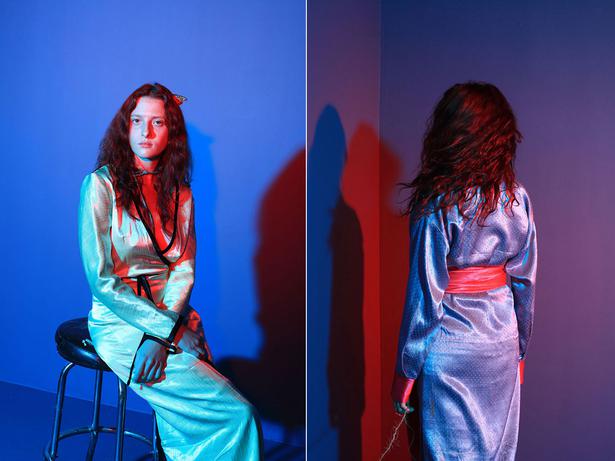 The origins of mashroo lie in Muslim religious doctrine, which forbids the wearing of silk next to the skin. Mashroo is woven from both silk and cotton; the silk sits on the outer layer of the fabric, while the interior cotton layer rests on the skin. It takes up to an hour and a half to weave a metre of mashroo, and its unique construction and composition means it's more durabile than pure silk.
"This is a textile that dates back to the Sultanate period (1206- 1526) and is being kept alive today in a tiny house in rural Patan on wooden hand-looms — and now it's being worn alongside huge fashion houses on a big stage."
Bailey is pragmatic about the realities of production.
"I think working with limitations is what creates the most creativity. I've come to really understand the work of the artisans and what can be done and I think that makes it all more interesting. We are able to dig really deep and explore the processes."
READ: Why The Fashion of The 1970s Is Still Influencing Today's Designers
Bailey belives some designers have become detached from the production of their designs. "That's a big problem. Not only in terms of ethics and humanity — but even in creativity too. How can you inform design if you are so detached from the process? I've designed for other brands and have witnessed it so prevalently."
At the brand's heart is the duality of culture and commerce, and the relationship between handicraft and community. Tradition, craftsmanship, empowerment: how we manoeuvre around these and what impact we leave in our wake is vital to the relevance of fashion today, whether we're a consumer or producer.
Bailey sees Tigra Tigra as an example of what she calls "true luxury". "With these garments and textiles you're buying something that someone has spent a lot of time with — and that has a whole heritage and history in it, it is literally one-of-a-kind and to me that is the true definition of luxury."
• Tigra Tigra is available from Tigratigra.com and Opening Ceremony.
Share this: