Top model Ashleigh Good on Karl Lagerfeld
The top model opens up on her relationship with Chanel's creative director.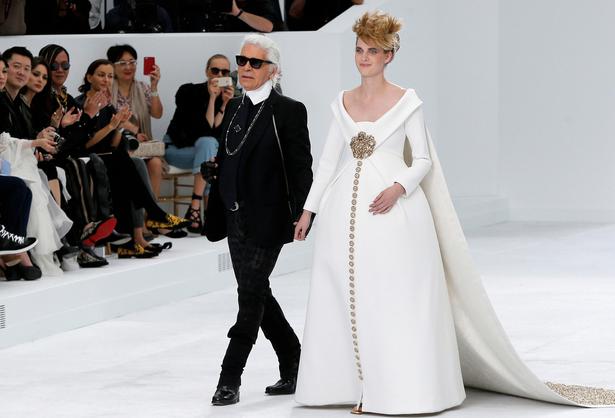 Wednesday Feb. 18, 2015
Welcome back, supermodel-come-mum. Days before model Ashleigh Good jetted off to New York for fashion week, our fashion team photographed her in Auckland for this issue.
Since arriving in the Big Apple with 4-month-old daughter Emily in tow, Ashleigh has dyed her blonde hair jet black, cut bangs (at the recommendation of hair trailblazer Guido), and walked in key shows from Alexander Wang and Altuzarra - expect to see more of her on the show circuit in Milan and Paris, too.
The last time she was on an international runway she closed a Chanel Haute Couture show six months pregnant, hand in hand with her friend Karl Lagerfeld.
We spoke to New Zealand's most successful international model about being one of Lagerfeld's muses, and whether or not he will be opening a Chanel store here anytime soon...

On his book collection: 
"Karl has so many books in his studio in Paris, it's crazy. There are honestly millions everywhere, and if you pick one out he'll tell you exactly where it's from, who gave it to him, or where he bought it and what it's about.
It's absolutely incredible. I gave him a book on New Zealand landscapes."

On Karl ever visiting New Zealand: 
"I always talk to him about it because I want him to come here. I say, 'We have heaps of people who will buy your stuff, so put in a Chanel store and then come have a show here to celebrate!'"
On their friendship: 
"He is just so funny. I don't understand how I'm meant to be there to entertain him - that's my job because I'm one of the girls he really likes. But most of the time he entertains me: he has so many stories. It's as though he's lived a thousand lives. Some of the stories I don't quite understand because I don't know the people he's talking about because it's before my generation. But he understands suspense and when to deliver the punchline."
On raw food: 
"He doesn't eat cooked food. He only eats it raw, which I've really taken on. It's quite a healthy way of eating. The Unbakery Book [from Little Bird Organics] is really interesting to me at the moment."
On being pregnant: 
"It was really special how he put me in the last Chanel couture show in the pregnant bride dress. I thought it was super-cool that he'd celebrate something like that. After the shoot with the CR Fashion Book he said, 'I love you pregnant. I want you to be pregnant all the time!'"
On Karl's personality: 
"He's very accepting of everything and everyone, as you can see from all the people he works with from different walks of life. He's lived such an incredible life.

On their first meeting and relationship: 
"We met in Scotland when we did a show in Edinburgh. I was pretty nervous to meet him. He accessorises you after you've been dressed for the show. I was shaking the whole time. He was just very warm and gentle and he always has been. I shot with CR Fashion Book after the show while still in Edinburgh with Kati Nescher. He shot that editorial and I think that's when he fell for my look and who I was and he decided then that I was one of his girls."
On being herself:
"You see the girls he likes and mixes with, like Cara Delevingne. They're all pretty down-to-earth girls and they all act themselves - no one puts on a persona when they are around him, which I think he finds very refreshing. And that encourages me to be myself around everyone and I try to do that most of the time. When you're meeting fashion bigwigs it can be very intimidating. But definitely be yourself. That's what he loves." 
Share this: