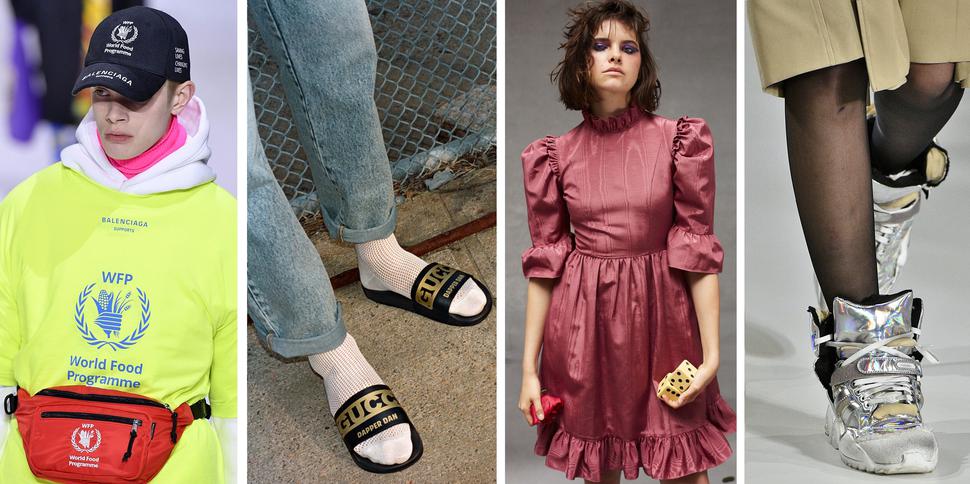 Fanny Packs, Prairie Dresses, Luxury Shower Shoes: Is Fashion Trolling Us Or What?
Once-shunned styles have become fashion's hottest accessories, as Robin Givhan explains
Sunday July 22, 2018
"You go to your closet and you select out, oh I don't know, that lumpy blue sweater, for instance, because you're trying to tell the world that you take yourself too seriously to care about what you put on your back ... (But) that blue represents millions of dollars and countless jobs, and so it's sort of comical how you think that you've made a choice that exempts you from the fashion industry when, in fact, you're wearing the sweater that was selected for you by the people in this room. From a pile of 'stuff.'" — Miranda Priestly in The Devil Wears Prada.
Fashion is trolling the masses. Of course it is.
In recent seasons, against all the rules of contemporary taste, fashion has asserted that once-derided styles such as fanny packs, Crocs, prairie dresses and chunky orthopaedic sneakers are desirable.
This is an aesthetic provocation. A poke. The point is to agitate casual observers and leave them scratching their heads.
But it's not exactly a joke. Designers are not making these products for their amusement. Not completely. The ultimate goal is to make a sale.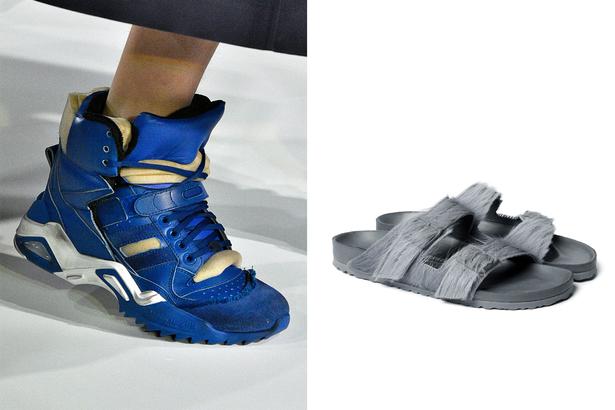 And here's the thing: All this dowdy, arguably ugly fashion? Consumers are going to buy it — because it's comfortable, familiar and, occasionally, practical. Aesthetics be damned. Discerning eyes will adjust to the aesthetics; they always do. It takes time and patience, but now shredded jeans look normal and so do oversize silhouettes. A high-necked, ruffled dress fit for Laura Ingalls Wilder? Just wait. Soon enough, soon enough.
The gateway to ugly — an adjective used here with affection — was the Birkenstock. Known for its inelegantly moulded footbed and its crunchy-granola history, the classic German sandal was reimagined in a hyper-luxurious way for spring 2013 by the influential designer Phoebe Philo. For her Céline runway show, she lined her version of Arizona sandals in mink. She bedazzled them. They retailed for about $900 USD.
"This one model comes clomping down the runway (in Birkenstocks) and all the fashion insiders are licking their chops because they're seeing something different," says Susie Sheffman, a Toronto-based fashion consultant and stylist. "It's almost like a reverse snobbism."
READ: The Local Designers Embracing The Slow Fashion Movement
Not long after that show, Sheffman saw a picture of actress Mila Jovovich on the cover of the December issue of Net-a-Porter's magazine, the Edit. "She was wearing a mannish white shirt and white trousers and black Birkenstocks," Sheffman wistfully recalls. "It hit me at a cellular level: That's the girl I want to be."
Who could resist? It was not long before Birkenstock, whose original suede Arizona sandals sell for about $125 USD, partnered with Barneys New York to create a $270 USD version lined with blue shearling. A Rick Owens collaboration followed in 2018, reimagined as furry, cow-hair slides selling for $420 USD.
An assertively frumpy shoe with a devoted following of outdoorsy types and the approving nod of podiatrists had gathered a patina of fervid fashion desirability. The allure of the original version was burnished. And the fancy new version was comfortable and wearable.
The fashionable Birkenstock is an exemplar of the rise of anti-fashion, says Sara Maggioni, the director of retail and buying for London-based trend forecaster WGSN. In 2012, Birkenstock sold about 10 million pairs of shoes; in 2017, the company sold 25 million pairs.
"Yes, they're ugly," says Maggioni. "But it's a familiar silhouette. It's not scary or frightening."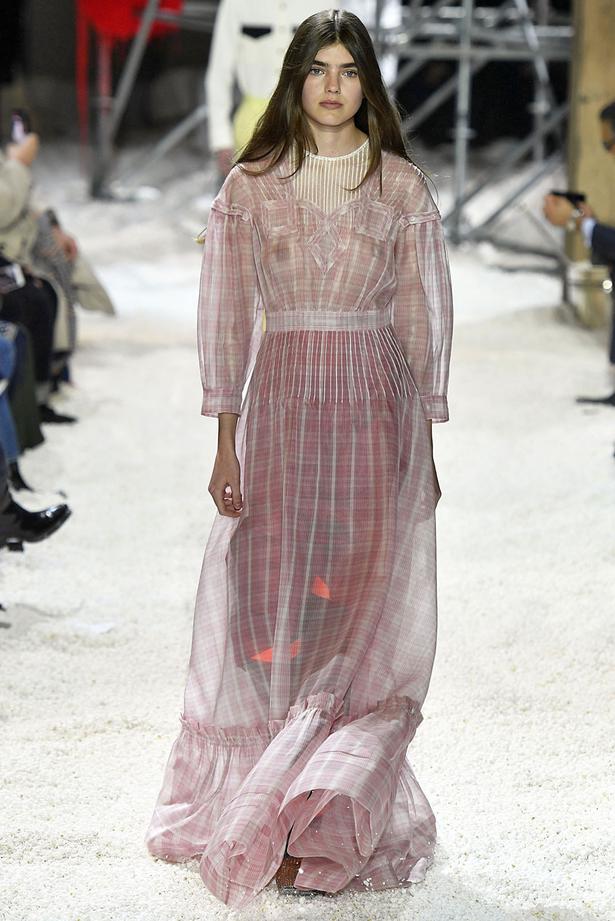 Prairie dresses in New York at the Calvin Klein Fall Winter 2018-19 show. Photo / Marcelo Soubhia for The Washington Post

The same cannot necessarily be said for clunky Forrest Gump sneakers, rubber Crocs or long, flowing Dust Bowl dresses. The giant sneakers, which have been advocated by brands such as Balenciaga ($895 USD) and Maison Margiela ($1,645 USD), are an assemblage of suede, leather and mesh, often in a collage of clashing colours. The soles — platforms stacked atop platforms — are like a parfait of moulded rubber.

The prairie dress, equally jarring to the eye, was interpreted in multiple variations by Raf Simons for Calvin Klein 205W39NYC for fall 2018. One version of the ankle-length style comes with pin-tucking and a wide, ruffle-trimmed collar. Only its deep V-neck prevents it from looking Amish. Cost: $3,900 USD. At Calvin Klein, the look is part of a collection that examines a broad swath of Americana that also includes firefighter jackets, cadet shirts and heirloom quilting.

"It's not just about taking what your grandmother had in her wardrobe," Maggioni says. "It gets adapted to taste nowadays."

The brand Batsheva is fully committed to the prairie: Laura Ashley meets Gunne Sax meets grunge. Its $420 floral cotton dresses have puffed shoulders and a ruffled Peter Pan collar. Some have ruffle-trimmed patch pockets. They are sometimes paired with coordinating bonnets for maximum fashion effect. Vogue delights in them. MatchesFashion.com sells them right alongside Prada and Saint Laurent.

READ: Why We Need A Fashion Revolution

Wearing these styles with aplomb is like executing the triple axel of fashion: high level of difficulty, significant risk of failure, tremendous bragging rights if accomplished.

But why? Why would Batsheva Hay — who grew up in Queens and not on some windswept Nebraska prairie, who is a Georgetown-educated lawyer, not a goat farmer — create an entire line of pioneer dresses that look like they should come with their own lean-to?

"I always wore vintage," she explains. "But when I started working as a lawyer 10 years ago, I couldn't wear all the clothes I'd collected. Then I quit and had kids and thought, 'I can do what I want.' "

She'd moved to the Upper West Side of Manhattan. She noticed that many of older people were tooling around the neighbourhood in Laura Ashley-style dresses, sneakers and fanny packs. Her mother was a hippie in the 1960s. Her father is Israeli. She was named after a figure from the Old Testament who is sometimes equated with feminism. After having a baby girl, she became obsessed with mother-daughter dressing. This tornado of influences led her to create a retro, Old World, earthy collection that refuses to sexualise the female form while also playing on traditional femininity.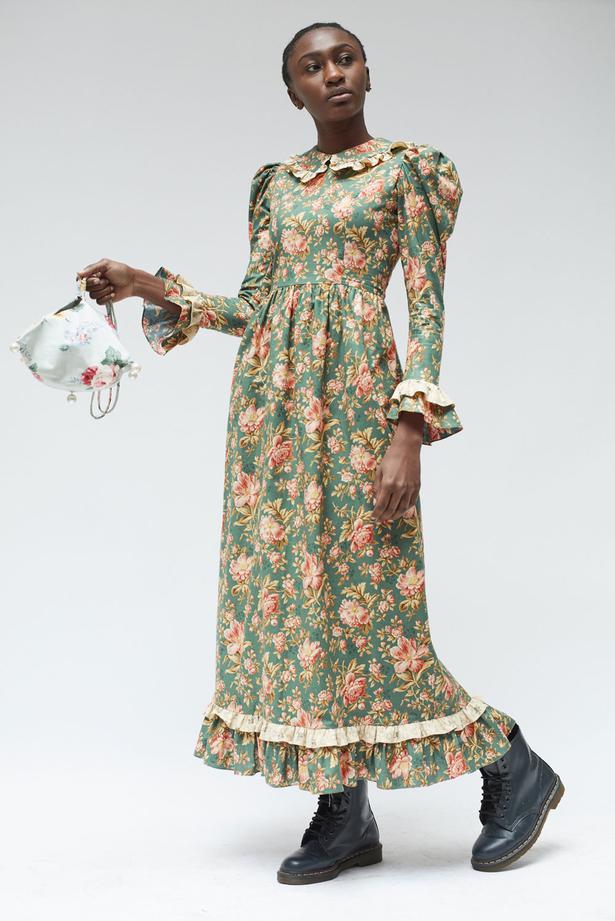 An ode to the prairie by designer Batsheva Hay. Photo / Alexei Hay

The prairie dress "is a style that crosses all these cultures. People wear them in Eastern Europe and down South. I loved the colours and the patterns," says Hay, 37. "I started making them from personal desire and need, and I wore the crap out of them. "

She launched her collection two years ago. The dresses are now a thing among fashion insiders. And if you look at them closely and allow your eye to adjust, perhaps you can imagine them worn with roughed-up hair and a pair of mod boots or a fancy pair of sneakers.

The thing you most certainly wouldn't wear these dresses with is a pair of prissy heels. "I can't wear a dress with a pair of pumps," Sheffman says. "It just seems so wrong."

The pathway to this point began — where? Fashion has cosied up to the ugly aesthetic in the past, most notable in the late 1990s when Prada rose to prominence with its eyesore prints and murky colours. But this go-round may best be traced back to normcore, that short-lived anti-fashion uprising that found its way into trend reports around 2013, promoting unremarkable clothing as hip. Throw in a bit of Dad Style. Mix in a rising revulsion with Instagram faux-perfection. Add a dash of fashion-hate from the masses. And tip your hat to brands such as Vetements, Balenciaga, Y/Project, Gucci and a host of others that championed unorthodox beauty and gender fluidity.

READ: How To Wear: Dresses With Sneakers

"Back in the day, luxury usually meant femininity. It meant a beautiful bag or a beautiful cashmere sweater," Sheffman says. "Most of these items have a lack of femininity."

"It's almost a revolt against luxury as we know it," she says. "Instead of attention-seeking with extraordinary luxury, they went for the mundane."

These anti-fashion looks were also born out of the collective ennui of fashion insiders searching for something more authentic. These products exude unpretentious, sexless populism.

All of this is a reminder that the fashion industry has stopped dictating fashion. The Seventh Avenue elites have ceded control to the hoi polloi. And this is what your next-door neighbours have come up with. "The consumer is dictating lifestyle fashion," says Shelley E. Kohan, an assistant professor at the Fashion Institute of Technology specializing in retail. Brands are "taking the feedback and adapting the information and putting it back into the supply chain."

In other words, consumers are responsible for these waves of ugly. We the People are trolling ourselves. But this doesn't necessarily mean the great unwashed have somehow sapped fashion of its power to hypnotize and woo.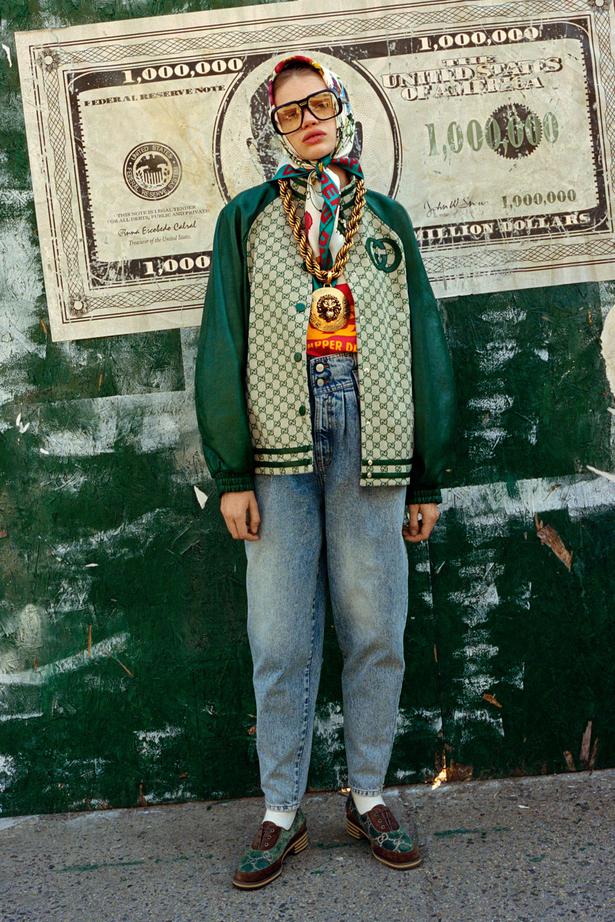 Gucci embraced a retro authenticity in its work with New York designer Dapper Dan. Photo / Gucci

"Designers look around and say, 'If people want to wear Birkenstocks, I'm going to get my market share.' And they design velvet Birkenstocks or jewelled Birkenstocks," Sheffman says.

Givenchy made $295 USD rubber slides with its brand name stamped across the top. Gucci has a fresh offering in partnership with Dapper Dan. The Walmart version of this glorified shower shoe is $9.99 USD. If authenticity is the irresistible elixir in all of this, "is it cooler to have the designer version or the original?" asks Sheffman. "It's better to have the original as with anything. It's that honesty, integrity thing."

READ: The Rise of The Luxury T-Shirt

But it takes a certain inner confidence to walk into a fancy gathering wearing a pair of 10-buck, no-name shower shoes. Most people won't. They're more inclined to flip-flop around town in Fenty Puma by Rihanna $90 ones because they've been tweaked just so and have been stamped with her approval. "The designers are laughing because they still have the power and clout to get everyone jazzed up," Sheffman says.

Eventually, inevitably, the fashion pendulum will swing. The jarring, quirky ensembles will begin to look a little dated. A more refined and polished facade will suddenly look fresh. Or maybe hyper-femininity and masculinity will float to the top. Something will.

Until then, marvel at the fanny pack, which today is sometimes worn cross-body but can still conjure up images of sun-baked tourists waddling across the National Mall. "It's a great resurrection. It's more relevant today than it was in the '90s," Kohan says. "It's a great way to have your phone right there at your side and have your hands free."

Ugly fashion is, if nothing else, practical.

— The Washington Post
Share this: