Up close with Heidi Klum on her NZ visit
As she heads to New Zealand to launch her new lingerie line with Bendon, supermodel Heidi Klum talks intimates.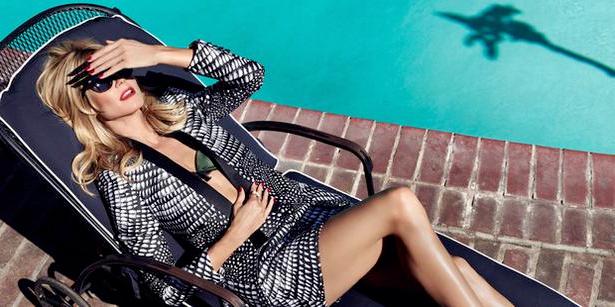 Wednesday Jan. 28, 2015
Heidi Klum's voice, perky and girlish, is probably now more famous than her breasts, the assets that originally helped establish her fame. That distinctive accented voice is chirping down the phone line from Los Angeles, chattering away about lingerie construction, lace and soft cup bras. Five years after parting ways with Victoria's Secret, Klum is getting back into the lingerie business in a partnership with Bendon as the face and creative director of its internationally successful Intimates line - replacing Elle Macpherson after 25 years. To paraphrase her Project Runway co-host Tim Gunn, Klum is serious about making it work.
• We will be live-streaming an exclusive Q&A with Heidi here on nzherald.co.nz from 8.45pm on 29 January.
It is two days after the Golden Globes, where the 41-year-old supermodel walked the red carpet in a custom made gown by Atelier Versace - one of her go-to brands for her many red carpet sojourns.
This morning, while others in Hollywood would have been sleeping in with sore heads, Klum woke up and did what she does best: went to work, on a two-day campaign shoot with the photographer Francesco Carrozzini for the second Heidi Klum Intimates line.
Klum likes to work with photographers she trusts, and has worked with Carrozzini several times (last year a campaign they worked on together was deemed too risque for Las Vegas because of said boobs). She chose close friend Rankin to photograph the lingerie line's debut campaign, pictured here, with several shots taken at Los Angeles' famous Chateau Marmont hotel.
"Especially when you shoot lingerie, you want to shoot with someone that you know and love. I've known Rankin for over 10 years, so he is not only a great photographer but also a friend of mine," she explains.
"It always works so easily when you're working with someone you know so well - I have no fear, and I don't feel uncomfortable in front of the camera, I always know that he will put me in the best light. He can get me to do things that I wouldn't do with everyone."
Klum is an expert in genuine body confidence, and showing off boobs in their best light. Her own - nicknamed Hans and Franz - made her a star in 1998 when she, and they, famously appeared on the cover of the Sports Illustratedswimsuit issue.
About the same time she signed a lucrative and career-defining contract with Victoria's Secret, which saw her become "head angel" and host of the annual TV shows until 2010.
"Shooting Sports Illustrated for so many years, and Victoria's Secret, I come from that world and I love that world. For a woman, lingerie is so important. Especially being a mum of four kids, my body has gone through so many different things. I understand how important it is for us to look good and feel good, and I want to add to that and make beautiful lingerie for women out there," explains Klum.
She says she wasn't looking to branch out into the intimates area, in addition to her current ventures: "My plate is quite full!"
There are the TV shows, which she hosts, judges and often produces - Germany's Next Top Model, America's Got Talent, and the wildly successful Project Runway(described by the New York Times as "the Prada of reality shows"). There's the partnership with cosmetics brand Astor in Germany, and the ongoing collections, kidswear and sportswear, for Babies R Us and New Balance.
That business savvy has been there since the beginning of her career; according toNew York magazine, in 1996 before signing with Victoria's Secret, she secured the copyright to her name, and has since extended her brand several times over. Macpherson may be The Body, but Klum is The Face, The Voice, The Brand.
The pair famously had a - admittedly media inflamed - feud in 2006 when Klum uttered the line "They call me The Body - and now I have a bra named after me" in a Victoria's Secret commercial (Macpherson's team was "flabbergasted"). Perhaps because of that history, Klum is careful to point out she was not angling for the partnership with Bendon.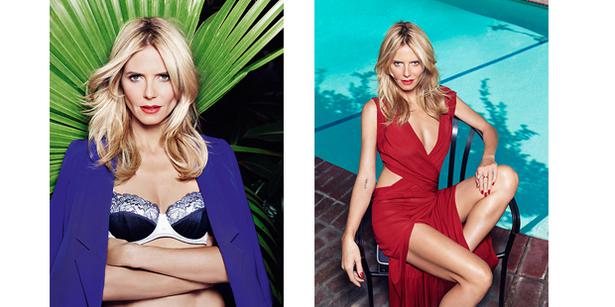 "I was quite surprised, because it kind of came out of the blue." But she became excited after looking further into the company's heritage and product.
Klum had been aware of the Intimates brand, having seen it 10 years ago when she had her first daughter, Leni. "I had been working for Victoria's Secret for 14 years, so I was always wearing Victoria's Secret lingerie. But when I was nursing, I was always looking for beautiful nursing bras and I could never find any!
"They were never very sexy, but just because you are nursing it doesn't mean you have to have these ugly bras on - I was always like, why don't they make beautiful nursing bras? I was looking around and around and found one that was beautiful, and I looked at the label and it was Elle Macpherson Intimates. That was the first time really that I was aware that she had a lingerie brand."
Klum replaced Macpherson on January 1, after it was announced in October that McPherson and Bendon were parting ways after 25 years (Women's Wear Dailyreported that Macpherson would continue her line with new partners). It's a major branding change for the iconic New Zealand company. Bendon has been open about its goals for global growth, and will be banking on Klum to provide that branding push into new markets; her 2.77 million followers on Twitter and 1.4 million on Instagram will certainly help with brand awareness.
The first Heidi Klum Intimates collection - the one Klum is in town tomorrow and Friday to promote - will be available worldwide in over 1800 stores, and Bendon CEO Justin Davis-Rice told WWD last year that retailers had increased orders by 25 per cent following Klum's announcement.
Don't expect the look of the line to change too dramatically under Klum's direction though. Along with the luxury-focused mainline, there is also the everyday Heidi by Heidi Klum collection and a menswear label HK Man. She plans to add more of her own signatures with the second collection to be released later this year.
"I want to bring my design aesthetic to the plate. I'm very involved - I don't know if I'm going to be more involved than what she [Elle] had been; I don't know because I don't know how her design method worked with Bendon."
At her first design meeting with the Bendon team, she tried on bras from previous collections to provide feedback, and brought along favourite bras from her wardrobe. She's currently all about the soft cup, which she thinks are more "on trend" than push-up bras - although they will definitely stay. "I don't want to get rid of the silhouettes that [Bendon] have been very successful with, but I want to add more to it," Klum explains.
She also wants to focus on expanding the offering of "specialty bras"; those with more complicated construction that work with a range of plunging, cut-out or strapless garments. "You know, it can be so difficult to find the right underpinnings - you might have a low, plunging neckline, and you're like, 'what kind of bra am I going to wear with it?!'"
Those challenges were key to the appeal for Klum in adding another extension to her brand stable. "I love a challenge, and I want to make this work and I want to make it better than it was," she explains emphatically. "I want to make it special and make it mine." And importantly, she says, it's about more than another celebrity being the face of a brand. You sense a little bit of her Project Runwayjudge come out when she talks about celebrities fronting for brands.
"At the end of the day the product is always the most important. It can look great in the photo, but then a women goes to the store and says, 'yeah, I want that bra that looks so great in the picture', but then she puts it on and it's not really that great, it's slipping and it's falling apart after she washes it five times, well then, it's not great. The product is always more important than who's modelling it."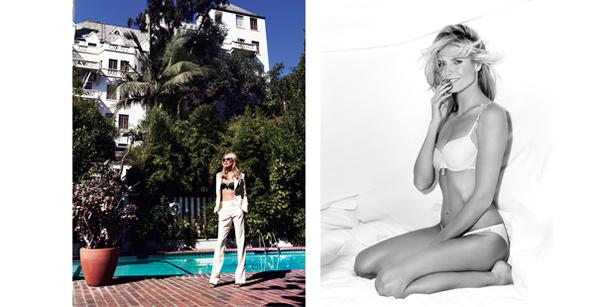 HEIDI ON . . .
Her relationship with social media
"It is part of how the world has changed, not just for celebrities or models. Yes I can talk to my fans about what I'm working on right now - you can really talk to people who want to know specifically about what you are doing. But I think it's a great tool also for friends - I can see what my friends are doing, where they're travelling." 

Sean Kelly, the Kiwi who won Project Runway last year
"He is a great designer - a beautiful human being. He's very technically gifted, and had some great ideas - I mean, he had some of the best designs I feel like I've seen over the last 12 years of doing Project Runway! His 'Rain Walk' dress was incredible. When a designer comes up with something that is new, when a model walks down, it gives me goosebumps, my hair stands up and I'm like, wow! He's just a really talented guy, and a lovely guy too."
Share this: