Venus Williams is More Than Just a Tennis Star
Venus Williams isn't just a tennis star; she's a fashion mogul. She shares how success in any area comes down to mindset - and damned hard work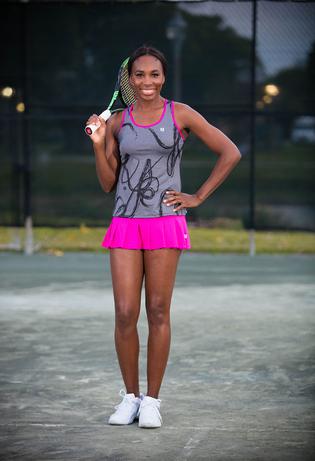 Venus Williams knows success like the back of her backhand but there's one thing she wants that she'll never have.
"It'd be nice to have a clone," she laughs on the line from her home in Palm Beach, Florida.
When she returns to Auckland in two weeks to play the ASB Classic alongside sister Serena Williams, her game won't be the only thing on the agenda. The world No 8 - who has seven Grand Slam titles, five Wimbledon championships and five Olympic medals to her name - will also showcase her activewear line EleVen.
The chatty 1.85m star is the ultimate ball-smashing billboard, her longstanding love for flirty tennis dresses, jewel colours and graphic prints having long since hinted at aspirations beyond the court. Among her more memorable outfits: a Tina Turner-style white fringe dress at Wimbledon, 2010, a risque burlesque number with skin-coloured briefs at the French Open the same year, and more recently, at the Olympics, red woven braids and a Wonder Woman-inspired dress she designed herself.
READ: 5 Minutes with Serena Williams
It's no wonder she wishes there were two of her. About 10 years ago the 36-year-old applied her rigorous discipline to the classroom, studying fashion, interior design and business. She launched EleVen in 2007. Alongside her duties running the company and her design firm V*Starr Interiors, she's studying for a master's degree in interior architecture.
Any doubts over whether a tennis star could be taken seriously in the world of style have been put to rest - despite a four-year hiatus after her initial retailer went bankrupt. EleVen was resurrected in 2012 and now ships worldwide through the website elevenbyvenus.com, selling not only tennis apparel but ranges for general fitness, yoga, dance and running. In New Zealand, the label has yet to secure stockists but will begin showing the collections to retailers in January.
The designer shows glimpses of her perfectionist nature when she describes the clothing line as "a work in progress".
"Tennis is something I haven't had to learn, I've just always known. Whereas with business I've had to start from the bottom. The fashion industry is intense. But I love seeing that growth and knowing the brand is helping people live healthier, fitter lives while being fashionable at the same time."
Juggling the two worlds makes for a busy schedule. Venus got up at 6.30 this morning to get to the gym, then went back at 9 before getting on a flight to New York for an afternoon meeting with her business partners. The two sessions of running, lunges, core work and arm work and plyometrics (jump training) amounted to nearly four hours of training, but it was less a case of quantity than quality, she explains.
"If I don't get the right training in, I don't feel like I deserve to win."
READ: What to Wear to the Tennis
That philosophy explains why she named the brand EleVen (as in more than a 10). As the rest of us relax on Christmas Day over large serves of ham and plum pudding, Venus will be tackling large serves of a different kind in preparation for Auckland and the Australian Open. As if to reassure me she's not at all sad about spending the day on court, she points out that sacrifice often leads to success - and she won't have to worry about putting on any holiday weight.
"It's all about getting more out of yourself than you ever thought you could," she says. "There are so many occasions where I've pushed myself beyond what I thought my limits were. Whether you have a win or loss you know you gave it your all. You have to be honest with yourself and think, 'Can I do more?'"
She adopts this mindset in the boardroom too, applying those timeworn skills of goal setting, perserverance, resilience and working with a team to life off the court. The challenge - and her biggest motivation - has been in learning everything from scratch, from the production cycle to building a great team, to marketing and design.
"You want to stay childlike because that way you're always learning. Learning is the best part. And there's nothing you can't build with sweat equity. I'm not afraid of hard work. I enjoy it."
She has her parents to thank for drumming that ethos into her from a young age. When Venus and Serena weren't getting into their mother's lipstick and trying on bad 1980s outfits, they spent their childhoods playing tennis.
READ: How Ana Ivanovic Keeps Fit and Healthy
"My parents pushed me for hours and hours and hours on court. They demanded we do it the right way and we'd get a great result. So I had positive influences to start out with and I'm grateful for that. Every moment involves teamwork and if I let myself down I have to step back and evaluate. It's a continual process. You have to constantly take a look at yourself."
In sport, that means getting straight back up again after a loss. She had a tough start to the Olympics, losing to Belgium's Kirsten Flipkens in the opening round; she and Serena also had a shock defeat in the doubles. She's already moved on.
"The only way I know how to deal with it is to know I have another chance. I start playing right away. Redemption is real, it helps me to bounce back. I love pressure. It's not easy to deal with but I love it and can't live without it."
The only area where she arguably avoids pressure is in competing against Serena, the current world No. 2. Although the sisters have played each other in eight Grand Slam finals, with Serena winning six times, the last time they played an International WTA tournament together was in 1998. However, Venus played the ASB Classic last year and was impressed by our supportive tennis culture, envisioning it as the perfect place to get back to form as a team.
"I'm directly responsible for bringing her," she jokes. "I told her how much fun it is and what a wonderful crowd it is and how appreciative they are of every point of tennis and player and she wanted to come."
Should they both wind up in the finals, "may the best Williams win," she says. "That's the way it always is. Who is better on the day."
Whatever the outcome, we can expect to see the star giving it her all while decked out in outfits designed with more than function in mind. Does she feel there is too much emphasis put on how female tennis players look?
"I find people are more focused on an amazing backhand serve. If you don't feel comfortable with what you're wearing, it's difficult to focus. You want to go out there wearing something you feel confident in and not focus on that. Then it becomes all about how you're performing."
• If you love tennis, you are going to adore January's 2017 ASB Classic. Along with a superstar line-up of players, including Serena and Venus Williams, Caroline Wozniacki and Ana Ivanovic (and that's just the women players), there'll also be fantastic fashion, food and entertainment. And Viva will be there, too.
We are delighted to present the glamorous Ladies That Lunch event, which brings together the fashion designs of Juliette Hogan and the footwear of Kathryn Wilson. It will be held on court on Friday, January 6, and guests will enjoy a three-course degustation lunch designed by chef Nic Watt, a chance to meet the designers and a bespoke tennis inspired Juliette Hogan accessory. Tickets start from $150 at Ticketek.
Share this: