The Versace Woman's Style Evolution
The Versace woman has pivoted from rock chick to sophisticated kook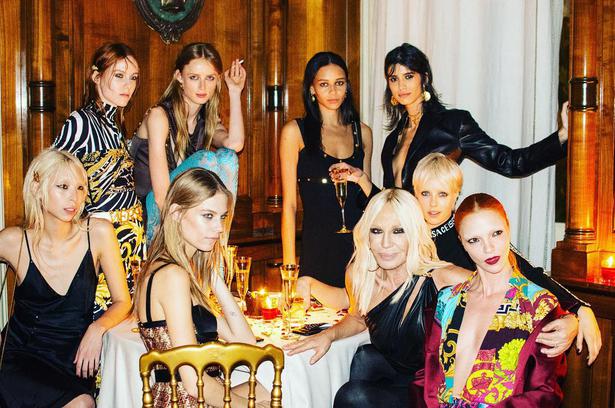 Tuesday Feb. 26, 2019
David Attenborough and Donatella Versace. Not a huge crossover there, you'd have thought. But partly thanks to the former, Donatella is far more aware of the environmental challenges facing us all than she was a year or two back. "It's the biggest issue," she says. "Now, when I see someone with a plastic straw or a single-use water bottle in the office, I want to go over and take it off them."
Although real fur has been banished from the brand's inventory and her own wardrobe, outwardly, the DV trademarks remain remarkably constant. "I must have been born wearing tight leather," Donatella says. But there's a clear evolution to the brand. Judging by what she's just shown me — in an exclusive preview of the winter 2019 collection — the Versace woman has pivoted from rock chick to sophisticated kook.
READ: Highlights From Donatella Versace's Tribute Show To Her Brother Gianni
As we meander through three rooms in the brand's Milanese palazzo HQ, each spilling over with colourful fake furs (the ecological argument against faux doesn't seem to have reached Milan yet), satin slip dresses, and strappy shoes, what is most striking — apart from the colour combinations, multiple contrasting textures and layering ("the only way to dress that really makes sense," according to Donatella) — is how charmingly eccentric and often vintage-y it looks.
Eccentricity was never a prominent trait of the Versace woman. Donatella says it is her British side coming out (her son Daniel lives in the UK). But it's surely also a testament to the Gucci effect. Not entirely coincidentally, Alessandro Michele, Gucci's creative director, is the living designer she most admires. The dead designers she reveres are her brother Gianni and Karl Lagerfeld, whom her mother, Francesca, used to see in Paris five decades ago when she was buying stock for her boutique in Calabria and he was designing at Chloé. "What's so amazing is that when Karl met Gianni in the Eighties, he remembered our mother. He was such a man for learning — he knew everything about everything. That's what I aspire to."
READ: Lagerfeld Crafts His Own Eulogy & Leaves It On The Fendi Catwalk
Donatella would like to leave a company as big as the one Lagerfeld created at Chanel. Maybe that's why, last year, she sold the label to Capri Holdings (formerly Michael Kors Holdings) for $2.1 billion. "I had so many approaches over the years and I always said no. Why would I want to follow rules set down by Wall Street when I could do whatever I wanted if we kept the company?"
So why Capri Holdings? "Because John Idol [CEO of Capri Holdings] is one of the most intelligent people I've ever met. He doesn't want to change a thing about this company, except help it to grow much bigger and make our website the best and most efficient. The only thing he's said so far is that we need to focus more on accessories. But we already knew that."
She's clearly been following his advice. There is a new bag, called the Virtus, after the Roman god of bravery and strength. For such a portentous name, it's very cute, in a zillion colours, with multiple gold charms, including a likeness of Audrey, Donatella's 11-year-old Jack Russell. ("She won't like me telling you her age. But she only looks four.")
With her walk-in closet and inevitable Instagram account, Audrey sounds like a contender — along with Choupette, Lagerfeld's doted-on Birman cat — for the world's most pampered pet. But Donatella's two children flew the nest long ago (although her 31-year-old daughter, Allegra, works quietly behind the scenes at Versace), so perhaps the indulgence is understandable. Daniel, a musician, likes to be anonymous to the point where he changed his surname and didn't tell his mother his address for five years. "He would always come and visit me when I was in London, but I wasn't allowed to go to his place, or his concerts."
READ: Versace Takes Big Step In Sneakers That Blend Status With Stature
Does she like his music? There follows a diplomatic pause. "It's very new and revolutionary. I think it's going to be the next big thing."
So it's Donatella and Audrey, then. "She's really quite impossible sometimes," says her mistress fondly, leaning on a uniformed staff member (Bouncer? Footman? High-heel facilitator?) as she leads me downstairs to her late brother Gianni's apartment.
We make ourselves comfortable on a vast camel leather sofa flanked by Roman pillars, gilt furniture and besuited staff who bring us espressos and, for some quaint reason, cakes. It is 30 hours before the show and this is such a well-oiled machine that pretty much everything is ready. But she still gets petrified. "What if a heel goes flying on the runway?" she says. "I'm not allowed to touch anything at this stage in case I wreck it. But then, 15 minutes before the show starts, I feel weirdly calm."
While nothing much has changed in Gianni's apartment since he died 22 years ago, Donatella has been Marie Kondo-ing her own wardrobes. "The important thing," she says, "is that while you have to keep moving things forward and refining, you must never think your age. And you certainly mustn't dress your age."
Amen to that. But at 63, has she revoked her licence to wear mini skirts? "Are you crazy? Of course I still wear them. Just not with bare legs." Often she will chuck on an oversized knit. But the rest of her silhouette has to be skinny.
READ: Why Everybody's Talking About The Assassination of Gianni Versace: American Crime Story
Today's look is tight black trousers, black heels and second-skin black-and-white top.
She laughs when I ask whether she agrees with the recently departed Lee Radziwill (sister of Jackie Kennedy), who said a woman must find a hairstyle and stick with it. "I found mine when I was 11. Or rather, Gianni did. He paid a hairdresser to put highlights in. My mother nearly killed him."
The Capri Holdings buy-out seems to have renewed her confidence — but she's still diffident about her achievements. When I ask whether there's a specific outfit she wishes she'd designed, she instantly cites the Gianni Versace safety-pin dress that launched Liz Hurley's career. Yet she designed an equally famous dress in 2000 for Jennifer Lopez: the tropical-print chiffon wisp that she wore to the Grammys, a feat of gossamer engineering that prompted so much debate, it precipitated the launch of Google Image search.
"I'm very serious about wanting Versace to be bigger," she says. "For years, I wasn't that bothered about growing, but now I want to build something that will outlast me, like a Dior. I probably shouldn't say this, but I may not always be working at Versace, although I'll always do something. But while I'm here, I'm completely committed."
Donatella has always championed youth and talent, but nowadays she is paying attention to older generations. Her last few shows have featured, if not geriatrics, then women in their forties and fifties (albeit supermodels). The show included 50-year-old Stephanie Seymour and 45-year-old Shalom Harlow, who also fronted the most recent campaign (behind-the-scenes footage of her dancing on set went viral).
"There's so much focus on youth, but look at Ruth Bader Ginsburg [85 and an Associate Justice of the US Supreme Court]. She's amazing. Her brain is sharper than anyone's. If you're cool, you're cool."
— The Daily Telegraph
Share this: