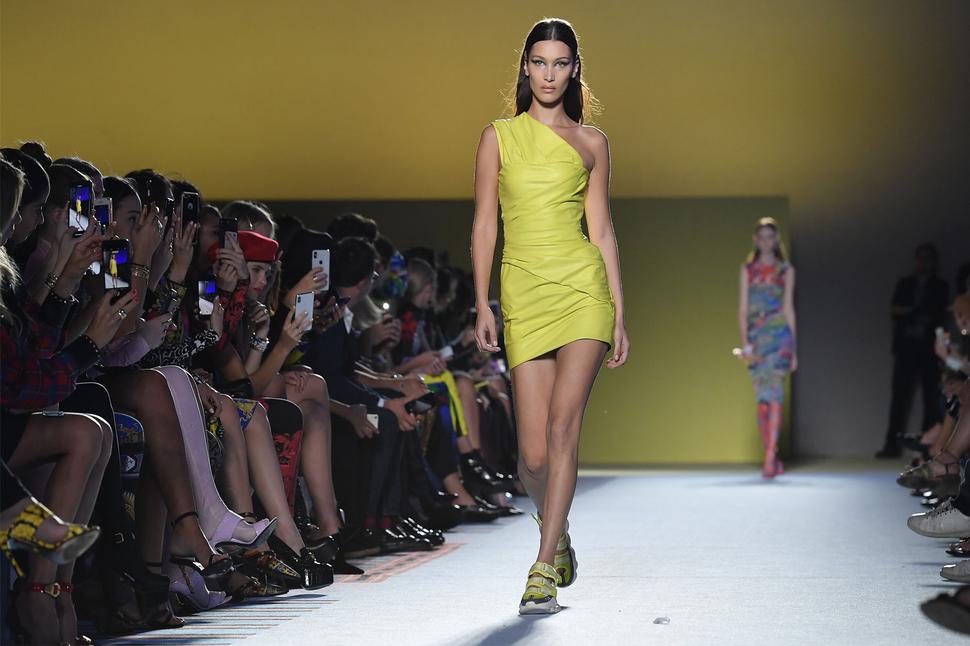 Versace Takes Big Step In Sneakers That Blend Status With Stature
Sneakers are now the prevailing footwear for just about everyone, even the ladies who teeter, writes Lisa Armstrong in Milan
Tuesday Sept. 25, 2018
It was the sneakers that got me. Versace doesn't do sneakers.
It does heels so high you practically require a lift to mount their summit. A stiletto is as much a part of the Versace woman's go-to look as her swishy, flicky hair and her perma-tan.
READ: Is Fashion Trolling Us Or What?
But when the tectonic plates of fashion grind into action, they do so decisively. Sneakers are now the prevailing footwear for just about everyone, even the ladies who teeter. If the key to commercial success in fashion for the past 20 years was minting an It Bag, now it's coming up with a distinctive, eye-punching pair of sneakers.
A year ago, Donatella Versace, who despite the private jets, diamonds and palazzos is not immune to the forces of the external world, engaged the services of Salehe Bembury, a sneakers nerd-cum-designer, who, she told me at the time, was giving her goosebumps with his footwear prototypes for Versace.
Suffice to say that in Versace's latest show, there were sneakers. Some were sneaker-booties, with chunky straps that fastened above the ankle.
READ: Donatella Versace: 'I've Waited 20 Years to Honour Gianni'
Others had scooped-out fronts that turned them into futuristic-looking sneaker-sandals. In purple or acid yellow and with Versace's famous Etruscan motif etched along their sides, they represent a decisive point in the evolution of fashion.
There's a new super-breed of sneaker that combines status with stature. Versace's pumped-up soles gave the models three to four inches of added height. Designed to be worn with evening dresses as well as jogging pants, they'll slot comfortably alongside the exaggerated sneakers that have made so much money for Gucci and inter alia Balenciaga.
READ: Say Hello To Scumbro, This Year's Most Intriguing Fashion Phenomenon
This wasn't Versace's only news. This house, which has made its name, on the red carpet at least, with glamorous, slashed, wispy evening dresses, is taking a detour into separates next spring. Stripy skinny ribs partnered with checked knickers (what else?) and satin jackets. There were more modest options: micro leather minis or stretchy pencil skirts.
This was an interesting section: not just for the orange, cobalt and yellow colour palette, which was a sophisticated departure from Versace's traditional Barbie-esque spectrum, but because of the sporty, playful interplay of graphic prints. There was even a cardigan: another nod to life as it is lived on Earth.
Generally speaking, Versace isn't a label that sets trends. It has such a strong DNA and is so fixed within its worldview that anyone with a moderately well-informed take on fashion instantly knows when something looks "Versace-esque". Tight body-conscious dresses in various shades of Barbie. Tight black tailoring with studs, Medusa heads or Swarovski crystals. Grecian-goddess floaty-ness anchored to tight corsetry. A bit of light bondage or punk.
READ: How To Wear: Dresses With Sneakers
But Donatella Versace is on a renewed mission to keep Versace evolving. She made sure to include some classic set pieces such as those Grecian-goddess dresses and patterned tights, but this time layered with tanks and sweaters, a salve to younger generations who are discovering — and collecting — those big, splashy Versace patterned shirts and leggings from the Eighties and Nineties on resale websites.
If she plays her hand well, Donatella Versace could steer her label into a genuinely cross-generational brand. This show as a strong step towards that.
 — The Sunday Telegraph
Share this: