Victoria Beckham Celebrates A Decade Of Design With Another Elegant & Assured Collection
For her collection's 10th anniversary, Victoria Beckham swapped New York Fashion Week for London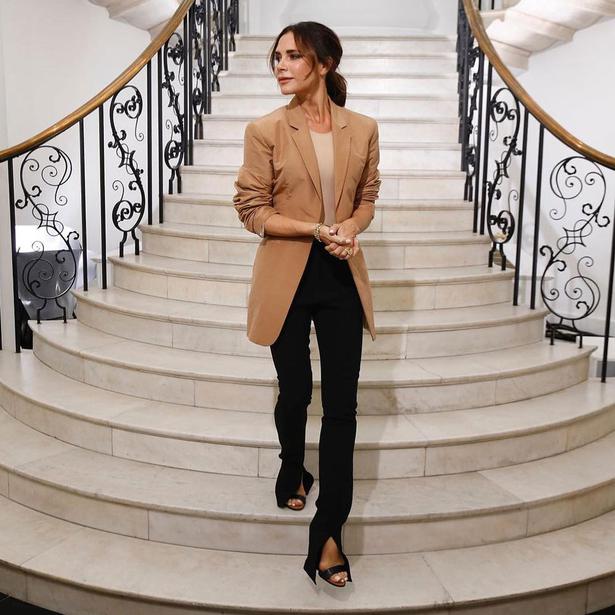 Wednesday Sept. 19, 2018
Ten years ago, to a certain degree of scepticism, Victoria Beckham debuted her first collection in a suite at the Waldorf Hotel in New York. In 2008, "celebrity" ranges were 10 a dime and no one expected anything beyond the usual cashing-in.
READ: 
But from the start, Beckham took a different approach. Instead of cynical tat, hers was always an ambitious, high-end endeavour. She had consulted Roland Mouret (a fellow stablemate at 19, the Simon Fuller company that had managed the Spice Girls, and was backing her assault on the fashion world).
It was clear from that Waldorf presentation that Beckham had done her homework and understood her girl-band celebrity would not necessarily be considered a plus in the higher echelons of fashion. (She was right. Certain department stores declared that pricey clothes designed by a Spice Girl wouldn't sell.)
It hasn't always been easy. Mass coverage doesn't automatically guarantee sell-outs of $2,000 dresses. Yet she has managed to establish a solid company, fuelled by sales of sunglasses, her second line — Victoria, Victoria Beckham — and judicious limited-edition collaborations with Estée Lauder and Target.
But her flag-waver is the Victoria Beckham collection, which, for this 10th anniversary, left New York's Fashion Week for London's, taking place in the Galerie Thaddaeus Ropac, a grand Georgian Mayfair mansion that has the convenience of being next door to her store (where Beckham worked the tills following the show) and the distinction of being a meeting place for the suffragettes.
READ: Victoria Beckham On How To Stay Stylish
There was a synergy between the aspirations of those Edwardian women and the collection, which was replete with breezy, elegant clothes (a long way from those early body-con dresses). Fluid trouser suits were further softened with floaty lingerie-inspired camisoles. Layering was key: strappy slip dresses worn over tank tops and extra long skinny trousers with ankle slits or partnered with matching shirts, for a smarter take, with some sparkling maxi-length coordinates.
"I'm making this very customer focused. They've come to the show from all over the world and they'll be able to pre-order straight from the show," Beckham, dressed in a camel-coloured jacket and those ankle-slit black drainpipes, told me before the show yesterday morning, which husband, David, and their four children also attended. "There's long, short, narrow silhouettes and wide. It's about freedom and choices." (And mainly flat metallic slippers.)
"The casting was more important than ever," she explained, gesturing to 47-year-old British model Stella Tennant whom she had chosen to open the show. "I wanted a mixture of ages. This isn't a retrospective, but looking back, I realised I had developed certain codes over the years which I wanted to show".
READ: Victoria Beckham's Most Fashionable Quotes
The ease and assuredness are testament to Beckham's savvy insistence on working with the industry's best stylists and photographers. "She's always been a fast learner," one told me. This was on the money: commercially and in its optimistic but realistic mood.
Was she nervous about showing in London (where the competition is tougher than in New York)? "I'm always going to be judged whatever I do," she said. "Not least by myself — and that challenges me."
— Telegraph
Share this: