Victoria Beckham on How to Stay Stylish
Victoria Beckham has learned a thing or two about looking good, whatever the time zone or climate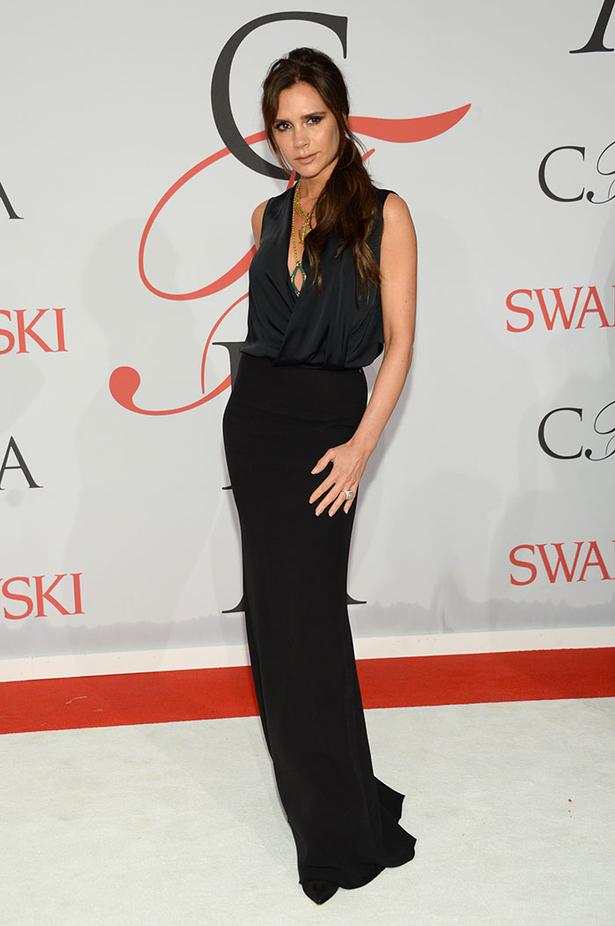 Wednesday July 1, 2015
The evolution of Victoria Beckham's personal style, from Empress Wag to chic international businesswoman is almost as compelling as her progression from pop star to respected designer.
When we met last week, in her Mayfair store, she was wearing a little black sheath top, black tailored, cropped trousers with a bow at the waist, heels and long wavy hair — perfect day-to-night pieces in her book, especially when she slipped on a voluminous duchesse satin coat from her new Victoria Victoria Beckham pre-collection to demonstrate what she wears to combat summer air conditioning.
The first floor of that store, by the way, contrary to certain tabloid reports, was buzzing, although I can't swear all of them were there to shop rather than star stalk. Little did they know VB was in the basement, to show buyers and press her new pre-collections for her mainline and the Victoria Victoria Beckham lines.
Lest anyone doubts her determination to be viewed as a Proper Designer rather than a Celebrity Designer, Beckham personally attends these one-on-one meetings, instead of leaving it to her PRs.
Pre-collections arrive in store around November, after the winter ready-to-wear collection, which is filtering in now. The "pre"-season (the names don't make sense to anyone) lasts longer than any of the others, including the so-called "main" ready-to-wear lines. A well thought through pre-collection should contain everything, from mid-weight coats to light knits and beach dresses.
That's a lot of work for designers, but pre-collections now account for more than 70 per cent of most designers' businesses (the so-called mainlines are less than 20). As a result, they've had to learn to dress women for all occasions and climates. Beckham, in particular, has a knack for listening to potential buyers when she meets them.
One reason for her continuing success is that the 41-year-old mother of four identifies with her customers and vice versa. "I understand their lifestyle," she says. "I know exactly what they want. They need clothes for travelling in, partying, dinner dates and for the office. That customer is ... me."
Constantly travelling to sell her label around the world (New York, Miami, London, Singapore, LA and Hong Kong in the past six weeks), she has learned a thing or two about climate control, switching between hemispheres and dressing the part, even when it's 40C.
"I recently got off the plane from New York to Miami, which was much hotter than I had expected. There I was in a coat, jumper, and heels — very wintry, basically — and it was insanely hot. That's when you quickly appreciate what a shot of colour and some great flat shoes can do." She also noticed that the women who turned up to her personal appearances in store in the Far East still love wearing dresses, but loose ones.
Not entirely coincidentally, there is now tangerine orange, marigold, powder blue and lemon sorbet in the new Victoria Victoria Beckham pre-collection, loose short dresses as well as maxis, and plenty of cover-ups to ward off over-zealous air conditioning, and crepe, which, she maintains, is highly crease resistant.
"Just the three cases," she deadpans of the "condensed" edit she took to Asia a couple of months ago, before explaining that two of them were crammed with samples of her collection to show potential buyers... samples that just happen to be her size. "For research purposes — I need to test the collection, don't I?" she says. "I've always been a heavy packer. I like to have options."
These days, the daytime looks Beckham favours may be closer to Phoebe Philo's luxurious gamine than Donatella Versace's burlesque vamp, even if the volume on her glamour setting is inevitably turned up more loudly than Philo's — but then she's appealing to a much broader public. Yet though the heels and hair still look a little high maintenance, VB circa 2015 has a wardrobe — and a style — that the most studiously "effortless" fashion editors keep an eye on.

Here are VB's must-haves and need-to-knows for looking good in the heat:
1. A midi skirt is my favourite summer piece, whether you're at a semi-casual event or work. It doesn't matter if your legs are tanned or pale, it still works — with flats or a block heel.
2. My other essential is my Dynaband. You're going to be baring your arms. Sling this in your case and you can use it to tone your biceps, triceps wherever you are. It's good for legs, too.
3. If you really have to look boardroom-smart when it's hot, I like a tailored dress in a loose, breathable weave. A lot of women still need pieces like this, which is why I've got plenty of them in my collections.
4. Apart from shoots, I'd never wear something that's short and tight now. Back in the day, I didn't mind feeling a bit uncomfortable. These days it's about leaving something to the imagination. If I wear a shorter dress, I like it to be loose and playful. At 41, my motto is tailored not tight. Loose just seems to exude a modern, youthful attitude.
5. To ward off freezing air conditioning, my latest thing is a plain duchesse satin black coat, which looks glossy and glamorous, but isn't overkill. I'll shoulder robe it indoors and pop it straight on when I get off a flight. It pulls everything together.
6. I love denim in the summer, especially in London. We've got two levels — the luxury Victoria Beckham ones, which are like a tailored pant, and the Victoria Victoria Beckham collection. Neither has more than 2 per cent stretch because personally I don't like a very stretchy jean — it bags too much. I like something stiffer that holds you in rather than giving way. It looks smarter, too.
7. For evenings and more casual days, I love maxis. Chiffon is great, but crepe is surprisingly crease resistant, too. I had one crepe maxi dress that came with me from London to New York to Miami and emerged from my case looking perfect. For nighttime, add some jewellery and switch up your makeup.
8. Talking of makeup, less is definitely more when it's very hot. I avoid foundation, but go for tinted moisturisers and aim for that dewy "sunkissed" look. I like This Works' No Wrinkles Time Dose face masks. I use a pink-nude lipliner all over my lips, with just a slick of balm — nothing too glossy. And for my finger nails, I love CND's Shellac Nude Knickers, which goes with everything and lasts for ages.
9. I like a light scent. The one I'm wearing today is a body cream from Weleda but I also love the fragrances from Byredo.
10. I love a heel, and Manolos are the most comfortable. But you can't beat a flat. In LA, I work out a lot so I'm often in trainers, but they can be hot. Chanel's fit-flops are my new best friends — entry price, apparently, but still expensive.
11. In London I mostly live in trousers, winter or summer. When my legs are pale, they're the answer.
12. I'd like it on record that all the times I've been criticised for wearing dodgy orange fake tans — that's my natural colour. I go brown very quickly, so I tend to whip my legs out at the first sign of sun, so I'm not big on fake bronzers. That said, I'm curious to know whether Saint Tropez's new in-shower daily bronzer works. I don't see how it doesn't go streaky, but I'm open to persuasion.
13. When it comes to swimwear, let's just say it depends where I am. If I'm on a public beach, it's a one-piece. If I'm secluded in the Maldives, it's an Eres string bikini, with a vintage YSL kaftan or denim shorts. I need to protect my hair, too, because the sun can wreck its colour and those SPF sprays for hair don't work. It's a turban for me. Very Liz Taylor. I'd rather I didn't run into anyone from the fashion world, though.

— The Daily Telegraph
Share this: