Talking Art and Fashion With Viktor & Rolf
Dutch design duo Viktor & Rolf on how they keep their creativity alive in a volatile world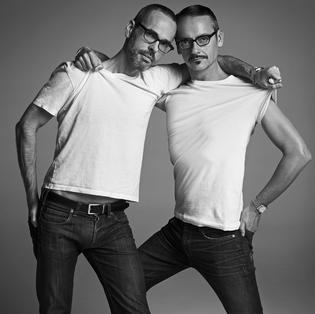 Picture this: Dutch model Lara Stone walking precariously down a dimly lit runway wearing a high-collared blouse, red beaded choker, tiered skirt and high heeled klompen (traditional Dutch clogs), her own independent lighting and sound system carried on a scaffolding rig harnessed around her waist. This is the Fall 2007 ready-to-wear collection of Lara's fellow countrymen, avant garde design duo Viktor Horsting and Rolf Snoereon of Viktor & Rolf.
The 35 models rigged with their own lighting and sound wore garments inspired by Dutch paintings in a collection described at the time by journalist Dolly Jones of British Vogue as "taking umbrage at the idea that every time we get dressed we intend to put ourselves in the spotlight". A precursor, perhaps, to the current onslaught of social media darlings whose rapid turnaround of outfits both on and off the red carpet is shared with millions of followers.
And who can forget the duo's Spring 2010 collection of diaphanous tulle gowns, with slashed hemlines and cutouts as if taken to with a chainsaw. A comment on the ubiquitous slashing of budgets and cutting corners during the latter part of the 2000s? It defied both gravity and critics, who saw little room for extravagance during a period of frugality.
That's what makes a Viktor & Rolf collection special. Thought-provoking discourse fused with a love of art, culture, history and technical virtuosity; self-portraits through clothes that reveal their thoughts a layer at a time. For Fall 2008, they rallied against the relentless pace of fashion, as models stomped down the runway in wool coats stitched together with staples featuring the word "no", exploding like Roy Lichtenstein speech bubbles from chests in sculptural 3D. "We decided to go with that emotion instead of denying it," they explain. "No was popping up in all our sketches, then, while drawing coats we thought, why resist it? It was like therapy. Afterwards we felt liberated."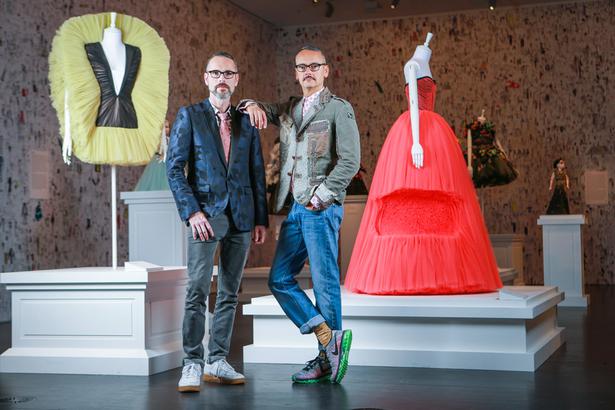 The designers at the launch of Viktor & Rolf Fashion Artists at the NGV. Picture / Supplied.

The pace is familiar to them, having designed a collection for Swedish high street retailer H&M in 2006, the third designer brand to do so in what has since become lucrative business for the chainstore behemoth. "It's more common to do those collaborations now," says Viktor. "It was a very interesting experience to work with totally different machinery to ready-to-wear. Even so, there will always be a need for the original and the uncompromising, and it only made that more apparent over the years."

The designers made the decision to close their ready-to-wear division with a final collection shown in February last year, and focus now on fragrances, haute couture and more recently, Viktor & Rolf Marriage, their debut wedding collection unveiled last month. It was a move supported by the brand's majority shareholder, Italian fashion giant Renzo Rosso, who saw it as a strategic decision to position the brand in the highest segment of luxury fashion. "The answer for us was quite simple." says Viktor. "We stopped ready-to-wear because for us it was all a bit much. We wanted to focus on couture and fragrances because we just didn't enjoy it so much anymore, and it was on our mind for a long time."

The decision places them in a unique position, given consumers' insatiable appetite for the new, and pressure on brands to meet the bottom line. They are championed by equally nonconformist creatives including Rufus Wainwright, Bjork, Roisin Murphy, Lady Gaga and actress Tilda Swinton, the latter both muse and model for the Fall 2003 collection.

Next year they celebrate 25 years in business, having first met while studying fashion at the Arnhem Academy of Arts and Design in the Netherlands in 1988, before teaming up in 1992. Today the pair are sitting in a hotel room in Sydney having spent the past two weeks preparing for the launch of their new exhibition Viktor & Rolf Fashion Artists, at the National Gallery of Victoria. They're both rakish, both wear glasses, and look younger in person than their 47 years, Viktor is the more vocal and Rolf has a perpetual look of surprise. They finish each other's sentences, their clipped politeness suggesting efficiency — no surprise given the various projects they oversee alongside their couture, this exhibition included.

"The NGV approached us last year and we thought it was a great way for us to show our work here," explains Rolf. "It's an amazing museum, with around 2.6 million visitors a year, so for us it presents an amazing opportunity." The work on display goes beyond clothes: specially designed wallpaper features sketches, colourful scrawlings by the duo adorn limited edition packaging of their Flowerbomb fragrance, press-clipping tapestries are blown up, and their unique collection of metre-high porcelain dolls wear selected looks from the collections since 2006.

Curated by Thierry-Maxime Loriot, also responsible for the NGV's popular summer 2014-2015 exhibition The World of Jean Paul Gaultier: From the Sidewalk to the Catwalk, the exhibition is a retrospective of sorts, featuring the most sculptural pieces from their archive and highlighting their earliest projects through to their most recent couture collections. The outfits don't disappoint, displayed on mannequins so close to punters that every stitch and glistening embellishment is easily savoured up close. The designers have eschewed glass cases and velvet ropes for a more intimate experience. "The main goal is to bring together the highlights of our work and to show it to an audience that has never seen these pieces live," says Viktor.

READ: Viktor & Rolf on Their New Fragrance Bonbon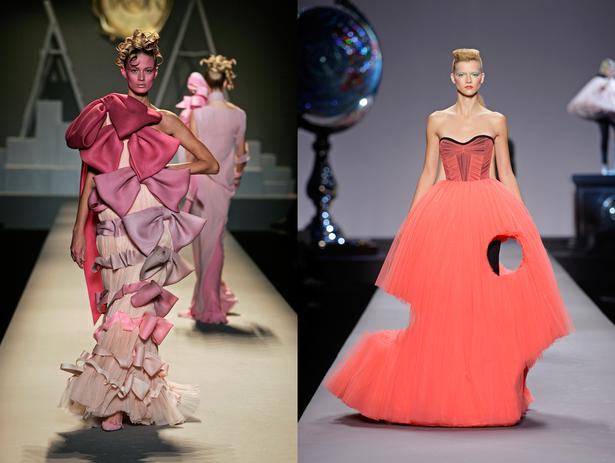 "We love doing museum shows because they are so much more democratic than doing catwalk shows. Catwalk shows are, of course, a very limited audience. In 10 minutes it's gone — it's great because you get all this energy, but the museum shows you get to focus on other aspects of the work."
This democratic approach is highlighted in a children's interactive installation, encouraging creative expression by younger visitors. Considering Viktor and Rolf's own wide-eyed optimism towards their collections, a space for young creative minds reinforces the message of the exhibition. A blackboard in the installation features a handwritten message: "We want our clothes to look like they've been made by the birds in Cinderella."
The exhibition highlights another fairy tale, the iconic Spring 2005 Flowerbomb collection, that marked the launch of their debut fragrance of the same name. "That show was black at the beginning and then we went the complete contrast and did everything in pinks. In the exhibition you'll see we've selected a black suit with very graphic bows cascading down the side, and then a very contrasting bow dress in soft pale pinks. We also have one of the miniature dolls in the Flowerbomb dress."
In June this year, they teamed up with long-time collaborators and fellow Dutch power couple Inez Van Lamsweerde and Vinoodh Matadin — "they share our love of the surreal" — to mark Flowerbomb's tenth anniversary. A  new campaign features model Andrea Diaconu with an explosion of flowers erupting out of her head. It replaces the first campaign with model Isabeli Fontana peering through a billowing pink veil.
WATCH:The New Viktor & Rolf Flowerbomb campaign video:
"Inez and Vindoodh are very good friends of ours and we work closely with them with casting," says Rolf. "The most important thing when we launched Flowerbomb was to have an advertisement that speaks of mystery. We consciously do not work with a celebrity because we didn't want it to just be a beautiful woman. The idea is ultimately always the most important factor for us."
Flowerbomb's success as a fragrance has given them the opportunity to concentrate on the more artistic, perhaps less commercially viable aspects of the brand such as the couture line, transforming them into a household name in the process. Flowerbomb sits at number three in Australia in a highly competitive 300-strong fragrance portfolio in national department stores and is in the top three best-selling fragrances in New Zealand. It's a world away from their early ambitions when they dreamt up the fictitious fragrance Le Parfum in 1995, part of an art project featuring an installation of a miniature design studio, photo shoot, runway show with a doll, and a boutique with a rack of clothes.
"You'll see this in the exhibition too," says Viktor. "For the both of us perfume advertising was really the entry into the fashion world when we were teenagers in the 80s. There weren't so many magazines, the internet didn't exist and there was hardly anything on television. We found perfume ads very mysterious and beautiful. That's what led me to fashion. So my conception of what fashion is was always inclusive of fragrance."
As designers are being replaced by marketers and design teams more focused on churning out product, Viktor & Rolf's approach to keeping the dream alive in a volatile world offers hope for the next generation of dreamers. "We believe in the power of transforming anything into beauty," Viktor exclaimed after the Flowerbomb show in 2005. "And we all need an extra dose of that these days." Today, sitting contemplatively after launching their exhibition at the NGV, the sentiment remains.
Share this: