Throwback Thursday: Annabel's, London's Poshest Nightclub
Even the Queen has been to Annabel's, but can it survive a change of venue?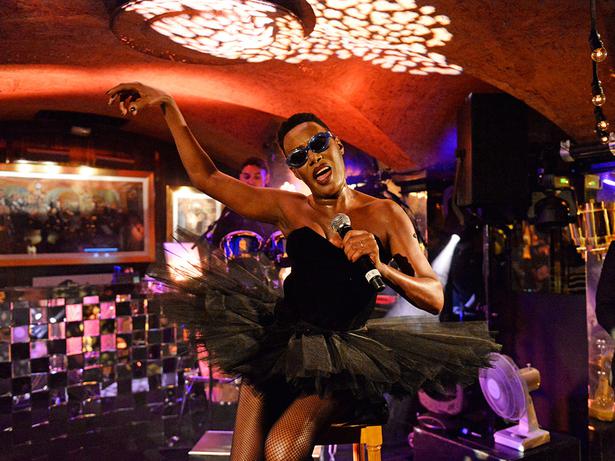 Thursday March 26, 2015
The gnashing of teeth will be audible from Sloane Square to Dubai, and from Hollywood to the grandest country piles in the land. Annabel's, the poshest basement on the planet, is moving on. After 52 years in Berkeley Square, the members-only nightclub is being transferred by its owner — restaurant magnate Richard Caring — to bigger and as-yet undisclosed Mayfair premises split over several floors.
In the removal van will be the Annabel's collection of racy nude drawings as well as its wooden dancefloor, which has been stomped on by everyone from Diana Ross to Kate Moss, from John Wayne to Poppy Delevingne.
"It's very sad news," says Nicky Haslam, writer, socialite and interior designer. "I went to the first-night party [in 1963]. I covered it for Vogue. I told Diana Vreeland to get it photographed. That room was legend. 'Take me to the Bel's', all the debs would say. It was pretty wonderful.
"It was just an old coal hole, but it had the most brilliant lighting and the first sound system playing American rock. Mark [Birley, the club's original owner] had the latest American tunes flown in every week from New York. Smooching was part of the point. Many a marriage broke up at Annabel's. But great deals were discussed there, too. It was also a place of business."
The move marks the end of a gilded era. Its heyday was the Sixties and early Seventies, but Haslam says, politely, that "it doesn't have that club atmosphere it used to have".
Still, designer Patrick Cox, Eric Clapton and Damian Aspinall have all fallen foul of its strict dress code and been turned away.
Annabel's success shows quite how staggering the change in British high society has been since 1963, when the first blue-blooded revellers tumbled down the stairs to that Mayfair basement at 44 Berkeley Square.
It may have been the Sixties, but only just. When Mark Birley opened the club — named after his wife, the Marquess of Londonderry's daughter, Lady Annabel Vane-Tempest-Stewart, who was later married to Sir Jimmy Goldsmith — swinging London was still largely posh London.
Whether by accident or design, Annabel's opened just as Britain's stratified class divisions, frozen in aspic since the Normans, were falling apart.
It was the year of the Profumo Affair and the Beatles' first number one — "an extraordinary time to be in London", said Anna Wintour, editor of American Vogue, in last year's Ridley Scott documentary about Annabel's, A String of Naked Lightbulbs. "All those different worlds were starting to collide. Hairdressers were suddenly equally as famous as duchesses. And at the centre of that was Annabel's, standing for the old world but also representing the new."
Over the years, its membership list has expanded to include every aspect of the new rich. Hollywood royalty dropped by: Frank Sinatra was a regular, swigging Jack Daniel's by the bottle. Diana Ross would dash down the front stairs, straight on to the dancefloor.
"It was an extraordinarily designed and conceived place," said actress Goldie Hawn, "and yet you felt like you could put your feet up."
Rock 'n' roll aristocracy were on the guest list, too; Sir Mick Jagger was given special dispensation not to have to wear a tie.
The stars loved the discreet nature of the club and the attentiveness of its long-serving staff. According to Wintour, people felt "safe" on a night out at Annabel's, knowing that they were going to be taken care of.
"There were no paparazzi," says Bryan Ferry, another erstwhile regular. "No journalists were in there."
Real royalty was always more than welcome. In 1986, Fergie and Diana Princess of Wales turned up at Annabel's, dressed as policewomen, after they'd failed to get past the door into Prince Andrew's stag night. And then, in 2003, the most exclusive guest of them all — the Queen — dropped in for a gin martini.
Annabel's remains the only nightclub Her Majesty has, to public knowledge, ever visited.
To begin with, no one expected it to be the stonking success it became (Annabel's was bought by Caring in 2007 for £95 million ($174 million-plus) in a deal that included four other members' clubs). It was conceived as a piano bar, for members to get loaded before they poured their money into John Aspinall's grand gambling den, the Clermont Club, which opened upstairs in 1962 with an original membership list of five dukes, five marquesses and nearly 20 earls.
Birley made the old coal cellar the in-place by expanding the club further beneath the Clermont's garden. The interior designer, Nina Campbell, gave the walls a cluttered, eclectic country-house look — a mixture of portraits, drawings and the famous Buddha that lurks in one of the break-out rooms. The cosy feel was enhanced by sepulchral lighting.
As Naomi Campbell says: "It's not bright — that's what I definitely love about it."
But the most important thing was the atmosphere.
"Mark always used to say that the only thing that mattered was that the members had good manners," says Lindy Woodhead, the adviser on Annabel's archive. "If anyone was rude to the staff, he rescinded their membership. Annabel's is very unusual. That's why it's probably the longest-surviving nightclub in the world. It's just a special place — it's magical. If you love something and cherish its heritage, without making it fusty and dusty, it will last."
It still plays host to many of the first 500 members from 1963 — not least because their original annual fee, only five guineas, remains frozen (they still pay just £5.25 ($9.62) a year).
In 2003, Birley put his son, Robin, in charge of the club's running, and he reinvented it by getting in younger, starrier members. Peter York, co-author of the Official Sloane Ranger Handbook, says it had "long catered to the old red-cord brigade, but you couldn't sustain a business just on Sloanes. In the 1980s, Annabel's represented the high point of aspiration — the idea that the Sloanes were on top. Even if they only went once every 10 years, they knew that, at Annabel's, they were in the belly of the beast.
"These days, Sloanes can't afford to live round there. Now, Annabel's gets a mixture of people. On certain nights, it's eurotrash. One room will be full with men working for French banks and French luxury goods companies — looking for women with big, heavy hair who look like Cara Delevingne.
"Moving Annabel's fits with all that — Richard Caring's intention is to make his businesses into global brands at scale. He wants to be the LVMH of the luxury venues world."
Annabel's is hardly the London equivalent of Studio 54, the terrifyingly trendy New York nightclub that lit up Manhattan in a blaze of stardust and cocaine from 1977 to 1981. For starters, there's too much "dad dancing". Granddad dancing, too.
But that's its charm — and why it has lasted so long. On the few occasions I've been there, I've never felt too old or too young — whether in my 20s, 30s or, now, my 40s.
"Some wag said Annabel's is where the middle-aged meets the Middle East," says York. "The truth is that the disco floor is small, and old-fashioned in a very shiny way; and mostly occupied by people who don't like music and can't dance — which is fine by me."
In recent years, that original spirit has migrated a few hundred yards, to 5 Hertford Street, the members' club set up by Robin Birley in 2012 after he was dismissed from Annabel's by Birley pere, who was upset at the less-than-tasteful types the club had been attracting (reality TV stars among them).
Hertford Street has the same cluttered country house look, the same discreet service — and several of the same staff. In crude class terms, it is posher — but the London rich are a lot less posh than they were 50 years ago. And these days, there are plenty more of them.
As the new rich capital of the world, London is big enough for two megabucks nightclubs, however vast the new Annabel's turns out to be.
- The Daily Telegraph
Share this: