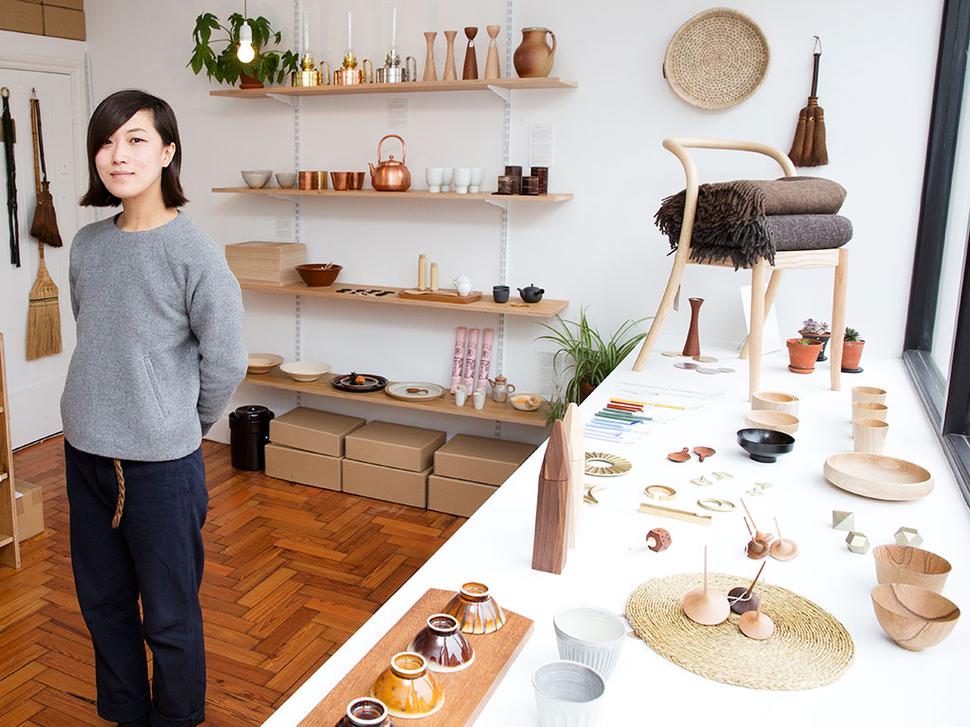 The 16 Best Design Stores in London
Stylist and props buyer Victoria Spicer shares her favourites
Wednesday March 25, 2015
1. MOMOSAN
79a Wilton Way, Hackney, E8 1BG
Momosan Shop houses a collection of finely crafted homeware carefully curated by owner Momoko Mizutani (pictured above). Her selection is refined, simple, practical and calm, with a strong Japanese ethos and a focus on traditional craftsmanship. Many pieces arrive at Momosan through Mizutani's personal connections, including products by friends such as Martino Gamper.
It's a great place to go for many things, both necessary and nice. Over time I've accumulated plenty of charming items including glassware, pottery, trivets, tea, leather coasters, wooden coasters and cast-iron pieces.

2. GOODHOOD
151 Curtain Rd, London EC2A 3QE
I have always loved Goodhood but when they moved into their new, larger premises on Curtain Rd they went up even higher in my estimation. The interior of this concept store is beautifully constructed, with clever use of plants and timber framing to form interesting spaces that house their impressive goods.
The store is divided into three areas: women's fashion, men's fashion and their life store. Ferm Living plant stands, Serax glass vessels, HAY homeware, and New Zealand brands Lonely Lingerie and Sans (ceuticals) have all left the store to find a place in my home.
3. TRIANGLE
92A Chatsworth Rd, Lower Clapton London, E5 0LS
Triangle is a design-led lifestyle store with a nicely integrated mix of Scandi homeware, locally-made design items, mid-century furniture and vintage finds. The friendly tri-ownership behind the store combines artsy, ceramic and graphic design backgrounds. Their ability to source rare, graphic, vintage pieces that work well with modern homeware is impressive. It's worth regular visits, as the  second-hand goods are snaffled fast. Luckily, it's another local of mine!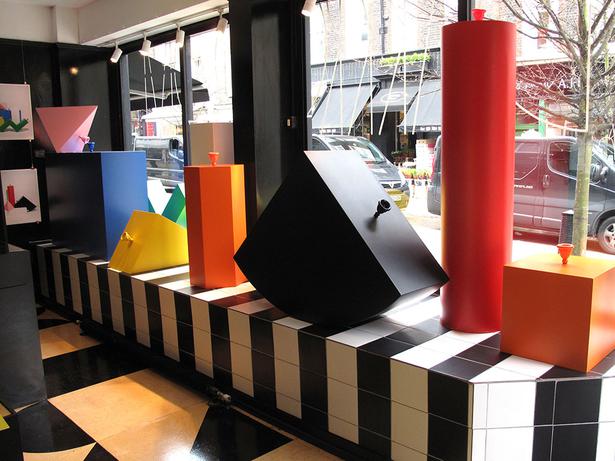 4. DARKROOM
52 Lamb's Conduit St, London WC1N 3LL 
Darkroom's beautifully distinctive black-walled space sells myriad accessories from around the globe, including bold jewellery, objets d'art, graphic prints, textiles, stationery, homeware, soft furnishings, leather goods, bags and more.
Ettore Sottsass, the 1980s post-modernist powerhouse and founder of the Memphis Group, adds inspiration to the Darkroom aesthetic, so it's no surprise that their range is bold, brave, eclectic and graphic. It's my go-to when I need to buy a gift for design-savvy peers and, for myself, I've picked up a couple of striking necklaces, a hand-painted wall plate and concrete objects.
5. MONOCLE
2A George St, London, W1U 3QS
If you like Monocle magazine then you must check out their store in Marylebone. Pay particular attention to their collaborations, especially the men's Voyage clothing range and the Comme des Garcons scents, which rub shoulders with New Zealand designer Ingrid Starnes' lovely Vetyver Bergamot fragrance.
For a publisher that provides intelligent commentary on global affairs, business, culture and design, it's not surprising they also have an array of densely informative books. I'm eagerly anticipating the Guide to Cosy Homes, due for release in August.
6. MARGARET HOWELL
34 Wigmore St, W1U 2RS
I always aspire to the Margaret Howell aesthetic of contemporary simplicity and minimalism. Her stores have a relaxed pace, allowing you to appreciate the carefully selected range of objects and furniture alongside her clothing. It's worth taking the time to leaf through her collection of specialist books on English 50s and 60s architecture, graphics, textiles and landscape.
From their classic understated range of items, it is the Ercol Butterfly Chair (re-issued after Margaret Howell's collaboration with Ercol in 2002), the cast-iron kitchenware from Sori Yanagi and the mohair and lambswool blankets from the UK and Ireland that have really taken my fancy.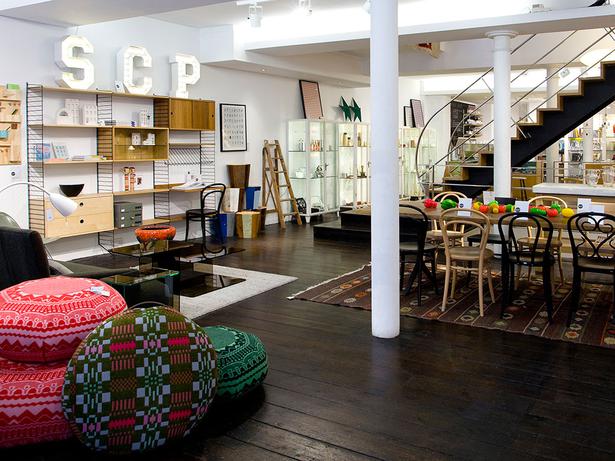 7. SCP
135-139 Curtain Rd, London EC2A 3BX; 7-93 Westbourne Grove, London W2 4UL
SCP is serious about all things interior. As well as stocking international contemporary design brands and 20th-century design classics, every year SCP manufactures its own furniture, textile, upholstery and home accessories line. To showcase its impressive 200+ brand portfolio the store spans three floors. You'll definitely find what you need in SCP whether it be to furnish an entire home, invest in a serious furniture piece or purchase a smaller, more accessible design item.
8. ODELL'S STORE
24 Calvert Ave, London E2 7JP
O'Dell's is a precise edit of artisan products, reflecting the impeccable taste of owner Tom O'Dell. The meticulous minimal merchandising and simple store layout keeps the focus on Tom's carefully selected range of menswear, lifestyle and homeware. I am particularly partial to the British handmade woven rugs and pottery, which sit harmoniously alongside men's grooming products and PF Candle Co candles. It is the perfect place to go if you're a design-conscious man.
9. LABOUR AND WAIT
85 Redchurch St, Shoreditch, E2 7DJ
Utility and quality are synonymous with Labour and Wait. A dense selection of beautiful yet practical household items are on offer for the kitchen, bathroom, outdoor areas or for your stationery requirements. When you go there you are bound to find at least one product to fulfil a functional need in your home. My cupboards and shelves are full of their good-looking, uncomplicated and useful items.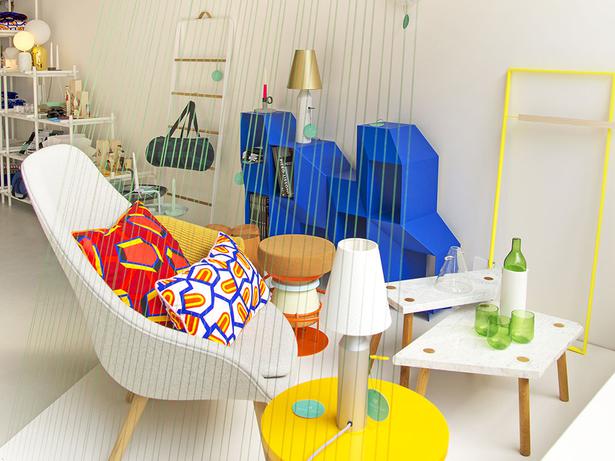 10. MONOLOGUE
93 Redchurch St, London E2 7DJ
Only six months old, Monologue immediately became one of my favourite design stores. Mixing the work of emerging talent with established design brands, the store offers playful, artistic and refined pieces. It's a bit like visiting a modern art gallery with humorous furniture from La Chance alongside sculptural pieces from Mari Isopahkala, which in turn are contrasted by elegant home accessories from Antipico and Menu.
To top it all off, the store has the best branding and it's worth buying something for the tissue paper alone.
11. FOREST
115 Clerkenwell Rd, London EC1R 5BY
London has its fair share of stores selling excellent mid-century furniture, but to my mind, Forest has the greatest poise. Focusing on Danish, Swedish and Dutch design, the store is constantly changing as things are sold or sourced but, regardless of what's in stock, it is always beautifully arranged. Space is provided to appreciate each handsome piece and selected items of charming pottery and greenery are dotted around to complement the furniture and present themselves for sale.
As it's not every day you invest in a mid-century beauty, the ever-changing pottery, ceramics and occasional plant holder on offer are reasons in themselves for regular visits.
12. FOLKLORE
193 Upper St, London N1 1RQ
I believe that every item in your home, right down to your dustpan, can look beautiful and last. Which is probably why I identify so strongly with Folklore's simple concept that better living is possible through design. They are actively trying to tackle today's environmental and social challenges by sourcing products that are simple, durable and created with care. They also give a fair percentage of profits to various charities each year. But, whether the ethics are important to you or not, you can't help but admire their modern and natural aesthetic. Spanning furniture, lighting, homeware and lifestyle products, I'm particularly taken by the stoneware collection sourced from a family in Burgundy that has been operating their workshop since 1976. I have a couple of pieces and most definitely intend to acquire more.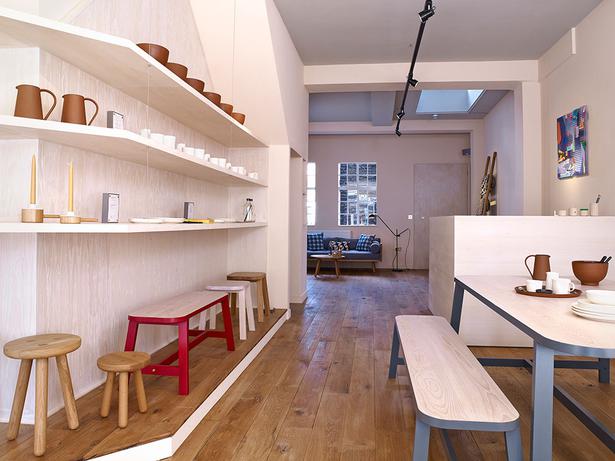 13. ANOTHER COUNTRY
18 Crawford St, Marylebone, W1H 1BT
Drawing on the unassuming forms of Scandinavian, Japanese and Shaker design, Another Country builds handsome furniture and home accessories that are made to last. Hand-crafted with meticulous attention to detail, their products are classic investment pieces. I've collected two: a simple stool, aptly named Stool One, and a terracotta pitcher. And, if my apartment were a shade bigger, I'd add the Day Bed One as well.
14. HEAL'S
Flagship: 196 Tottenham Court Rd, London W1T 7LQ
Retailing since 1810, Heal's is arguably the oldest existing furniture store in the UK and is closely linked to the biggest names in contemporary design. Always up-to-date, Heal's continuously collaborates with prominent designers and emerging talent to bring new and fresh collections to the fore. If you're in town at the right time, then it's definitely worth checking out the "Heal's Discovers'' collection, their annual showcase of up and coming designers.
15. BOTANY
5 Chatsworth Rd, London E5 0LP
It is a pleasure to ponder a plant purchase or buy a bouquet in Botany. Nestled in Chatsworth Rd, one of Hackney's most interesting streets, this adorable boutique has an abundance of succulents, cacti, indoor plants and a unique selection of cut flowers. Complementing the flora is a beautiful selection of stationery, tableware and ceramics, including a number of items from the tasteful fair trade brand Nkuku. As it's in my neighbourhood, I'm a regular visitor for plant purchases, small gifts and the one-off vintage plant stand they occasionally have ... although never for very long.
16. TWENTYTWENTYONE
274/275 Upper St, N1 2UA
The name Twentytwentyone denotes the store's combination of classic styles from the 20th century with contemporary designs from the 21st century or, more specifically, what's happening in design now. The store has an expansive collection over two levels, of furniture, lighting and accessories. They often run interesting design exhibitions and, if your timing is right, you might catch one of their very impressive sample sales.
View more from Viva's Insiders' Guide to London brought to you by Toni&Guy
Share this: