Hillary Clinton's House Style
Whether she likes it or not, Hillary Clinton's wardrobe will matter when it comes to the final vote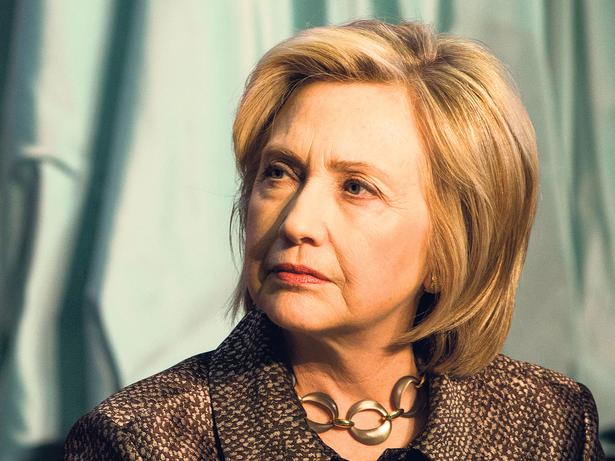 Thursday April 30, 2015
Hillary Clinton is running for president. Why is this being printed on the fashion pages?
Because no other candidates have appeared on the cover of US Vogue before or since Clinton's appearance in December 1998. And because few have elicited the immediate promise of another cover shoot: "All of us at Vogue look forward to putting on the cover the first female President of the United States," said editor, Anna Wintour, in 2013.
The potential of Clinton entering the presidential race has ignited excitement that extends far beyond politics. On the one hand, that's simply because Clinton is a woman — angering some, frightening others, motivating many.
On the other, it's because she is already a celebrity, by virtue of her previous incarnation as First Lady of the United States (Flotus). That's how she bagged that Vogue cover, and why she garners such attention — or, to address it differently, unwelcome scrutiny, particularly when it comes to her sartorial choices.
"I remember — everyone remembers — [her] awkwardness with fashion," says American journalist and author Cathy Horyn of Clinton's entrance to the White House in 1993, when her husband began his first term as President. Horyn was then fashion critic at The Washington Post; she moved to The New York Times during his second term.
And that awkwardness has stuck with Clinton, despite attempts to sandblast it off.
If anyone could achieve the latter, it would be Wintour (who declined to be interviewed for this article). Clinton appeared polished and demure on her Vogue cover, dressed by the late Oscar de la Renta, who also designed her 1997 inauguration gown, but that chic didn't stick.
For all her discomfort, Clinton recognises the power of her appearance. She once famously stated that she could knock a story off the front page by changing her hairdo (probably true), while for the State of the Union address in January 1998, at the height of the Lewinsky scandal, she donned a skirt suit in a vibrant pink indelibly associated with Jacqueline Kennedy at the time of her husband's assassination. In America, it reads as the colour of a martyred wife; and of a survivor. Clinton is both.
It's also, pointedly, a colour that could never be worn by a male presidential candidate.
Democratic or Republican, male dress is conservative. Clinton's is too — she's not the racy type. But, as a woman, she can experiment more.
A ball gown, or even a simple but brightly coloured outfit (she wears plenty of Democratic blue) is far more expressive than a male candidate's sober suiting. Those choices also open her up to plenty of criticism, not all based on subjective taste.
Flotus Michelle Obama was roundly criticised for wearing a dress by Alexander McQueen, as opposed to an American label, for a White House dinner in 2011. A similar charge was levied at Mrs Kennedy for her love of Paris couture (she ended up sporting US knock-offs).
Is Clinton intentionally semaphoring messages through her appearance? Most of the time, no. "I think she was always quite comfortable in her skin, as far as her clothing went, her looks, and her disinterest in fashion," comments Horyn.
"That says a lot about Hillary. She's of that generation that believes you shouldn't be judged for your appearance, for your hair. I totally get it ... [but] with Hillary, it does matter now, in today's media world."
That is why Clinton is appearing in the fashion pages: because what she wears matters, and matters more than it would for male presidential candidates. Their appearance undoubtedly has its own impact: Obama is well aware of his public image, while an American political commentator once joked that the US would never have elected Tony Blair, because of his dentistry.
"All image making is calculated, and that includes fashion choices — for both men and women in public roles," says Kate Betts, former editor-in-chief of US Harper's Bazaar and author of the 2011 book Everyday Icon: Michelle Obama and the Power of Style.
Michelle Obama is the current alpha female in American political life, but she also dominates its culture. She's a tough act to follow — for a First Lady, or for a female president. "Mrs Obama has been incredibly clever about how she has managed her First Lady status," says Horyn. "People have abandoned talking about Mrs Kennedy, because Mrs Obama has set the new standard. Right now, the bar has been raised so high."
It will be interesting to see how — not if — Clinton adapts to that newly raised bar. After her self-admitted flip-flopping hairdos (a cardinal sin, states Betts, given that "consistency is the most important requirement of presidential and First Lady dress") and wavering fashion sense, Clinton is now comfortable in her multi-coloured trouser suits (she dubs herself a "pantsuit aficionado" on her official Twitter profile).
But is that enough? "One of the things that Mrs Obama has made so clear is that people do care an enormous amount about your outfit," says Horyn. "The public does talk about it. Just point to the obsessiveness with celebrities, whether they're on the A-list or the Housewives of Beverly Hills... Fairly or unfairly, they don't spend the same time talking about the men."
Clinton has called in the big gun — Kristina Schake, former communications chief of Michelle Obama, frequently credited with profile-boosting gambits. "I don't know that she advises Mrs Obama about fashion," says Horyn of Schake. "I think Mrs Obama knows exactly what she wants and has wonderful taste in clothes." What Horyn doesn't say is that Clinton probably needs exactly that kind of help.
"With Mrs Clinton, it's worth a conversation for her — which I'm sure she's already had — with people who are very well-informed about this," states Horyn. "If she's talking to someone who's worked with Mrs Obama, I think that's probably smart — to figure out how she can walk the line between what will appeal to contemporary tastes and what will make her feel comfortable, and not betray who she is."
Ultimately, that's who I hope America will be voting for. And rightly or wrongly, you can bet that they'll want to know who designs Mrs President's inauguration gown.

— The Independent
Share this: