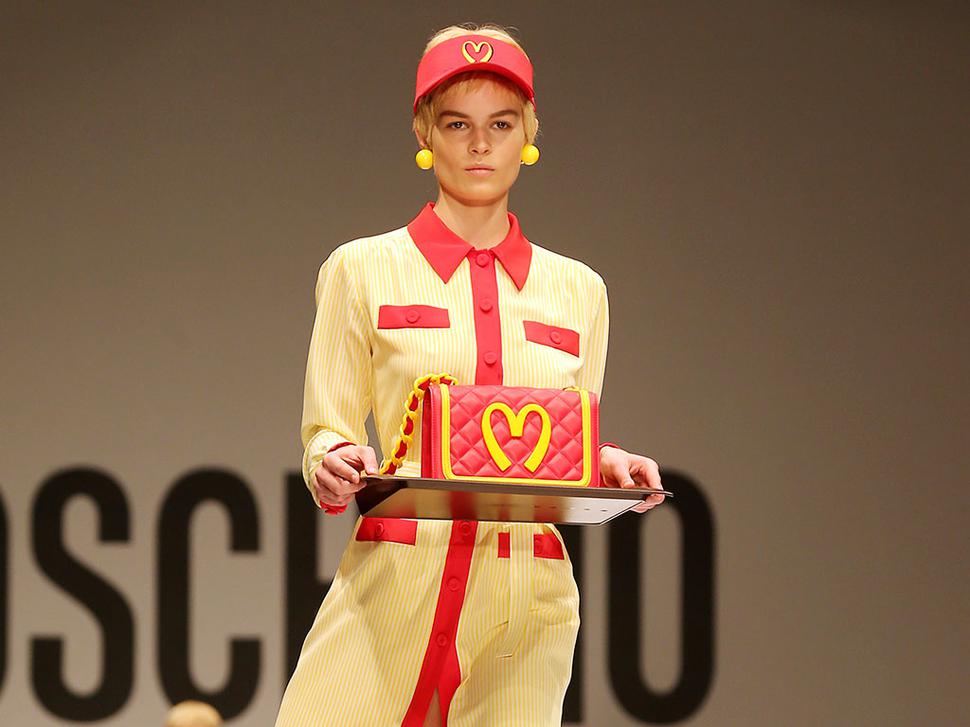 Juicy Couture
Quick, easy, and of little nutritional value, fast fashion shares all the issues of fast food
Tuesday April 21, 2015
Fast food and fashion should have nothing in common. They are diametric opposites, ideological adversaries. Fast food is egalitarian, en masse — let them eat Big Macs! It's cheap and cheerful, makes you fat, greasy and garish, and is available on every corner. Fashion, by contrast, is elitist. It relies on superlative craftsmanship and fine materials, on the expense those ingredients entail. More than anything else, fashion is exclusive — available to only a few; excluding others.
That's the theory, at least. However, chart the rise of "fast fashion", the Burger King to high fashion's Le Cordon Bleu. Fast fashion, generally, is a term applied to high-street clothing. The term relates not only to the speed of production — meaning stores such as Topshop and Zara don't have the traditional biannual drops of fresh clothing, but new stock flooding in every week — but of consumption. Cheaply constructed and hence not made to last, fast fashion clothes have a shorter and shorter use-by date, coupled with ever-diminishing prices. They're disposable.
Fast fashion isn't a new phenomenon — the attraction of 70s label Biba was that teenagers could buy Biba clothes they saw on TV on Friday night at the store on Saturday, while the high street has been proposing faster and faster deliveries of clothes directly influenced by catwalk fashions. Today, however, those catwalk fashions themselves have become fast fashion. Witness American designer Jeremy Scott's first collection for Italian fashion house Moschino, presented last February in Milan. Franco Moschino, the label's founder, once showed a "dinner jacket" buttoned with knives and forks.
Its 21st-century reincarnation? Scott's reappropriation of the McDonald's logo, including a deluxe rendering of the chain's tomato-red and mustard-yellow uniforms. Mc-schino's model carried not a hamburger, but the label's latest handbag — which sported an ersatz version of the Golden Arches. M for Moschino, geddit?
It's all a bit tasteless, in my opinion — particularly so closely aping the uniforms sported by near-minimum wage workers in clothes that cost more than their monthly take-home. Nevertheless, Scott's "Schino" is not only selling, but selling out. The label's revenue rose by almost 7 per cent after Scott's first collection. That's because a capsule collection was on sale the morning after the catwalk show, and consumers bought lustily.
Scott isn't unique: he's just more open. Much of fashion apes that fast-food mentality, ever decreasing the time between catwalk and sales rail. Across the board, it's led to the rise in importance of inter-season collections which are delivered earlier than the traditional biannual collections fashion houses present under the banners spring/summer and autumn/winter. For most, those make up 60-80 per cent of sales.
Are we breeding a new generation that will be blighted with aesthetic obesity? Will designs available immediately become the norm, rather than the exception? It's possible for many more brands to offer immediacy by cutting corners and restricting evolution of ideas. But do we want to strangle that out of our clothing, in the name of getting it that little bit before everyone else? This fashion lives fast, and dies young. But I'm not sure it will be remembered.

— The Independent
Share this: