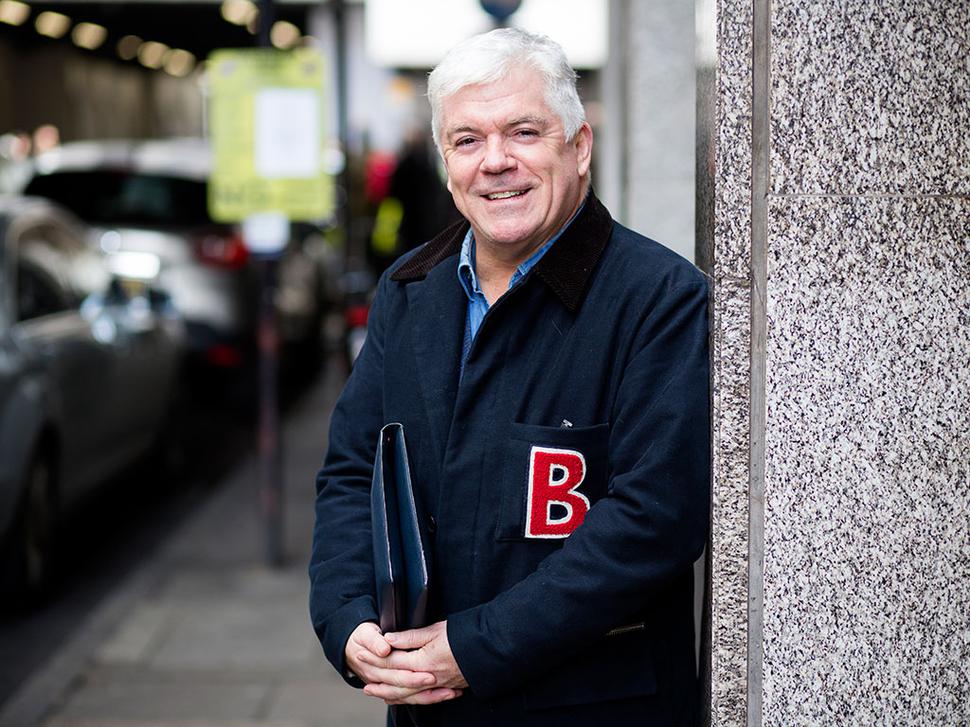 Tim Blanks on his love of London
The New Zealand fashion journalist talks to Zoe Walker
Wednesday March 25, 2015
One of the world's top fashion journalists, Tim Blanks is contributing editor-at-large for the industry's go-to website, style.com. A highly regarded critic known for his informed and lyrical reviews, he attends every top fashion show in New York, Milan, Paris and his hometown, London.
Blanks left Auckland in 1974 (his close family are still here, including brother Scott who runs the Classic Comedy Club), living in Toronto for many years before making London his base. He travels frequently for work — for around five months of the year — and though style.com is based in New York, he lives in London's Maida Vale, north of Notting Hill. Meeting after the Erdem show during London Fashion Week — which he described as "demented", in a good way — Blanks was typically erudite in sharing his love of the city.

I think London is the only real city in the world. The only real metropolis — in the sense that everything comes together here. I just couldn't imagine living anywhere else.
I do think London is the most creative fashion city; it always has been. It's always been a city where the premium was on self expression and not success. Also, fashion came quite late here. It was more style — people using clothing to express themselves, it was never about a trend. If you think about the great youth cult movements, they were started here and they were all about rebellion of youth — but using style as a weapon in a way. Teddy boys, mods, punks, glam rockers and New Romantics: it was always here. People defined themselves by their style, and it was much more about that than about fashion. There was no designer culture.
There's a sort of recklessness and a creativity for creativity's sake. And a sense that wherever you live is likely not going to be a fabulous place — not like Paris or Milan or Rome — so you spend more time out. And when you go out, you make art of yourself. You go to a pub to meet your friends — they drink, and people have always been reckless with drugs and things here. There is a much more sybaritic culture — there has always been a really strong underground.
You can go to a place like Sink the Pink in the East End and see things that you wouldn't see in any other city in the world. The spirit of Leigh Bowery, for example. I know he was Australian, but that sense of anarchic creativity, a sense of somebody who has no limits. Because you have no money, you're not limited by finances. And also there's this entrepreneurial spirit, with people who have not just made art of themselves, but also made a business of themselves — running clubs, and that sort of thing.
A designer who captures that anarchic spirit today? I would say someone like Christopher Kane — who I think is one of the best designers in the world right now — has a free spirit but is smart. His life story is hard, like McQueen's life story was hard. You get a sense of a lot of sublimated experience in what they do, which makes what they do quite meaningful.
McQueen is obviously like a totem, the definitive London personality. The whole thing, the triumph, the tragedy. It all just makes for such a perfect arc.

TIM'S LONODN FAVOURITES
1. Bocca di Lupo, an Italian restaurant in Soho.
2. "I love everything that David Waddington and Pablo Flack do — they have restaurants called Hoi Polloi, and Bistrotheque."
3. "I don't really shop, but I do go to Dover Street Market — I like Idea Books and they have a little stall in there. I love vintage books and magazines."
4. "I love my local restaurants: there is a great Korean restaurant called Gogi. And my local movie theatre, The Everyman."
5. Dinings, Japanese food in Marylebone.

View more from Viva's Insiders' Guide to London brought to you by Toni&Guy.
Share this: