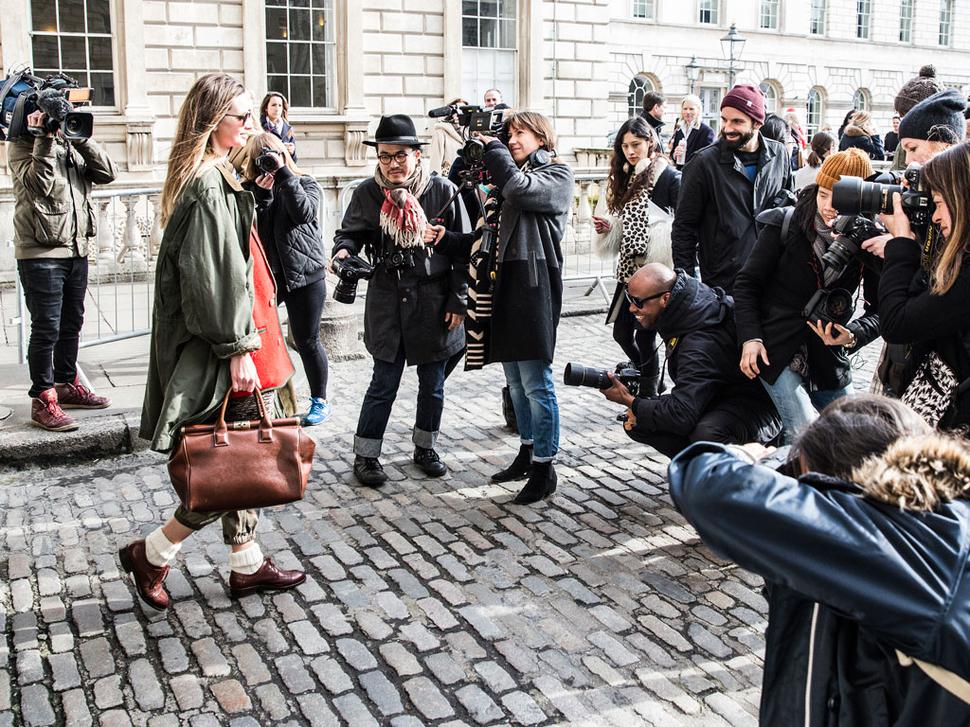 Love Letter to London
The city is proving fashion can be innovative, creative and serious business
Wednesday March 25, 2015
One of the most intriguing things about London Fashion Week is the ongoing battle between commerce and creativity. For a long time the week had a reputation as the wacky one, the one that international fashion editors skipped in favour of the more serious and commercial New York, Milan or Paris. No longer is that the case, with an ever-increasing focus on business and a groundswell of "New Establishment" talent — and brands — like Christopher Kane, Erdem and J.W. Anderson that manage to straddle the delicate line between genuine creative vision and commercialism.
The clash seemed particularly pertinent in London this season, given the hype surrounding the opening of the Alexander McQueen Savage Beauty exhibition at the Victoria and Albert Museum. The late designer is largely considered to be the epitome of London success, a true artist whose business flourished internationally (although that pressure from both sides has been credited by some to his downfall). This season the business of fashion was also the key focus of the British Fashion Council, the organisation behind LFW.
The BFC opened the week with a breakfast that shone a spotlight on its Business Pillar; its aim to reinforce and grow London's reputation as the city to start, develop and grow a global designer fashion business.
"What we all do for a living is a celebration of incredible creativity backed by extraordinary expertise in commerce," explained BFC chairman and founder of Net-a-Porter Group Natalie Massenet in her speech. "We are one of the few cities in the world where we champion both to a global audience."
I am in London with Toni&Guy, as it celebrates its 10th year as an official sponsor of LFW and prepares to launch its products into New Zealand. In the past, the brand's hair teams have worked with everyone from Giles Deacon to Issa to create show looks that bring together hair and fashion, and this season they have chosen three designers who truly symbolise the variety of the city's burgeoning fashion industry — at all levels of business growth. Footwear designer Sophia Webster is part of the emerging and ambitious wave responsible for the fresh buzz around LFW, Matthew Williamson represents the glamorous bohemian side of London style, while Vivienne Westwood... well, passionate, political Dame Viv is in a league all of her own.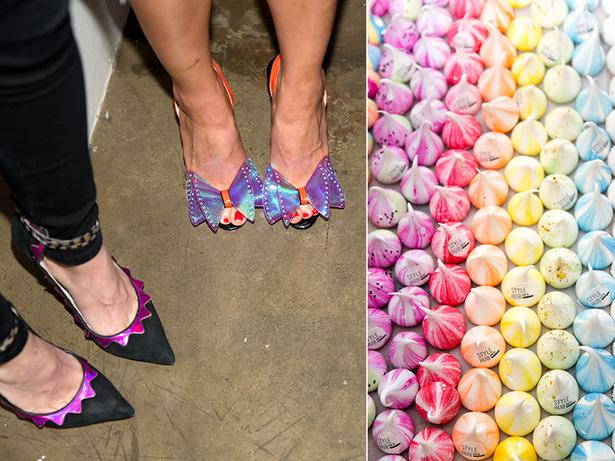 To mark the start of LFW, we attend an event for fashion and beauty journalists from around the world to hear emerging hair stylist and Toni&Guy global ambassador Mark Hampton talk to Webster about London inspiration, and the idea of creating a look from the hair down. The room is buzzing with anticipation for the LFW shows over the next few days, from the emerging (Thomas Tait, Marques Almeida) to the established (Burberry Prorsum, Topshop Unique). I comment to Hampton that LFW now excites me more than New York. "Oh easily!" he says, "America's so driven by commercialism; it's hard for them to be more individual and eccentric. They don't get eccentricity — for them it's a bit more over the top whereas the British have the ability to make even the most ugliest thing beautiful."
Later I chat with Webster; she's lovely although a little distracted — afterwards she has to head back to her East London studio for the evening to cast models for her presentation on Sunday.
The next morning, I head to New Zealand-born designer Emilia Wickstead's show, held in an old banking hall in a space opposite the Bank of England. It's a gorgeous, grand, show space, with models walking a sweeping staircase covered in eggshell-blue carpet. Wickstead has truly established herself as the go-to for a special type of modern London event dressing, and has worked closely with the president of the BFC's Business Pillar, James McArthur, in strengthening the long-term economic growth of her business. This show continues her signature ladylike focus, with the exception of edgier black PVC pieces — clearly targeted towards a slightly cooler customer rather than her royal patronage, like Alexa Chung or Daisy Lowe. Both sit front row, dressed in demure mid-length skirts and polo necks from the designer, who is nine months' pregnant with her second child. Family friend and fellow London-based Kiwi Snowden Hill is backstage creating the show's pretty hair look: a low ponytail with centre-part that perfectly complements the clothes.
Sunday is a full day of shows and backstage visits, starting with Sophia Webster at the old Welsh Chapel in the West End. Webster is holding her presentation here later today, but I go backstage earlier to check out what Hampton has done with the hair. Webster is known for her fun hair and beauty looks that work with her colourful shoes below, and this season is no exception with models in blunt wigs and graphic makeup; one model's face is covered entirely in silver glitter. The backstage atmosphere is electric, with music pumping and people and shoes everywhere.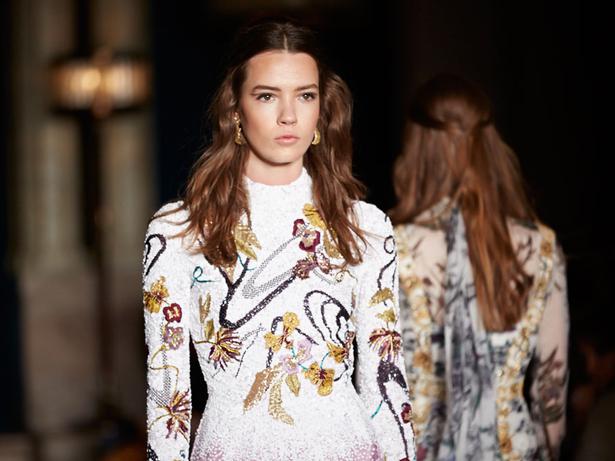 A quick dash across town to Criterion Restaurant in Piccadilly Circus takes us to designer Matthew Williamson's show. It's a funny tableau outside, with the fashion set rugging up against the brisk wind in their coats, pigeons flying, tourists stopping to stare and "levitating" street performers watching on; the street style photographers are in their element. Inside it's a far more elegant affair, with the restaurant's gilded ceiling and marble walls and all the top fashion editors from Vogue, Elle and Tatler front row. The venue is the perfect match for Williams' beautiful collection, with opulent silks, jewel tones and embellishment. His inspiration is the mystical properties of the 12 signs of the zodiac, with a subtle 70s feel reflected in the shiny, loose waves created backstage by Hampton and his team.
After this morning's backstage preview, I'm excited to head back to Sophia Webster to see it all come together. Walking up the stairs to the presentation feels like you're heading into a rave, with pounding music and weird and wonderful scenes set up around the space. Contortionists contort while wearing Webster's shoes, and models match their heels with space-age outfits (one bounces up and down on a tiny trampoline the entire time; she looks rather unhappy). It's just the type of wacky thing you want to see at LFW, although do not think that Webster is all fluff like her shoes (literally, the heels she has on today have black fluff edging; very Clueless). Her business continues to grow, and she has seriously good accounts: her shoes are stocked by Net-a-Porter and Saks, and she has opened a pop-up within Harrods, called "Shoe Heaven", while I am in town.
A quick shopping stop is in order before making our way to the Vivienne Westwood Red Label show. At Dover Street Market I drool over the new season offerings from London darlings Simone Rocha, Christopher Kane and J.W. Anderson, and I'm excited to see an installation from Molly Goddard, a recent fashion graduate developing a name for her twisted tulle prom dresses. Across the way is Victoria Beckham's slick new store, with its 4m-wide concrete staircase and giant pink foxglove installation by artist Andy Hillman to mark the arrival of spring; it can't be the season, because outside it's absolutely freezing.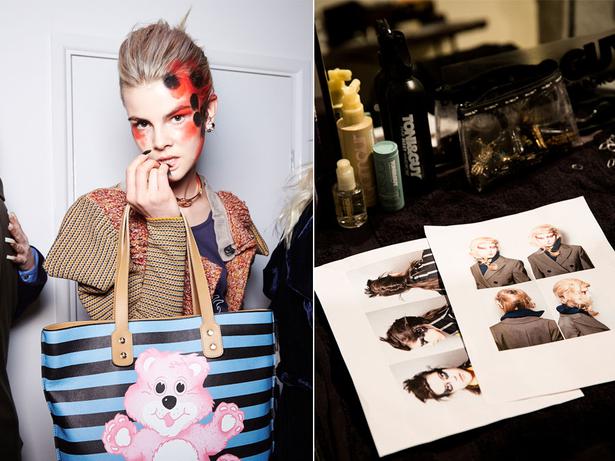 Afterwards it's off to the Science Museum for Westwood, and a slightly more political and culturally focused afternoon. It's pouring with rain and the light is getting very dim, but it's all okay because it's Vivienne Westwood. She's still in the business of selling, but I value how she uses her platform for something more than pushing handbags, and this show looks not to disappoint: in bold red type the invitation declares, "Vote Green", with a poem from Vivienne on the other side. "These are difficult days. We must save the world — Now. Or lose culture," she writes, under the heading URGENT! "What's good for the planet is good for people."
It's tempting to take her message of culture over consumption and go take in the museum exhibitions instead, but I head backstage. On one side a small team from Soho's Govinda's vegetarian restaurant serves curry and soup to the backstage crew, on the other is a heavily branded Champagne bar; I find this hilarious and somehow symbolic of culture versus consumption. Even Dame Viv needs sponsorship.
Westwood is not here (she's in another backstage area, with the clothes), but Hampton is, putting the finishing touches on some of the models (including New Zealander Lili Sumner). He explains that Vivienne herself is the inspiration behind the two show looks, as they had discussed how she would have done her hair when she was in her late teens and a proper punk.
The show is running late, but I head out to take my seat and people watch. An older gentleman walks to his seat wearing an orange boiler suit. Next to me a group of young men in suits discuss building permits. Edward Enninful, the British fashion and style director of W magazine, sits front row. Opposite him is the lawyer and human rights campaigner Shami Chakrabarti, next to the leader of the Green Party Natalie Bennett. Singer Paloma Faith arrives, all smiles in a red beret and septum ring, and the paparazzi cameras flash. She spends a decent amount of time chatting to Philip Sallon, the 1980s nightlife legend and founder of the Mud Club who today has styled his white boiler suit with badges declaring "UKIP = Nazis". It is the strangest mix of people I have ever seen at a fashion show, and it is bloody brilliant. Just like London itself.
• Zoe Walker flew to London with Toni&Guy. 
View more from Viva's Insiders' Guide to London brought to you by Toni&Guy
Share this: