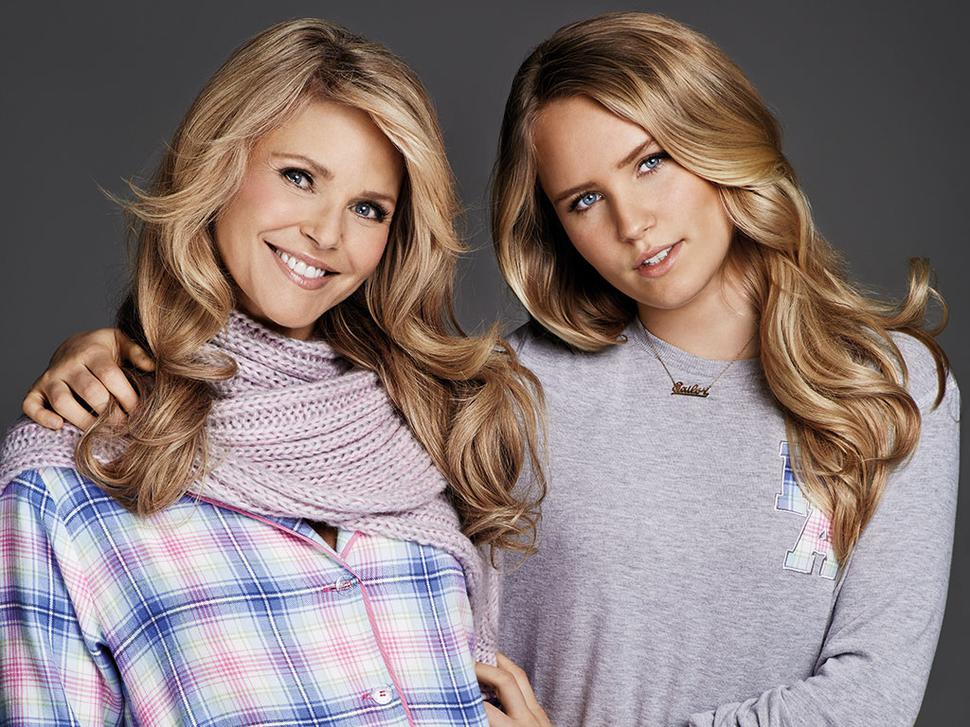 Model, Mogul, Mum
Supermodel Christie Brinkley speaks about her sunny outlook on life, sleeping nude and her latest campaign with daughter Sailor
Wednesday May 6, 2015
Looking back on the top models of the 80s, Christie Brinkley was one of the leading faces of the time. She shot three Sports Illustrated covers back to back, has featured on more than 500 magazine covers and held one of the longest-running cosmetic contracts in history as the face of CoverGirl for more than 25 years.
Speaking on the phone from her home in the Hamptons, she has just picked her 16-year-old daughter Sailor up from school and they have been shopping for colourful wigs for a school photography assignment.
Having recently turned 61, the mother-of-three believes the answer to looking youthful is all about having a happy outlook on life. "Numbers don't mean anything to me. First of all, it's really about how you feel, and if you project a younger energy that's what people will perceive. I mean, I've seen flawlessly beautiful girls project an energy that is jaded and cynical, and they come across a lot older."
With a career that spans over 40 years and is still going strong, Brinkley has very little down time. She has several companies, is writing a book that is expected out later this year, has a cosmetics and hair extensions line, the best-selling gym equipment machine in the world — as well as being a model, actress and Broadway star. Brinkley says at the end of the day there is not much time for anything else but when she does have a break, she loves to spend time outside and with her family.
"I love getting my exercise by being active — I love being outdoors in nature, I love bike riding, kayaking, paddle boarding, gardening, running on the beach with my dogs and just hanging with the kids."
Earlier this year she shot a sleepwear campaign for Australian brand Peter Alexander, appearing alongside Sailor, who looks set to have a successful career in modelling, too. This wasn't the first time the mother and daughter duo have been in front of the camera either.
"Our first shoot was probably when she was just a little kid, maybe nearly approximately a year old; I think she was balancing on her feet. Now she's actually signed with IMG models."
Asked whether Sailor wants to follow in her famous mum's footsteps, she says Sailor has already landed some great modelling jobs with Teen Vogue, Abercrombie & Fitch and Bvlgari. "She's only 16, she will be 17 this summer. With modelling rules she can't dive in completely until then. School comes first and she is actually interested in the other side of the camera, too."
In the Mother's Day Peter Alexander campaign, the focus was celebrating mothers of all ages, from their 20s to their 80s. Alexander even had his own mother modelling in the campaign, and says he chose Christie to front it because she is a mum, businesswoman and animal lover.
"I was in New York City recently and went to see Chicago and saw a poster of her in the foyer. She once played the lead role of Roxie Hart. I was blown away by how good she looked and when it came to the campaign, she popped into my head."
Brinkley says the shoot was a wonderful experience and she even got to take home a new sleepwear set. She says her family loves jumping into their pyjamas and cuddling up on the couch. But when it comes to sleeping, she prefers to go naked.
"I wear them until it's time to sleep but then, to be honest, I prefer to sleep in the nude and have my pyjamas on the end of the bed waiting for me."
Along with being a supermodel and a super mum, Brinkley is also a tireless activist against the killing of elephants in Africa for their ivory. She has now adopted more than 50 elephants and gives them away as presents at Christmas.
"I'm an animal activist with the focus on saving elephants. We could see elephants face extinction within the decade. I met my first elephant on a Sports Illustrated shoot. I am always grateful to them for that."


PLAN'S FOR MOTHERS DAY
"It looks like I may be working, I may have to fly out for a job but when I get back we will have Mother's Day."
On social media
"I'm still trying to figure it out to be honest, thankfully I've got kids and they say, 'Mum, you're not supposed to talk back to everybody so much.'"
Favourite band
"Bastille is my favourite band at the moment. My son Jack introduced me to them."
Film to watch
"I'll tell you about the film I want to see next, Gardeners Of Eden — a documentary by Kristin Davis about endangered elephants in Kenya and The David Sheldrick Wildlife Trust."
Book to read
"I'm reading an advanced copy of a book called The Thing About Jellyfish. I'm actually writing a book coming out in November which is being published with Grand Central Publishing."
Share this: