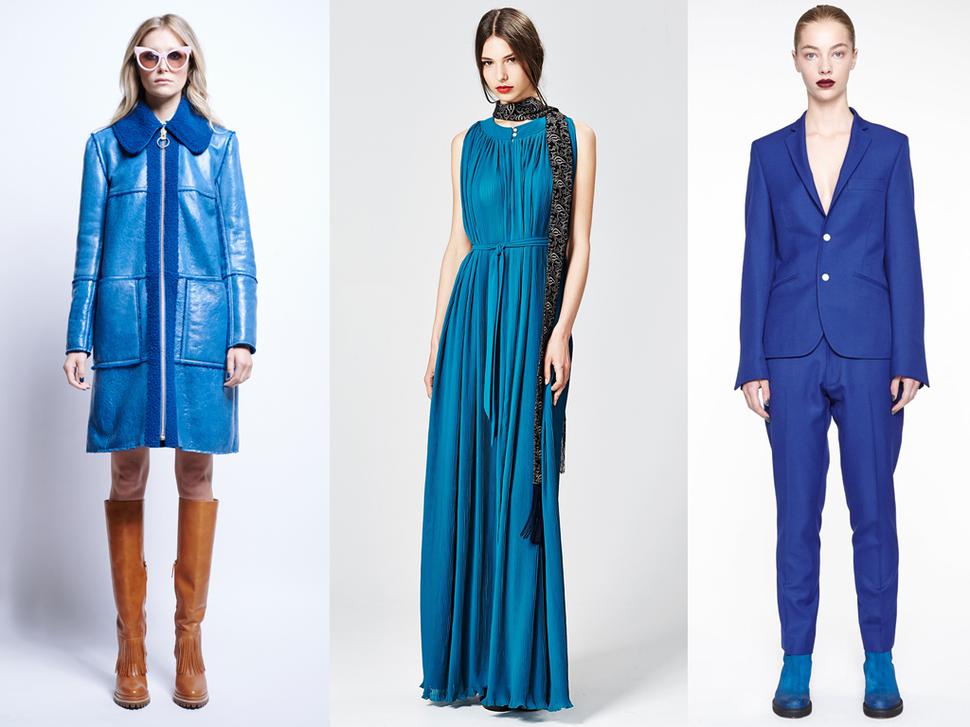 Viva Panel: Are fashion trends still relevant?
We ask fashion experts to share their views
Friday May 22, 2015
The idea of "trends" has evolved from what it originally stood for. The voices talking about trends in fashion have become a lot wider, therefore the idea of trends becomes diluted because everyone has an opinion.
Trends are perhaps a lot more relied upon in certain industries like interiors or textiles, but for fashion the pace has affected the meaning of trends today. The way people shop now is different to how people used to, so retailers have reacted to this appetite by way of regular deliveries. That schedule therefore affects how people respond to fashion and how retailers merchandise and market that product, which is often through social media. So there's immediacy to that cycle and therefore trends become more and more reductive.
However, it's less about dictating what people should wear and more about offering ideas or dissecting ideas so people can pick and choose what they want to wear. People respond better to stories or an idea that works for a transeasonal wardrobe, which is how people are shopping in general now.
Something interesting and referential, like neo-Victorian or haute hippie, is interesting because, yes, it's a rehash of something from the past, but it's always good to be inspired and to look back at how you can update something that can stand the test of time.
Then you have designers who are pushing for newness, and that in itself is inspired. Certain "trends" are irrelevant — like colour trends. Pastels and jewel tones are fine because you offer people variety, but when you zero in on one colour of the season for people to wear then it becomes senseless.
Individuality is an ongoing theme throughout the collections for the past few seasons and one that I hope continues to resonate with people. That message really is what it's all about. There are a lot of clothes out there to look at, and the idea is to be inspired by the many sub trends, but wearing them your way.
We asked others in the local industry for their take on the relevance and impact of fashion trends today.
Deanna Didovich, Ruby designer
I find fashion trends to be a direct representation of the times that we live in, and are completely relevant — largely because of social media. Our customers are informed every minute by trends that are making waves in our culture — such as the strong 70s vibe being seen through the fashion world.
We don't see trends as a bible of what we design and produce, but more a way of staying relevant and interesting to our customers. I love to look at what is happening out there, and interpret the trend for us by adding a Ruby point of difference.
Andreas Mikellis, Auckland University of Technology Head of fashion & textile design
We are becoming increasingly critical of how trends affect our lives and the mechanisms that create them, whether they are driven by fashion designers, marketing companies, stylists, journalists or bloggers.
The dilemma is that we are compelled to be connected, to be "in-the-know", yet we try to protect ourselves from the trend-machine as we don't like to think of ourselves as being susceptible to being unwittingly steered towards the type of clothing we should wear, music we must listen to and the food we have to eat. We are, after all, individuals.
We all understand how trends work and how the trend-makers drive global consumerism through mass-industrial fashion stores such as Zara, Topshop, Glassons, Hallensteins etc, but it's often knowledge that we would rather not know.
We even struggle to deal with the term "trend"; it seems so outdated, belonging to an era of "trend-setters"and being "trendy".
Unsettling as it is, we chose not to discard it but to replace it with an even more toe-curling-cringe-worthy term, "on-trend", making things far worse, by making it even more implicit that we have to conform.
Resistance to conformity has always been intrinsic to contemporary society and this time the resistance movement was championed by an army of bearded, tattooed, vinyl-collecting brothers who envisioned a new utopia, one that was based on authenticity, the artisanal and the handmade – the great alternative, one that sadly has also been swept up and fully consumed by the "trend" machine.
Love it or hate it, we are all somehow part of it and it is unlikely to go away.
Kiriana Pettersen, Glassons Design Manager
Yes, trends are still relevant. People aren't always aware of trends, and often follow them subconsciously, but trends are no less relevant today than they were 10 years ago. The difference today is that trends move quicker and are much more global. The internet and social media make trends more democratic and allow for more trends to run simultaneously, which means everyone can find what suits them. The internet and social media mean people are much more fashion savvy and want certain products as soon as they spot them on someone's Instagram account. 
Rickie Dee, Superette Managing Director
At Superette we don't buy based on trends, but more what we love and what we feel our customers will love. In saying that, our designers would cross reference trends when designing so therefore key trends end up on our racks naturally.
Sarah Harris, Topshop NZ Brand Manager
Trends are definitely still relevant within all industries, not only fashion. I do believe, however, that people often confuse fads and trends. Fads are short-lived and, in the fashion industry, driven a lot by social media and the product itself. Trends on the other hand are slow moving and take longer to evolve. Trends can be influenced by so many different things, they're about a bigger picture. 
I think the speed at which we're receiving information via social media has absolutely increased the pace of how quickly fads and trends are moving. High-street fashion trends used to be catwalk-led via print media, with long lead times, but now with the growth of social media, trends are no longer defined by an elite group of publications. We are now receiving the information seconds after a show, alongside the influence of street style. 
Often, stores like Topshop become more pivotal in identifying and defining trends than traditional media, because they're constantly creating new ideas at such a rapid pace. Topshop is unique in that it's the only high-street brand to show at London Fashion Week. We have a large buying and design team in the UK constantly working on trend-driven collections. People know they're going to be shopping the latest trends when they come into Topshop.


* For those interested in discovering more about trends — and trend forecasting — we recommend watching Trend Beacons at The Documentary Edge Festival.
Share this: