Racewear Winner Shows Inventive Style
Newbie entrant scores Viva's big fashion prize at Ellerslie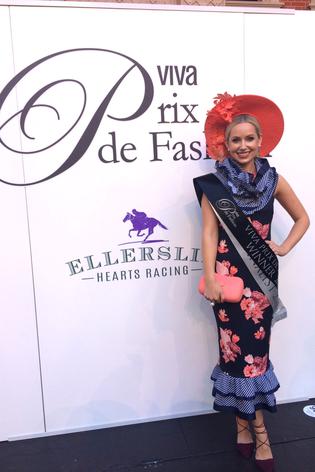 A love of clashing prints helped secure Aucklander Hannah Carson the Viva Prix de Fashion at Ellerslie.

By winning the supreme best-dressed award for New Zealand race wear fashions, she will go forward to Flemington as this country's representative at the Melbourne Cup Carnival competition in November.

The 29-year-old model and event organiser from Orakei mixed florals and stripes in a slim silhouette which was a departure from the full-skirts favoured by many competitors.
She took a dark navy dress with orange flowers, bought from H&M, and picked up on the ruffle trend to trim it with a scarf-like trailing cowled collar and hemline flounces in striped fabric. A previous racewear winner, milliner Claire Hahn, created Hannah's picture hat.

It was just Hannah's second time competing in racewear fashion, having gained automatic entry to the national final from winning the Northland event held at the country racecourse at Ruakaka. Her $20,000 prize package includes a trip to Hawaii.

Hannah competed against other regional winners and a Derby Day finalist picked from four heats held on Saturday, the first day of Auckland Cup Week.

The daily winner was Katie Flett from Canterbury. She wore a black outfit and a striking white pleated straw hat, both made by Ali Moor. This look also made the Viva Prix de Fashion top five, along with those worn by Belinda Green, Elizabeth Charleston and Stacey Hanley.

The judges praised the fresh approach and groomed look of the overall winner, who stood out up against more experienced high-quality competition. The mix of Hannah's chain store find, imaginatively restyled, gave a couture-style twist to the winning outfit, said chief judge and Viva beauty editor Janetta Mackay. Others on the judging panel were guest Georgia Connolly, as an ambassador from the Victoria Racing Club, broadcaster Amber Peebles and stylist Tracey Dalton.

From the Viva daily final, where most entrants wore traditional Derby Day black and white, the judges made special mention of how closely contested this decision was. They praised the sole male finalist for flying the flag for men's wear and also singled out several mature entrants who showed style is about attitude not age.
Those watching the event, held in the Pop-Up Globe Theatre, were urged to give race-wear dressing up a go, especially in the more low-key fashion events held at Ellerslie at meetings throughout the year
Share this: