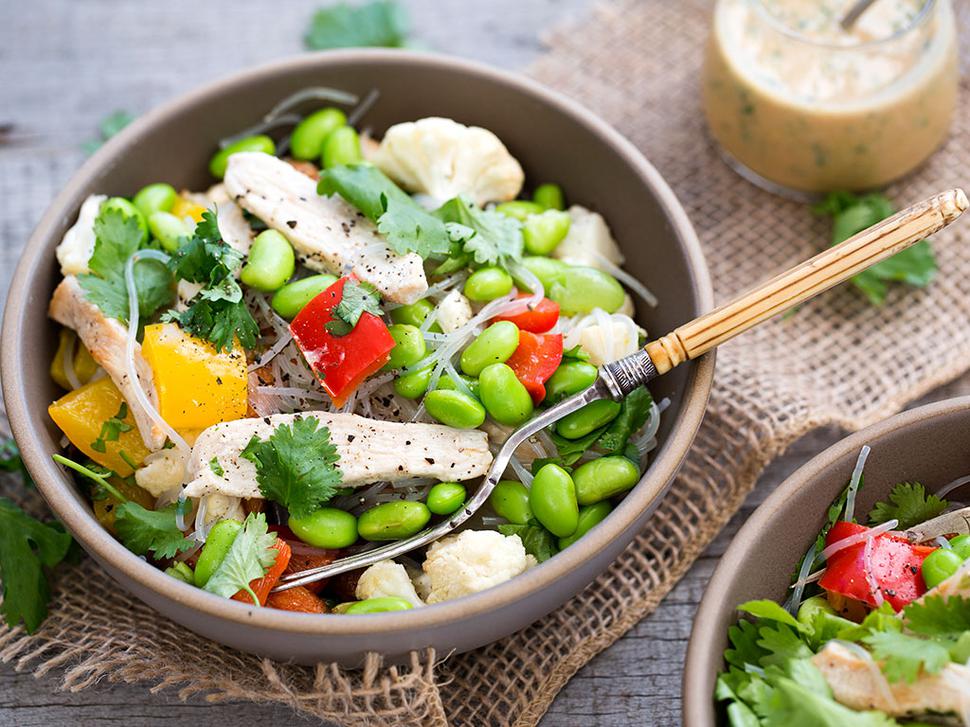 Recipe: Chicken, Edamame with Noodles and Miso Dressing
Wednesday March 25, 2015
CHICKEN, EDAMAME WITH NOODLES AND MISO DRESSING
Serves 4
• 2 Tbsp oil
• 3 cups vegetables, eg carrots, peppers, cauliflower
• 400g chicken breasts, sliced and pan-fried
• 2 cups edamame beans
• 1 cup coriander leaves
• 200g glass noodles, soaked and drained
• Freshly ground pepper
Dressing
• ¼ cup miso
• 1/3 cup soy milk
• 2 Tbsp honey
• 1 Tbsp lemon juice
• ½ spring onion, chopped finely
• ¼ cup coriander leaves
1. Preheat an oven to 180C.
2. Pour oil into a baking dish, add vegetables and bake for 20 minutes, or until cooked and lightly browned. Remove and cool.
3. To make the dressing, place miso, soy, honey lemon, spring onion and coriander leaves in a blender and blitz until well combined.
4. Place vegetables, chicken, edamame, coriander and noodles in a large bowl. Grind over some pepper then stir the dressing through.
5. Serve in bowls, scattered with a few extra coriander leaves.

View more from Viva's Insiders' Guide to London brought to you by Toni&Guy. 
Share this: