Recipe: Boozy Baked Chicken with Peppers
Friday April 24, 2015
Italian chef Gennaro Contaldo has been a star of the British food scene since he moved to the UK in the 1960s. The former owner of the award-winning London restaurant Passione taught Jamie Oliver all his Italian secrets. The star of BBC2' s Two Greedy Italians' most recent book, Gennaro - Slow Cook Italian is a guide to slow-cooking meats, breads, pasta sauces, soups, roasts and more. Here, we share his delicious baked chicken recipe.

BOOZY BAKED CHICKEN WITH PEPPERS (or pollo ubriaco con peperoni)
This is a really simple dish to prepare: put all your ingredients in a roasting dish and pop in the oven to do the rest. All the flavours infuse together and the alcohol and mustard give the chicken a real kick! Excellent for an easy Sunday lunch or midweek meal served with steamed rice.
Serves 4 
• 150ml dry white wine
• 1 Tbsp English mustard
• 850g chicken thighs and drumsticks
• 100g prosciutto, roughly chopped
• 10 baby onions or shallots, peeled
• 225g baby vine tomatoes, halved
• 1 yellow (bell) pepper, thinly sliced
• 1 red (bell) pepper, thinly sliced
• 2 garlic cloves, left whole
• Salt and freshly ground black pepper
• 2 Tbsp port
• 2 Tbsp brandy
• 2 Tbsp extra virgin olive oil
• 1 Tbsp chopped fresh parsley
1. Combine the wine and mustard and set aside.
2. Put the chicken pieces in an ovenproof dish with the prosciutto, onions, tomatoes, peppers and garlic, sprinkle with salt and pepper and toss together. Pour over the white wine mixture, port, brandy and olive oil and toss again. Cover with foil and set aside for the flavours to infuse for 20 minutes. Preheat the oven to 170C/gas mark 3.
3. Place in the oven and bake for 1 hour, basting from time to time. Remove the foil and continue to cook for another 30 minutes.
4. Remove from the oven, garnish with parsley and serve.

• This recipe was extracted with permission from Gennaro – Slow Cook Italian by Gennaro Contaldo. $44.99, published by Pavillion, distributed by HarperCollins NZ.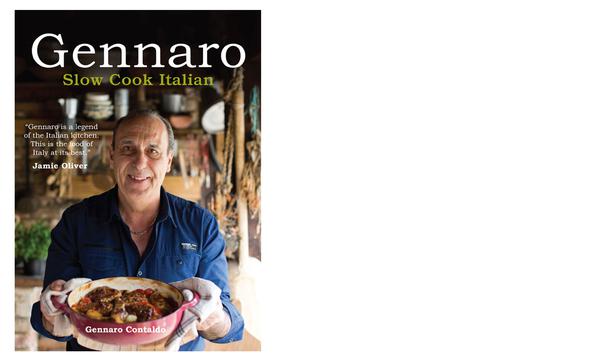 Gennaro's new cookbook; Gennaro - Slow Cook Italian. Picture / Supplied.
View more from Viva's Insiders' Guide to London brought to you by Toni&Guy
Share this: