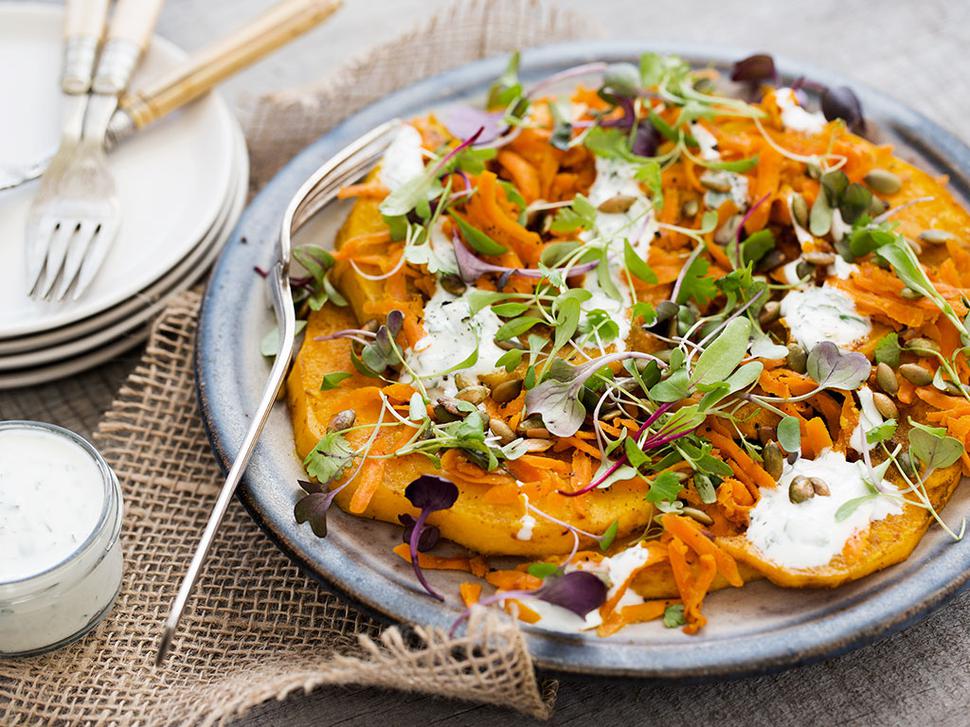 Recipe: Roasted Spiced Pumpkin with Candied Carrots and Yoghurt Dressing
For a tasty side dish try Angela Casley's roasted pumpkin
Tuesday March 24, 2015
ROASTED SPICED PUMPKIN WITH CANDIED CARROTS AND YOGHURT DRESSING
Serves 4
• 1 tsp cumin
• 1 tsp coriander
• ½ tsp turmeric
• ¼ tsp chilli flakes
• 2 Tbsp olive oil
• ¼ pumpkin, peeled and sliced
• 20g butter
• 2 large carrots, grated
• Zest of ½ orange
• 2 Tbsp sugar
• 1 tsp vinegar
• Salt and pepper
• Garnish
• 1 ½ cups microgreens or salad greens
• ½ cup roasted pumpkin seeds
Dressing
• ½ cup unsweetened yoghurt
• ¼ cup chopped herbs
• 1 Tbsp lemon juice
• Pinch salt and pepper
1. Preheat an oven to 180C. Line a roasting tin with baking paper.
2. In a small bowl combine cumin, coriander, turmeric and chilli flakes. Place pumpkin on baking paper and sprinkle over the spices and oil. Massage into the pumpkin. Bake for 30 minutes until cooked.
3. Melt butter in a flying pan. Add carrots and cook for 5 minutes until soft. Add zest and sugar and continue to cook for 5 minutes until sticky. Add vinegar, salt and pepper.
4. Mix yoghurt, herbs, juice, salt and pepper in a small bowl.
5. Place pumpkin on a platter. Scatter over the carrots, greens and seeds and dress. Serve hot or cold.

View more from Viva's Insiders' Guide to London brought to you by Toni&Guy.
Share this: