Peggy Oki, Skate Star
The sole female on the original Z-Boys skate team fronts a new campaign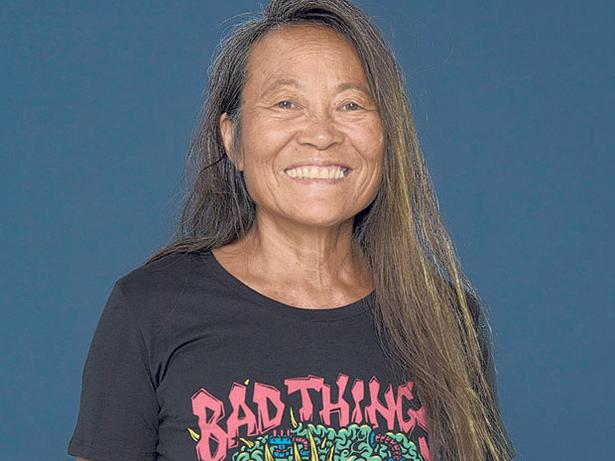 Wednesday March 11, 2015
What better ambassador for a badass "metal, skate and comic-gore" streetwear brand than Peggy Oki?
The sole female on the original Z-Boys skate team (as seen on the Dogtown and Z-Boys documentary) is also a surfer, artist and environmental activist.
Photographed in Raglan this week for new label Bad Things, Peggy is pictured here wearing a t-shirt from the new collection 'Bad Tails' ($69 from badthingsapparel.com).
The unisex label, launched by fashion designer Mala Brajkovic late last year with Maki Nishiyama and Vinnie Woolston (also a model for the range and the new face of Yves Saint Laurent's La Nuit de l'Homme), focusses on t-shirts, sweatshirts and accessories.
The prints in Bad Tails feature "cyborg-animal" artwork created by renowned graphic artists, including Californian Jimbo Phillips (whose father designed the cult screaming hand logo for Santa Cruz skateboards in the 70s), Australian metal-artist Glenn Smith and UK artist Nik Gernert (one half of the Skumbag art duo).
The Raglan-based brand is hitting Auckland this week with a private party and pop-up store. The store, upstairs in K Rd's St Kevin's Arcade, will be open Friday-Sunday, 10am-5pm. We have two tickets to the private party and film preview at Whammy Bar tomorrow night.
To enter click here.
Share this: