Style & Substance
Five simple ways to be a conscious dresser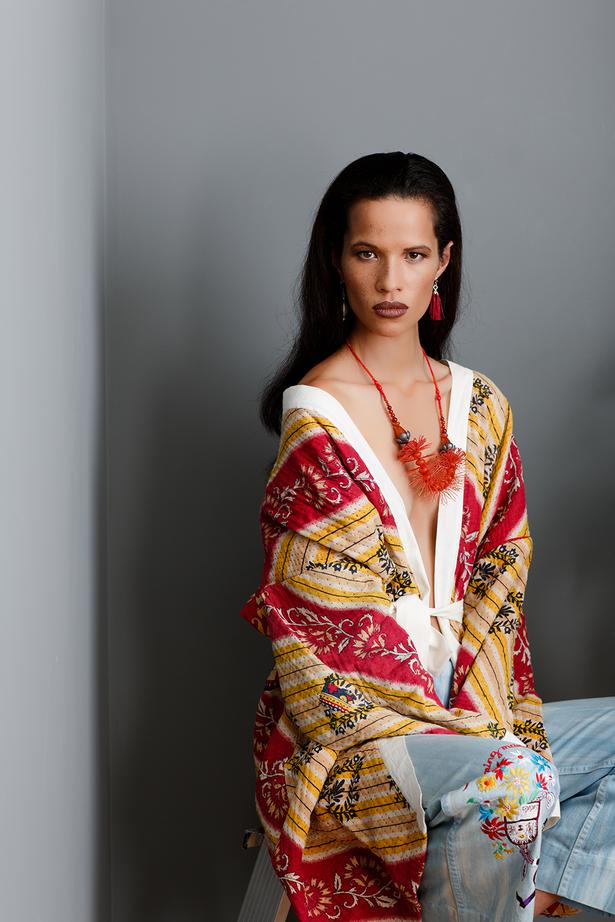 Wednesday April 22, 2015
(Above) Danielle wears a cotton kimono made by artisans in India working with not-for-profit organisation Sasha, $139, from Trade Aid. 70s jeans, $39, from Dead Man Vintage. Melinda Young necklace, $480, Ilse-Marie Erl silver earring, $250, and Ruth Baird leaf earring, $185, from Fingers Jewellery.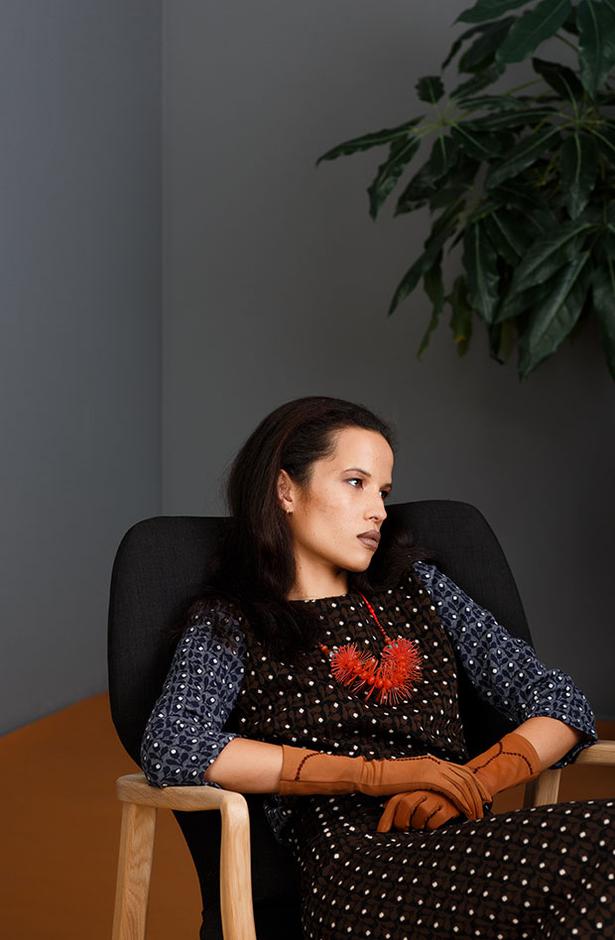 NZ MADE
With much production going offshore, it can be difficult for designers to economically justify keeping it local. Support those brands that still do! Zambesi is a long-time champion of New Zealand made, with this wool top ($280) and matching skirt ($290) made here in Auckland. Danielle wears it with a neckpiece by Melinda Young, made from artificial plant foliage, glass, coral, wood and silk thread ($480 from Fingers). The gloves were handed down to Danielle from her great-grandmother, who bought them 60 years ago, after her wedding.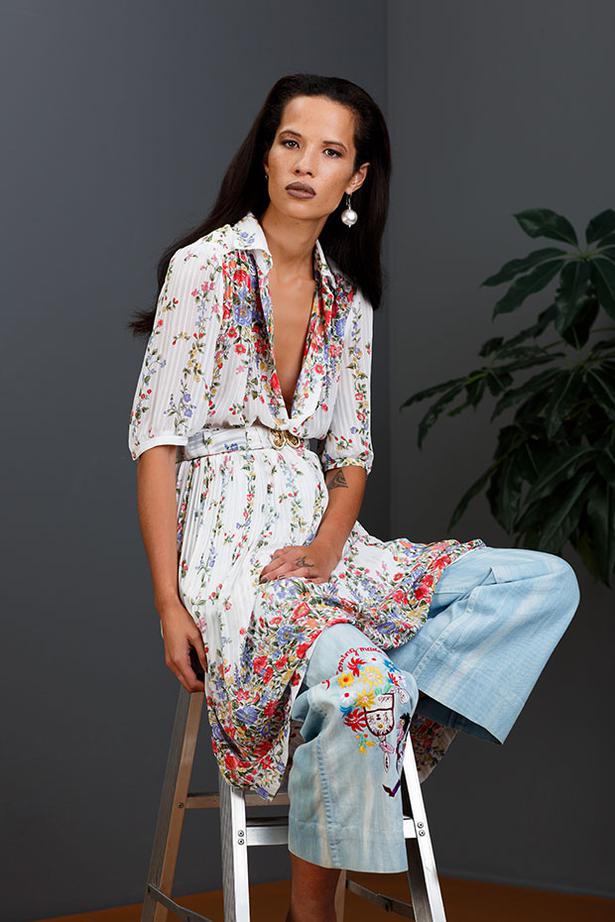 PASS IT ON
New doesn't automatically equal better. Look to unlikely sources for fresh pieces, like clothes swaps, friends' wardrobes or pieces that have been kept in the family for generations. This beautiful dress was handed down to Viva writer Fiona Ralph from her grandmother, who bought it in Hong Kong in the 70s. Danielle wears it over vintage jeans ($39 from Dead Man Vintage) and earrings by Auckland jeweller Ilse-Marie Erl ($250 from Fingers).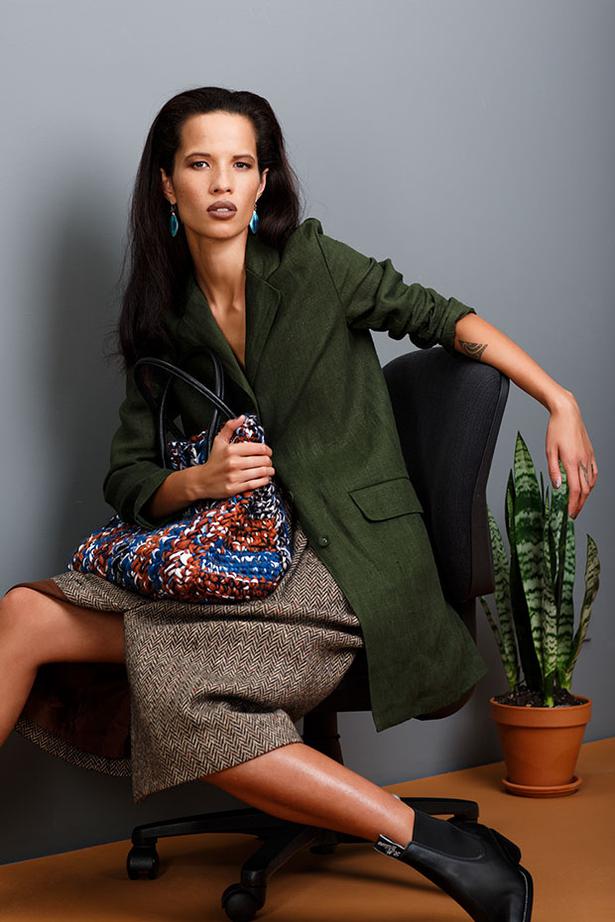 "BUY LESS, CHOOSE WELL, MAKE IT LAST"
Vivienne Westwood is passionate in her belief that we buy too many clothes, and her manifesto is an attitude to live by. Refuse the pressure to have "more" and a throwaway fashion culture, and buy only what you truly love. Not everyone can afford to buy the best, but the point is to buy less and commit to wearing it many times — especially if it's from a chain store. If you're fortunate enough to be able to afford it, focus on quality pieces that will last — like this FLW jacket made in Lithuania ($480 from Annex), worn with a vintage Ralph Lauren skirt, earrings made by local jeweller Ruth Baird ($185 from Fingers Jewellery), Lorenza Gandaglia bag handmade in Florence ($1100 from Annex) and sturdy R.M. Williams boots ($495 from Annex).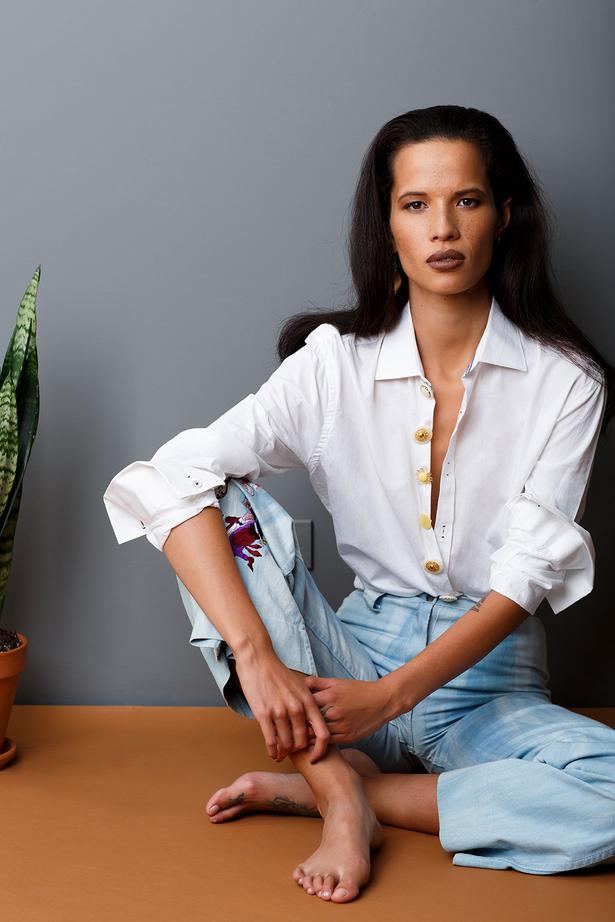 MAKE DO, AND MEND
Issued by the British Government during strict rationing throughout World War II, the philosophy behind the famous Make Do and Mend pamphlet is still relevant today. Tips encouraged women on the home front to be frugal and stylish, using what they had to reuse and recycle. Take that and modernise it for now by learning how to make your own clothes, knit, sew and alter what you already have — take a sewing class with Sew Love Tea Do in Auckland, or if you already have those skills, pass them on to the next generation. Danielle wears a shirt updated with new buttons and vintage flares with an embroidered patch ($39 from Dead Man Vintage) and earrings by Auckland jeweller Ilse-Marie Erl ($250 from Fingers).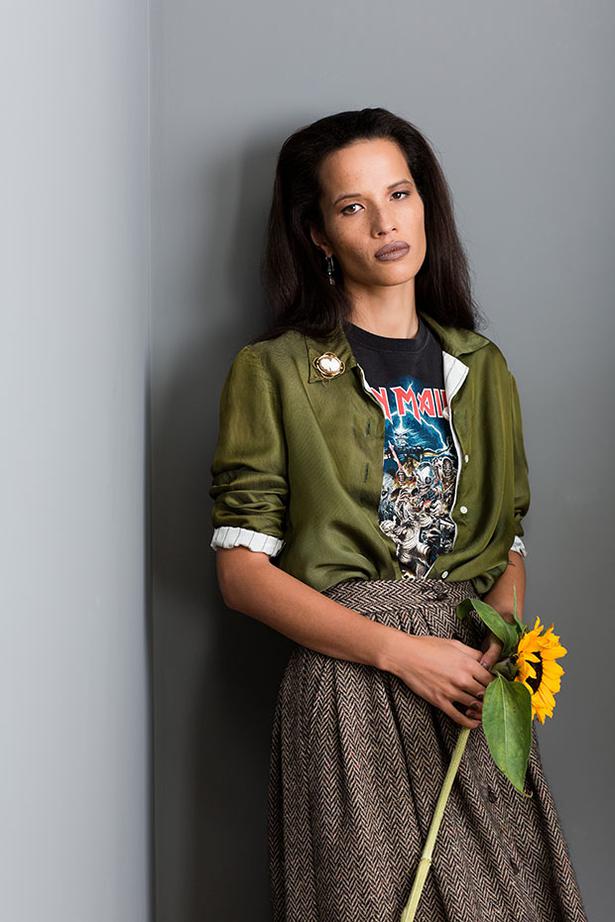 IT'S VINTAGE
Thrifting requires patience and a good eye, but nothing beats the thrill of stumbling across something special on the racks of your local opshop. We found this Marilyn Sainty shirt from 1997 at the Red Cross Shop on Dominion Rd, and the Ralph Lauren skirt at Save Mart Onehunga. There are trendy vintage stores that do the editing for you, or eBay and other online vintage stores, but the most thrilling finds are usually found unexpectedly in church shops, small town opshops and garage sales. Danielle wears our vintage finds with an Iron Maiden tee ($49 from Dead Man Vintage), and a brooch originally owned by her great-great-great-great-grandmother and passed down to the eldest daughters in her family.


Photographer: Babiche Martens. Stylist: Dan Ahwa. Makeup: Kiekie Stanners for M.A.C Cosmetics. Hair: Benjamin James from Ryder Salon. Model: Danielle Hayes from Unique Model Management. Stylist's assistant: Anna Lee. Words: Zoe Walker
STOCKISTS: Annex, Dead Man Vintage, Fingers Jewellery, Trade Aid, Zambesi. 
Share this: