Vogue Editor Alexandra Shulman Resigns
The long-standing editor of British Vogue is leaving after 25 years at the helm of the magazine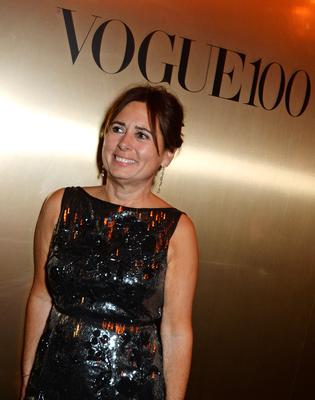 Alexandra Shulman, the long-standing editor-in-chief of British Vogue, is stepping down after 25 years leading the magazine.
With a strong journalism background, having worked at GQ, Tatler and The Sunday Telegraph before Vogue, she was one of the iconic magazine's most journalistically and commercially minded editors.
She has been a key figure in the growth of the British fashion industry creatively and from a business perspective.
Under her tenure the magazine was a staunch champion of British fashion talent, including designers Alexander McQueen, John Galliano, Phoebe Philo and Stella McCartney, and photographers Corrine Day, Tim Walker, Nick Knight and Alasdair McLellan.
READ: Alexandra Shulman on 100 Years of Vogue
In recent years, Alexandra helped nurture the new group of London fashion talent, including Christopher Kane, J.W. Anderson and Kiwi-born designer Emilia Wickstead.
Alexandra's Vogue published some of fashion's most iconic covers, including a group of leading British models wearing the Union Jack in 2002, a 1997 Princess Diana memorial cover featuring a photo by Patrick Demarchelier and Kate Moss' 'Royal Salute' in 2001.
She put the British supermodel on the cover over 35 times, and in 2013 appointed her as a contributing fashion editor.
Her resignation comes after one of the most significant and busy years for the magazine, which celebrated its centenary in 2016.
Alexandra scored a major fashion and media coup in April by securing the Duchess of Cambridge for the cover, the royal's first fashion shoot and cover.
The editor was also the driving force behind other major events to mark 100 years of British Vogue, including a successful exhibition of fashion photographer at London's National Portrait Gallery, a gala to celebrate the birthday and the Vogue 100 Festival. She was also the somewhat reluctant star of a BBC documentary covering the celebrations.
In October, she released Inside Vogue: A Diary of My 100th Year, chronicling the build-up to the birthday celebrations, from a business and personal point of view (a temperamental boiler at home features throughout the book). She expressed both hope and frustration at changes in the fashion industry, from the obsession with celebrity and 'clicks' to digital's influence on the pace.
In an interview with Viva in November, writer Jessica Beresford asked the editor if she saw herself at Vogue in 10 years' time. "I don't either see myself here or not see myself here," she answered. "I don't know. I've certainly seen myself here for quite a long time."
Share this:
More Fashion / Features & Profiles