Alexandra Shulman on 100 Years of Vogue
The editor-in-chief of British Vogue has penned a new book chronicling the famed publication's centenary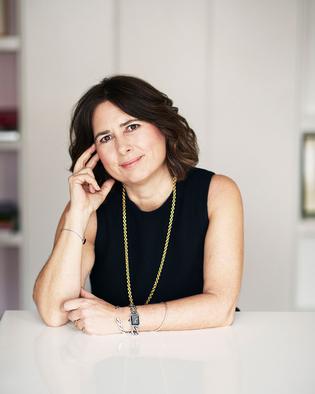 I woke at 4am to pouring rain. Went downstairs to discover that, as with Brexit, I'd gone to bed expecting one certain outcome, and woken to a different story.
I finally reached the office, after not wanting to leave the house, and apart from fretting about Donald Trump, looked at the content of the March and April issues that we're in the middle of finally commissioning.
This is how Alexandra Shulman's diary entry would have read from Wednesday last week - the day of our interview and a day she and many others around the world describe as dismal: when Trump was elected President of the United States. Given the circumstances, she's surprisingly warm, although definitely to-the-point. Also like many others around the world, she's had to put her head down and carry on with the demands of life despite the day's news.
In fact, it doesn't seem like there's ever much rest for the editor-in-chief of British Vogue, as documented in her latest book Inside Vogue: A Diary of My 100th Year, where she details the events celebrating the iconic magazine's centenary. In between organising an exhibition at London's National Portrait Gallery, the Vogue 100 Festival, a collectable edition of the magazine and being followed around by a film crew for a BBC documentary, she's balancing budgets, attending fashion weeks and dealing with the usual woes of working with some of the fashion industry's most talented. That's not to mention her responsibilities as a partner and mother; even the editor of Vogue isn't immune to complaints about what's for dinner or not having any hot water in the house.
READ: Inside Vogue's 100th Birthday Party
It's this contrast - between the perceived glamour of running a fashion magazine and the rather unglamorous realities of actually doing so - that make Alexandra's book especially interesting. In a diary entry from November 17, 2016, Alexandra is preparing to meet with the Duchess of Cambridge, who's the glowing cover star of the magazine's centenary issue. She's making herself coffee at home while decanting some chicken stock she'd made earlier to put into the freezer.
As I scrubbed at the recalcitrant corners of the chicken's roasting tray, it occurred to me that when I don't have this job I will have to spend more time scrubbing tins clean, she writes. Washing-up is part of the domestic life I often think I crave more of, but as I battled with the burned chicken fat, I had to admit that it has very little to recommend it as an activity.
Alexandra had no qualms about revealing this decidedly ordinary side to her daily routine, or even the deeply personal aspects of her character - as it turns out, she's bored senseless by having her hair and makeup done, battles with anxiety and tends to give undeserving attention to the small things. At one point she vows not to "sweat the risotto", as a reaction to her overthinking an unplanned course at a dinner party.
"I knew that if I made the decision that I wanted to write this book, that was going to be part of it and, in fact, that was going to be the interesting part," she says in her very proper English accent.
"I've written quite a lot of personal journalism, so it wasn't particularly because I thought that was the key thing. It was more that I wanted to show the reality - I think people tend to think the job editing a fashion magazine is something that it simply isn't. I wanted to show what the job actually was and the kind of things that preoccupied me for work, and simultaneously in a kind of domestic and personal situation."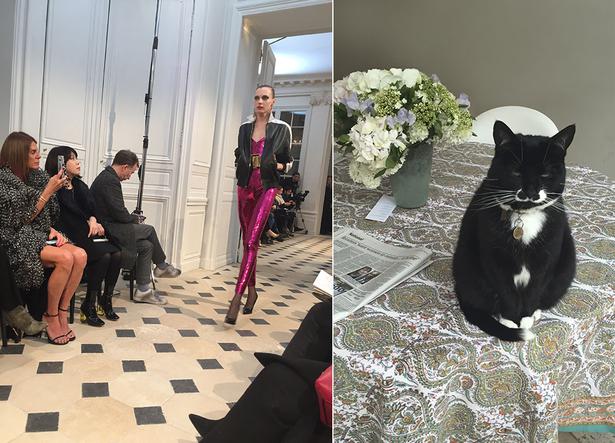 Alexandra's front row view at Saint Laurent; at home with her cat Coco. Pictures / Supplied

There is a lot more to the book than the stubborn remains of a roast chook - there are also detailed accounts of some of the fashion industry's most notorious characters: the "suntanned and tiny" Victoria Beckham; the playful Kate Moss who's never on time; Karl Lagerfeld the "benevolent Bond victim"; or photographer David Bailey, who likes to hurl verbal abuse, apparently.

The various intricacies of the industry - including knowing the people who fill its seats - are like second nature to Alexandra, although that's hardly surprising given she's the longest-serving editor of the British fashion title. She's also a proud advocate for the UK's homegrown talent, which stems from knowing the people involved and seeing how it's created.

"I like the sense of individuality - you come and look at the shows in London, and it's just so rich in ideas. It's like going to an art gallery. It used to be like going to … a surrealist or expressionist show, which you could love but you couldn't actually sort of use it as it were. Now they've got great businesses, the clothes are both inventive and original but they're also quite commercial, they're being sold everywhere, everyone wants to wear them - it's not just admiring them for the sake of creativity.

"That's an important thing about fashion, it's not a pure art, the fashion business, it is a business as well, and when someone gets that balance right, that's when things are the very best."

As such, she's regularly trying to convince the selection of British designers that don't show at London Fashion Week - Stella McCartney, Victoria Beckham, Sarah Burton at Alexander McQueen - to return. "Sometimes when you take brands out of London who are London brands, and they show elsewhere, you just don't get that same kind of strength of message from them. They go to New York and they just kind of look like minnows stomping around.

"I mean, London has, over the last five or six years - and every season it seems to grow - become a really important fashion capital for the shows, so I think it does add lustre [having the brands there]."

One of the most contentious talking points in the fashion industry at the moment is the steady increase in brands showing in-season, as opposed to the traditional runway model, which sees clothes available the following season

WATCH: The Story of British Vogue:

Alexandra goes into depth about this in the book, and says it's something the team at Vogue is still trying to work around, but acknowledges why it makes sense for some brands. "I think it depends what you're selling, and I think it depends on your brand. For some people I suspect that to invest your marketing spend in a show that can immediately be accessed by your customer is a good idea, but for other brands I think it's impossible.

"For instance, for an independent brand who can't put the money upfront to produce the collection for the shops, it's kind of an impossible way to do it. For a lot of luxury brands they're just not interested in doing it, they think part of what they're selling is kind of aspirational and it's not like you go out and grab it.

"It's not like an H&M collection, where someone comes in like Kenzo just have. They deliver a really great capsule collection, you build up a lot of press around it, everyone rushes in to the store and it's sold out in a week, let's say. That's just not going to happen with really expensive clothes. So I think it depends, I really do."

Inside Vogue: A Diary of My 100th Year starts from September 1, 2015 and ends on June 23, 2016, the day of the Brexit referendum, so the vote and its possible effects are a recurring issue among the workload of the centenary celebrations. So too is the then-impending threat of Trump - an excerpt from February 10 reads: Hillary is being rejected by young women and Trump is doing ridiculously well. I think Trump is being underestimated.

While there's certainly no doubt about that now, I can't help but ask: what does all this turmoil mean for the fashion industry?

"The reasons for both Brexit and Trump seem to be quite similar, which is a rejection of the status quo and government, really, and the fear of immigration and a feeling that there's a kind of fat cat class that gets everything and there's a lot of people who feel disenfranchised. Now, how that's going to affect fashion, and the fashion business I just don't have any idea. That's what I think the problems are, and I really don't know what that means at the moment.

"In the short term, what Brexit has meant is that the cost of producing the magazine has gone up, because a lot of what we create is done in dollars and euros, so for us to do shoots in New York, say, or Paris, it's costing us something like 15 per cent more than it was, which is difficult."

Although Alexandra says she's not a particularly political person, these are issues that have obviously struck a chord, and she's not oblivious to her influence as the editor of a magazine that's read by more than 1.3 million.

Indeed, her position of power - with politics or fashion - is certainly a force to be reckoned with, and is surely something, too, that would be hard to let go. So, does Alexandra still see herself at Vogue in 10 years' time?

"I don't either see myself here or not see myself here. I don't know. I've certainly seen myself here for quite a long time." If her track record is anything to go by, she'll probably be there for another 24 years - wrangling talent, negotiating cover stars and, perhaps, still worrying about budgets, questionable politicians and unwanted risotto.

• Inside Vogue: A Diary of My 100th Year by Alexandra Shulman. Published by Penguin, $45.

Share this: