Schiaparelli Recreates Wallis Simpson's Famous Lobster Dress
Schiaparelli again charms with the Duchess of Windsor's famous lobster dress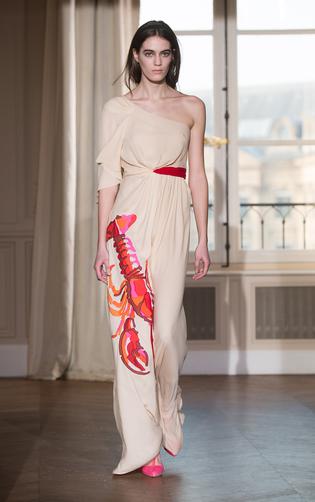 Of all the outfits the Duchess of Windsor wore, the "Lobster dress" she debuted in a Vogue shoot announcing her engagement to the former Edward VIII was surely her most provocative.
Designed by one of her favourite couturiers, Elsa Schiaparelli, the white gown featured a huge lobster drawn across the pelvis by Salvador Dali - a motif he'd famously said had sexual connotations when used in his surrealist paintings.
Such is the iconic status of the duchess's dress that the Schiaparelli house's current incumbent, Bertrand Guyon, chose to revisit it on the haute couture catwalk in Paris - debuting a remarkably similar version of the notorious crustacean dress, albeit with a one-shouldered neckline.
The collection marked the 90th anniversary of Schiaparelli, a brand that became a Hollywood favourite in the 1930s thanks to the designer's eccentric, witty and often shocking designs.
READ: What Makes Fashion Vulgar?
Schiaparelli was the first to design a built-in bra for a bathing suit, to coin the term "shocking pink" and to collaborate with key surrealist artists: Jean Cocteau drew a face on the back of one gown and Salvador Dali helped her create a hat fashioned in the shape of a shoe. But when the Second World War started Schiaparelli was forced to relocate to New York and her business faltered.
In the postwar period her statement, flashy designs struck the wrong chord and, dogged by rumours she had been an informant to Nazi Germany officials, by 1954 she was out of business.
Yesterday's show therefore also marked a triumphant return for Schiaparelli - a brand that has struggled to find its identity, let alone hang on to a designer, since fashion magnate Diego Della Valle set about restoring it in 2007. The collection was the first since the brand was welcomed back into the world of haute couture by the French ministry of industry and the French Couture Federation.
To mark the occasion, the show took place in the late designer's apartment overlooking the historic Place Vendome and referenced many of Schiaparelli's trademarks, including multiple surrealist emblems. What stood out though was the evening wear; Schiaparelli has punched above it's featherweight at awards ceremonies recently.
This collection - the Lobster Dress included - was another case in point: at it's best when the dresses were fluid, semi-fitted and delicately patterned.
- The Daily Telegraph
Share this: