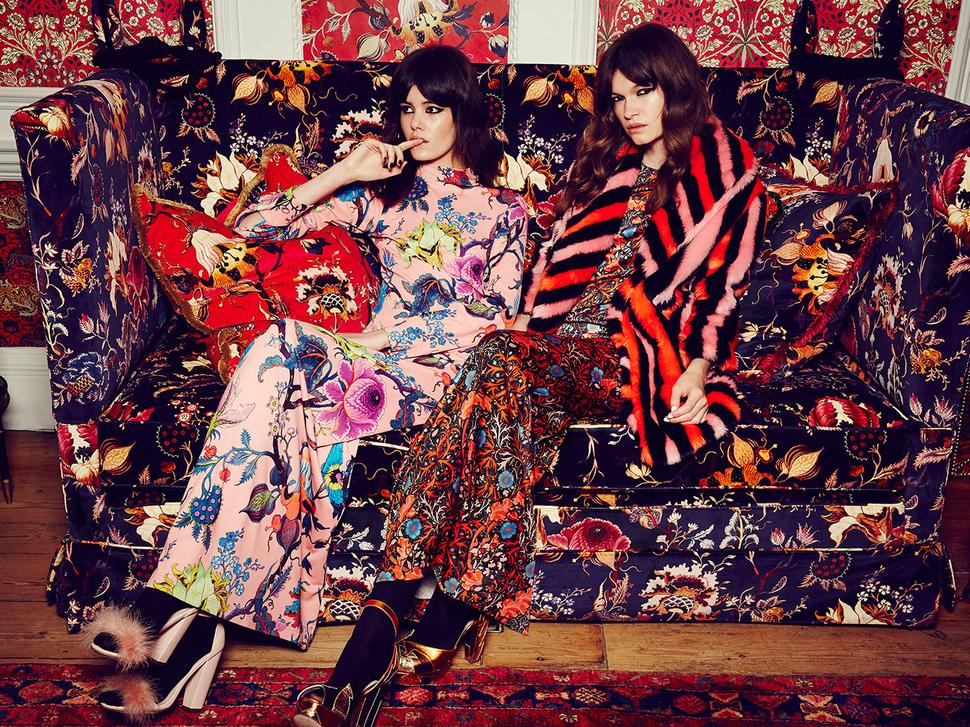 How to Wear Wallpaper Prints
The catwalks and streets are full of wallpaper prints. But how do you wear them without looking like part of the furniture?
Wednesday Oct. 21, 2015
For all the florid exuberance of a William Morris pattern, or the happy holiday feeling exuded by a banana-leafed corridor in the Beverly Hills hotel, surely everyone can identify with the repulsion felt by the heroine of Charlotte Perkins Gilman's short story, The Yellow Wall-Paper, when she gazes at the peeling papered room to which her physician husband has confined her for the summer.
"The colour is hideous enough, and unreliable enough, and infuriating enough, but the pattern is torturing," the frustrated narrator says, of the "sickly, penetrating, suggestive" yellow paper that is flaying off the walls of her bedroom. The wallpaper slowly drives her insane, much as it did Oscar Wilde, trapped in a cheap Paris hotel room in November 1900.
"My wallpaper and I are fighting a duel to the death. One or the other of us has to go," he reportedly stated, in his last witticism. The walls won: Wilde eventually died of an ear infection that had spread to the brain.
Wallpaper has always divided opinion. First introduced to England in the late 16th century, when a ceiling in Christ's College at Cambridge, was papered over with an Italianate pomegranate pattern, it was initially seen as an affordable way to replicate the formality of fabrics — a sort of cut-price wall tapestry. Wallpaper began to get chintzy in the early 1700s, gaining ground as a luxurious commodity.
By the early 19th century, however, it had become associated with shallow fakery. In Hardy's Far From the Madding Crowd, the fickle Sergeant Troy wants to paper over his new marital home, rejecting the honesty of Bathsheba's old farmhouse.
Later, once it had become a staple in working-class households, wallpaper had become resolutely unfashionable. And by and large it has remained that way, kept down and out by a hundred easy-to-apply, neutral shades of Farrow & Ball paint.
All that is set to change — in our wardrobes, at least. Recent catwalks were heaving with wallpaper prints, with designers such as Dries Van Noten, Emilia Wickstead and Alessandro Michele at Gucci adopting their repetitive charms.
Vintage wallpaper was key to setting the scene at Erdem's London Fashion Week show, too, with restored floral Sanderson prints creating a moody apartment in which the designer's jewel-coloured, brocade and chinoiserie-panelled dresses could take centre stage. For Mary Katrantzou, whose collection featured dresses and coats in 19th-century paisley, damasks and rose prints, and Belle Epoque brocades, wallpaper was equally reverberant.
At the J. Crew/Vogue party to celebrate London Fashion Week, held at the American Ambassador's Residence in September, all talk was of the Scheele's Green Chinoiserie paper in the drawing room, which derived its intoxicating colour from arsenic. And in Milan last month, one could hardly cross a road without clocking a show-goer in a dress that would have looked just as appropriate decorating a living room as adorning a body.
But how to wear wallpaper prints without becoming part of the furniture? JJ Martin, a California-born, Milan-based fashion editor and founder of the vintage website LaDoubleJ.com, considers herself a wallpaper print-wearing pro — so much so that she has just released a line of silk shift dresses in reproductions of retro 1970s prints from the Mantero silk archives. The seven dresses, now on sale at Matchesfashion.com and on her own site under the label of La DoubleJ Editions, are a perfect first toe in the water for those seeking diversion from a white-shirt-black-trouser combo.
"This is a real slip-on kind of dress that you can wear anywhere," says Martin, speaking from Milan. "It works for breakfast on a Sunday with simple slide sandals as well as for something dressier, the cocktail hour, with a heel. The key to making the print wearable is that you have to keep the line super simple. You can't wear prints like this with ruffles, or an asymmetric, complicated, neckline."
Martin counsels styling the dress with sandals for the summer, and with a slouchy rollneck jumper and flat boots for cooler weather. "Even my friends who are minimalist diehards are wearing the dresses, because although the prints are crazy, the shape is very basic and uncomplicated. The material is also important — a fine, silk-twill. Lighter fabrics make prints looks sophisticated and sharp."
Martin has found in Milan a fraternity of women dressing like their living rooms. As part of the content on LaDoubleJ.com, Martin interviews stylish Italian women with a penchant for vintage treasures. One such subject is Nina Yashar, a gallery owner who so loved the silk "Antiche Rovine" fabric from Prada's 2004 collection that she persuaded Miuccia to hand over yards of it for an exhibition in Paris in 2013, then promptly reupholstered her dressing room in the material to match her dress. "She went crazy when she saw it," Yashar reports, of Prada's reaction. "She loved it!"
Possessed by a similar matchy-matchy impulse? Look to London design company House of Hackney, which has collaborated with the William Morris Gallery to reimagine three Morris prints in different scales and colour combinations.
It's also designed a new print, inspired by Morris but with a psychedelic edge. "It's William Morris on acid," says co-founder Frieda Gormley. "In Morris's day it was all about natural pigments and muted colours, but now we're in the digital age and can have a lot of fun with the colours." All three prints are available to buy in wallpaper, lampshade, sofa and and mini-dress form.
If that sounds too twee, and the thought of blending into the background still inspires nightmares, look to Mary Katrantzou. The British designer has acknowledged her trademark handling of prints as both a blessing and a curse; for her recent collection she subverted the tension in a show that was inspired by horror vacui, the fear of empty spaces which drove the Victorians to cover every inch of their homes in decoration.
"People view me as a maximalist, but I actually see myself as a minimalist at heart," she told me. "In recent seasons I've been working on simplifying the silhouette and exploring the accessible. Print doesn't necessarily mean maximalist — it's more a means to expressing personality and individual style." Nevertheless, she acknowledges that this latest collection sought "to explore a maximalist demonstration of wealth and social stature through heady excess".
The excess — and exquisite attention to detail — is reflected in the prices: a tulle, brocade and leather dress will set you back about $5229. It's almost as painful as arsenic poisoning — but far more enjoyable.

HOW TO MAKE PATTERNS WORK FOR YOU
1. Don't overdo the accessorising, or you'll look like an extra from a John Hughes movie. Keep jewellery simple — studded or tiny drop earrings are best — and do away with necklaces. Too vaudeville.
2. Adhere to tried-and-tested colour combinations that work for you. Yes, you may be transported by trailing ivy swags dotted with arabesque toadstools, but that doesn't mean that swampy green suits your complexion.
3. Keep the silhouette simple. Ruffles, bows and fringing invite haberdashery, rather than haute couture, comparisons.
4. Stick to patterns that are neat and small-scale — anything too enlarged or murky will look unflattering from afar.

— The Daily Telegraph
Share this: