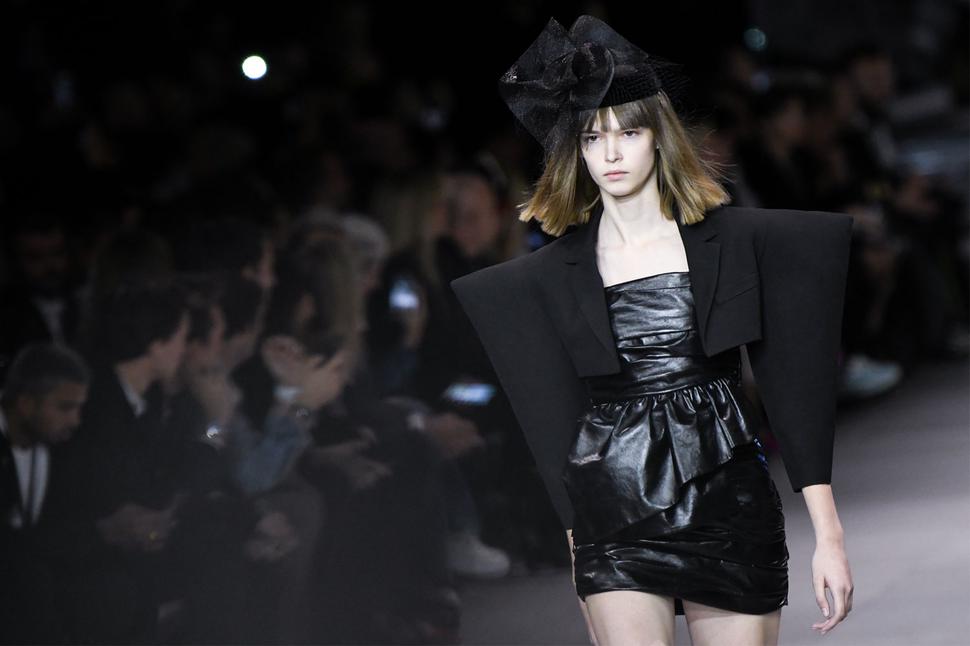 Wanted: Fashion Designers Who Truly Respect Women – Now More Than Ever
Amid a backlash against a beloved brand's overhaul, a few Paris fashion houses are offering a beacon for female customers
Saturday Oct. 6, 2018
A single brand captivated the fashion industry during the spring 2019 runway shows. The frustrated and angry argument was ostensibly about clothes. But in truth, it was sparked by the same triggers that have consumed the broader culture.
On the surface, the story of Celine centred on the brand's transformation under a new male designer from sophisticated, thoughtful restraint to louche, puerile ostentation. But dig for a bit and you see the fashion world debating women's power and agency versus that of the men who would define them. Long-standing industry bugbears such as ageism, white privilege and body negativity look ever more outrageous in the white-hot light of women's fury.
READ: Is Sexual Harassment Rife in the Fashion Industry? 
As the spring 2019 season wraps up, trends like bike shorts, broad shoulders and baby doll dresses are mere diversions. The big takeaway is a simple but profound demand: that the fashion industry be respectful of women.
By the time the runways shows came to a close Tuesday, most every collection had been viewed with a few key questions in mind: Are these clothes in service to women? Do these frocks make sense in the life of a woman — not a girl, not an adolescent, but a woman with responsibilities and daily demands? Do these clothes elevate her or do they threaten to make her look foolish?
This season there's little willingness on the part of casual observers or passionate fans to forgive designers who get lost in their own imagination. There's no patience for trussed or hobbling clothes. No patience for shows that send a homogenous parade of wasted-youth models down the runway. To hell with the muses, the "it" girls and wanna-be influencers.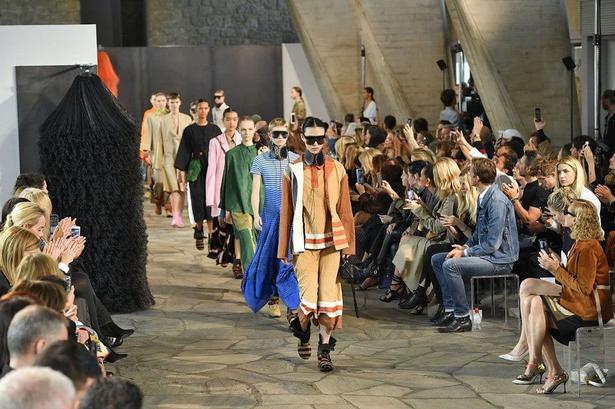 What have designers got for a woman who takes her style seriously but also has work to do and a life to live?
For spring 2019, women can turn to Valentino's Pierpaolo Piccioli for elegant sportswear and eveningwear that will take their breath away. Dries van Noten and Loewe's Jonathan Anderson cast an artful eye on sportswear; Hermès exudes straightforward luxury. Sacai's Chitose Abe is ever more avant-garde in her trompe l'oeil approach to design.
Stella McCartney has oversized suits, and Haider Ackermann has long and lean ones. There's solid tailoring at Clare Waight Keller's Givenchy, too — but beware the cropped cargo pants, which don't really do anyone any favours. And for those with a more fanciful nature, consider the bedazzled tops and denim skirts at Miu Miu. Imagine wearing Miuccia Prada sheer skirts — but with a lining  and delight in her crushed bows and flowers.
READ: What Exactly Is Saint Laurent Saying About Female Sexuality & Empowerment Here?
The fashion industry deserves women's anger. But fortunately, all is not lost (a few bike shorts and baby-doll dresses notwithstanding).
The much-discussed Celine was founded in 1945 by Céline Vepiana and her husband Robert, but the industry paid it scant attention until designer Phoebe Philo arrived in 2008. She transformed it into a minimalist brand of easy but sophisticated sportswear that captured the imagination and loyalty of women who believed that Philo alone communicated with them in a manner that wasn't condescending or bullying.
Philo understood them, woman to woman. When she took her runway bows one season wearing a pair of Stan Smith Adidas sneakers — well, oh boy. It was as if the nice leader of the cool-girl pack had declared that women had a right to be both comfortable and fashionable. Surely other designers had made a similar point. But none in quite the same lead-by-example way.
Last week, Philo's successor Hedi Slimane debuted with a collection that celebrated youth, night prowling, puffy baby-doll dresses and debauchery. There was beautiful tailoring in his collection, too. But it was overshadowed by the cloud of rage emanating from scorned lovers of Philo's Céline (which kept the accent mark of the founder's name that Slimane excised). He said it was an aesthetic decision, but it was also a symbolic gesture. It signalled that, with his move to add menswear to the label, he would erase any residual remains of its womanly message.
READ: Why Designer Christian Siriano Knows One Size Does Not Fit All
In the last few days, there have been farewell Phoebe Philo gatherings and shoppers lining up to buy the last bits of her work. There also has been plenty of trolling by Slimane on the house's Instagram account.
Meanwhile, another Instagram account appeared whose sole purpose is posting old pictures of Philo's work.
All of this, of course, happened in the midst of a broader fight against toxic masculinity — one spelt out in hashtags such as MeToo, TimesUp, IBelieveChristine. The anger over a personnel decision in the fashion industry, which still lacks gender parity at its highest echelons, was inextricable from the larger demand: Respect women.
There has never been this kind of mourning over a design house's change of creative directors. The closest was, perhaps, when Alber Elbaz was dismissed from Lanvin. Both Elbaz and Philo were acclaimed for their focus on clothes that overtly celebrated the modern woman in all of her facets. It didn't matter if one was drawn to their aesthetics or if one could afford it. It was their mission statement that mattered. They were there to help, to serve, to uplift.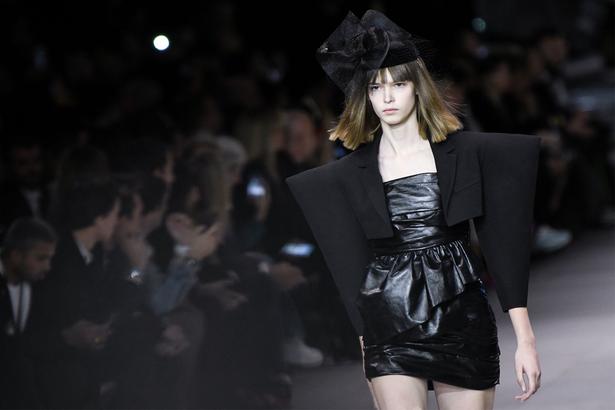 Their aesthetic trickled down to a mass audience. Elbaz bequeathed the hoi polloi the revived glory of costume jewellery. Big chunky faux jewels that tied around the neck with a grosgrain ribbon can be found everywhere from J. Crew to a Saturday afternoon street market. And Philo? Her clean, refined lines can be seen at more affordable brands such as Everlane and COS.
The despair is a reflection of how little there is to choose from in fashion that rings true to a wide swath of women. Dries Van Noten's work is situated in that sweet spot between pragmatic and inspiring. When he announced earlier this year that he'd sold a majority of his company to the luxury consortium Puig, his customers began to worry. How would the brand change? Would it start chasing flash-in-the-pan trends and 20-something influencers at the expense of the myriad other women who relied on it for a wardrobe that was wearable yet imaginative?
The designers who show their collections on the runway work in a rarefied environment and serve a niche market. But what they do dictates the direction in which the industry will go. They can elevate the banal and declare the mundane desirable. These designers don't have the kind of dictatorial power that their predecessors did. But they still have the power to influence and shape the culture.
How they envision a woman matters. There are not that many designers who see women with 20/20 vision.
In his Off-White collection, Virgil Abloh mostly sees women as athletic and strong. And so one is willing to forgive him a Pygmalion complex that always has him sending at least one woman down his runway in a monstrous ballgown as big and fluffy as a blob of meringue. Y/Project's Glenn Martens has interesting ideas about proportions and layering. And virtually every designer is offering up a bit of smart tailoring.
What is curious, however, is that the most exquisite jackets and trousers tend to take their cues from the masculine vernacular. They play to the current interest in gender-blurring. What is a suit created in a feminine voice? Designers still are figuring that out. At Louis Vuitton, when creative director Nicolas Ghesquière wasn't dabbling in sci-fi puffer coats, he offered compelling coloured jackets with rounded shoulders.
The anger that sprang up in fashion this season was sparked by something relatively trivial. Designers move on. Brands evolve. But it spoke to a much bigger issue, which is that women will be heard. The question going forward is how many designers are ready and willing to listen.
— The Washington Post
Share this: