Wanted: Self Portrait + Le Specs
Self Portrait, one of fashion's favourite new cult brands, moves into accessories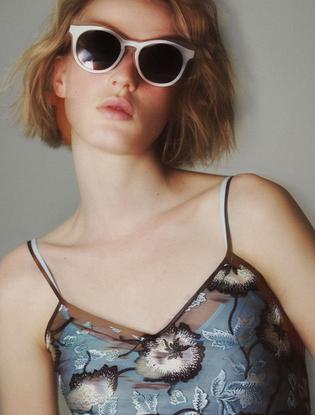 Those beautiful lace dresses you've likely seen all over your Instagram feed? They'll be by Self Portrait, a London-based brand that has developed a cult following with its feminine occasion pieces, worn by everyone from Gwyneth Paltrow to Gigi Hadid. Designer Han Chong grew up in Malaysia, before relocating to London to study fashion at Central Saint Martins. He established Self Portrait in 2013, and recently collaborated with Le Specs to create a collection of five eyewear styles; his first venture into accessories. The frames are available online at self-portrait-studio.com and lespecs.com, before launching into Le Specs stockists locally from April 4.
Lace seems to inform the structure of many of your pieces. Where did this obsession spring from?
Lace is actually a very traditional form of material in Malaysian culture. I love that there are so many different ways to experiment and interpret lace — in terms of colours, layering and texture — to create contrast in a garment.
Your designs are so refined, yet sit in an accessible part of the market — how do you maintain this balance?
It's important to me not to be too greedy in this business and to keep my profit margin on a decent level. Fashion should be for everyone and not just for a select tiny group of people. With the right planning and by putting a lot of effort into the sewing process and the choices of materials, it is actually possible to make designs that look far more pricey than they cost. To me that's the future. Not even the wealthiest people today want to be seen in dress that costs tens of thousands of dollars.
How did you translate your aesthetic into eyewear?
I referenced vintage photographs and film stills and was inspired by the vintage sunglasses I saw at markets. I thought about what the Self Portrait girl would want to wear with our dresses. The sunglasses are a reinvention of classic shapes and reflect the concept of layering clean lines with minimal detailing in petal-soft tones.
What feeds you creatively?
I try to travel as much as I can. Even if it's for work, I make the time to visit museums and galleries and to observe my surroundings like architecture, people's lifestyles and tastes.
Why did you decide to start designing bridal as well as ready-to-wear?
The brand had always been dressing for occasion-wear and it seemed natural for us to start designing bridal as we wanted to do something for the unconventional bride. I felt that there was a gap in the market that needed addressing. Modern brides today want to skip bridal boutiques altogether and ready-to-wear bridal dresses are often either poorly designed or far too pricey.
Do you have a memory from your time studying at Central Saint Martins?
We worked very hard at school but we also partied very hard! There were many drunken late nights where we dragged ourselves to the studio the next day, hung over. I find myself the most inspired and productive, especially with sketching, whenever I am hung over.
What are your thoughts on the shifts we are seeing in the fashion industry as of late?
Fashion couldn't be at a more tumultuous time but I think it's progress and change that keeps the industry going.
• Self Portrait clothing is available in NZ from Muse Boutique and Seletti.
Share this:
More Fashion / Features & Profiles