10 Simple Ways To Boost Your Wardrobe, Modelled By The Viva Team
Trends come and go, but these seasonal style additions remain steadfast and true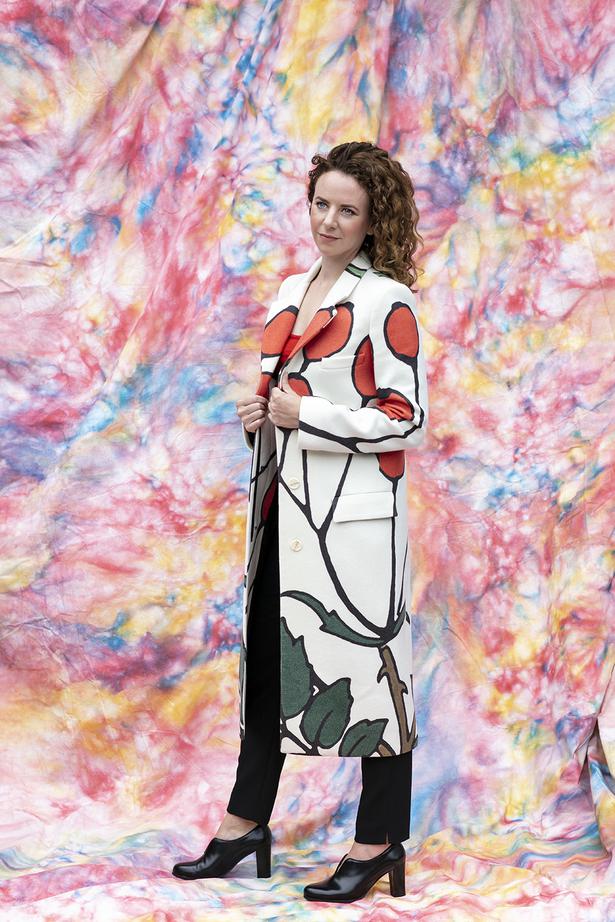 Monday April 4, 2022
THE GRAND COAT
Johanna Thornton, deputy editor
Very few wardrobe staples elicit a sense of comfort and reliability like a great coat. Thrown on over a look, it's an everyday essential that serves its purpose of keeping you protected from the elements, a bonus when it looks as terrific as this floral-print Loewe number designed by J.W. Anderson. "Coats are a staple in my wardrobe," says Johanna. "I love how they complete an outfit, and the best tailored versions can make you feel sharp and polished, even if you're anything but. When a coat is as beautiful as this one, the only downside is that you usually have to take it off when you're indoors. I wonder if I can make garden parties a thing this autumn and winter."
Johanna wears Loewe coat, $5550, from Faradays. Emilia Wickstead trousers, $1030, from Simon James. Wixii top $195. Johanna's own Junya Watanabe heels.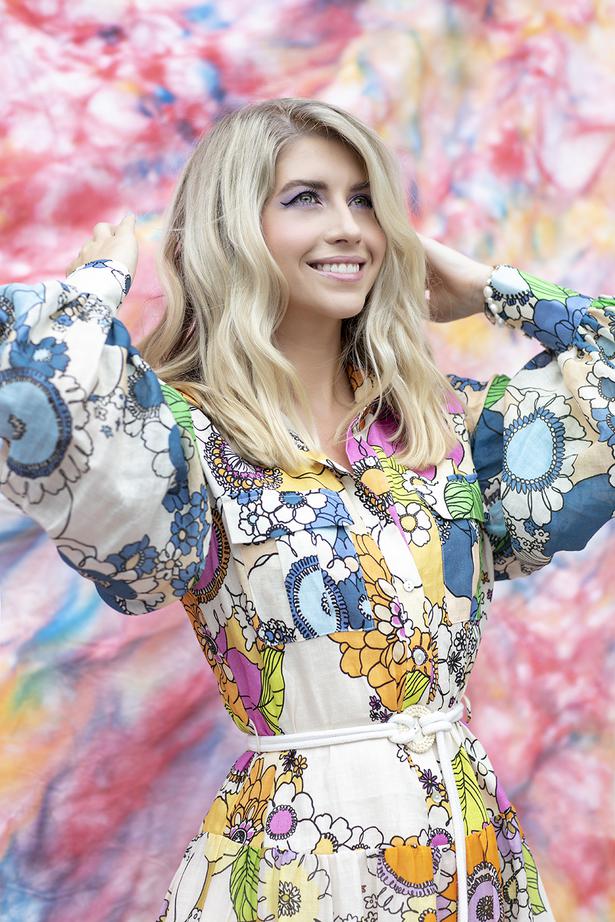 RETRO PRINTS
Ashleigh Cometti, beauty editor
The power of fashion lies in its ability to lift the spirits, and a trippy, retro print never fails to do just that. "Beige, cream and black will forever have a place in my wardrobe, but nothing shouts 'I've arrived!' quite like bright, buzzy prints," says Ashleigh. "Even on a dreary day, nothing boosts my mood faster than dressing in trippy paisley prints, ditsy florals or pastel gingham. This dress nails the assignment, satisfying my long-standing penchant for maxi-length dresses, a cinched waist and rainbow-worthy wildflowers."
Ashleigh wears Alemais dress, $695, from Muse.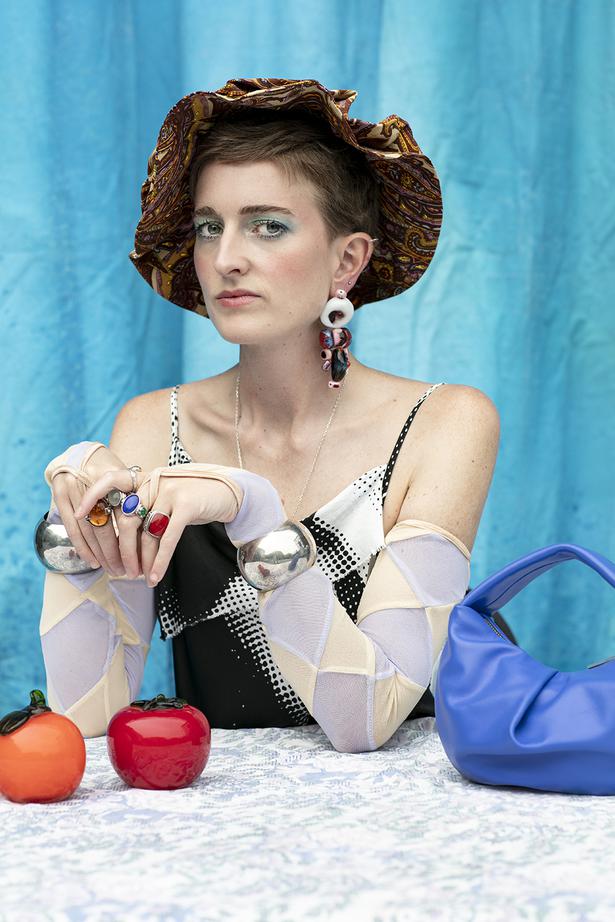 BOLD ACCESSORIES
Emma Gleason, commercial editor
There are a range of unique accessories to explore right now, providing ample opportunity to experiment, whether sentimental hand-me-downs and heirloom pieces or one-of-a-kind craft objects, adding eccentricity or polish to a look with the quick swap of a bangle on your way out the front door. "I love a funky necklace or bold earring," says Emma, "and as accessories like hats and gloves become less commonplace, no longer the societal mandatory or class signifier that they were, choosing to wear them now feels a bit radical — and fun."
Emma wears Companion hat $115. Glen Prentice custom porcelain earring (POA). Vintage silver orb bangles, $450 a set, amber ring $150 and Balinese wind ring $150, from Silver in the Cloud. Jessica Aggrey lapiz lazuli ring $435, Tempietto aqua coloured ring $435 and Wata water blue topaz ring $449. Sterling silver chain, $99, from Walker & Hall. Georgia Jay handbag $470. Catherine Boddy gloves, $140, from Sabotage MFG. Jimmy D dress $580.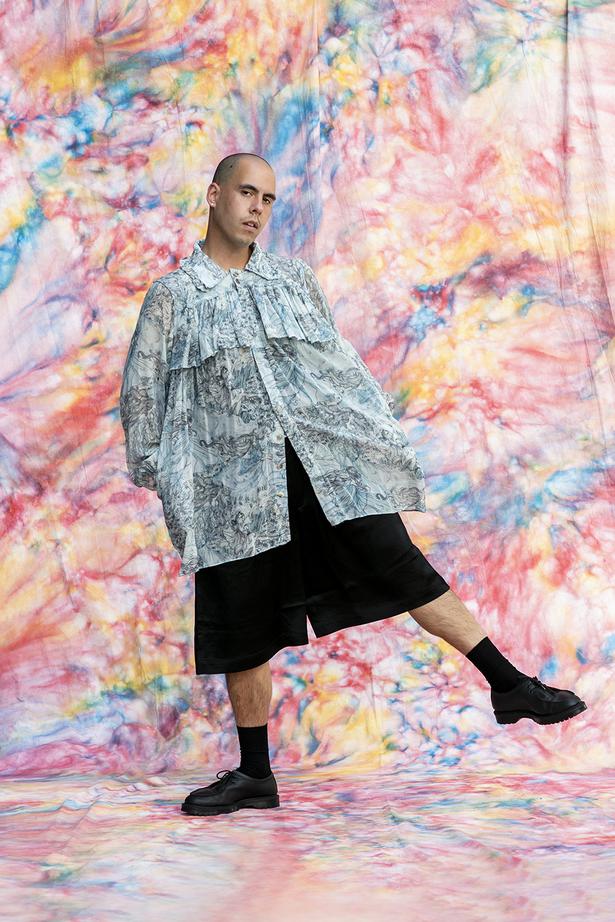 WHIMSICAL VOLUME
Tautahi Subritzky, stylist
Fluttering fabrics in voluminous shapes add a sense of mystery and sensuality to an ensemble. For contributing stylist Tautahi, volume offers plenty of inspiration for dressing up each day. "When it comes to the things I gravitate to clothing-wise, and the silhouettes that I love to wear, bigger is better. Voluminous styles also make me feel like I'm wearing my pyjamas during the day — ultimate comfort buzz, which is a big plus!"
Tautahi wears Palomo Spain shorts $345. Margaret Howell shoes $460.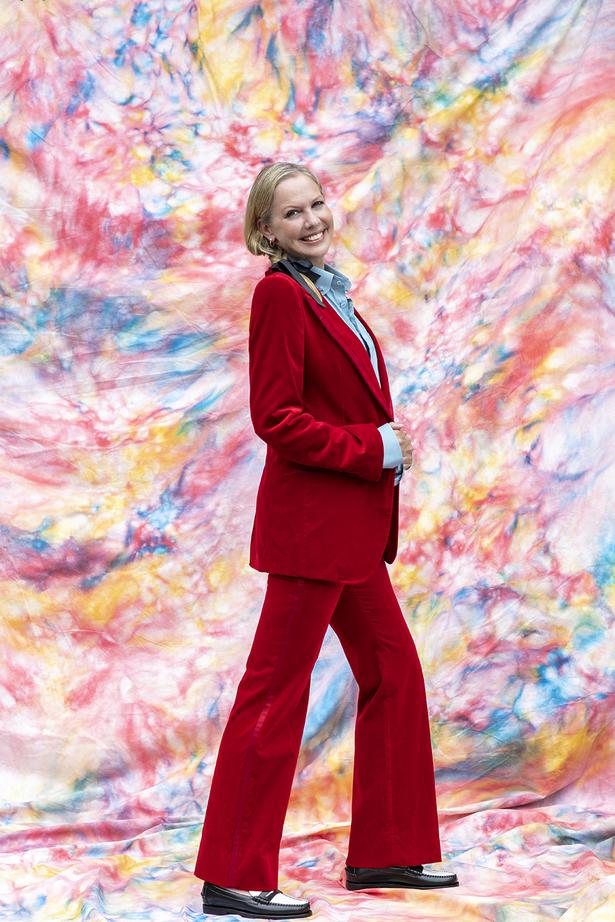 THE TROUSER SUIT
Amanda Linnell, editor
A well-tailored look is a powerful way to feel pulled together and smart. Just ask Viva editor Amanda who swears by a well-cut trouser and blazer.
"I absolutely loved the first incarnation of this suit, worn on the runway by supermodel Trish Goff and designed by Tom Ford for Gucci's 1996 autumn collection. At the time Ford was considered the most directional designer of Milan thanks to his creations' overt sex appeal. This ruby red velvet suit quickly took on iconic status when Gwyneth Paltrow wore it to the MTV Music Awards that same year. From the fitted jacket's bold shoulder through to the kick of the pant, this suit, revived by current Gucci designer Alessandro Michele for the brand's recent centenary celebrations, hugs the feminine form, letting you feel strong and sexy. It's definitely designed to have
fun in."
Amanda wears velvet Gucci blazer $4430, matching trousers $1785 and shirt $1730. Sebago loafers, $329, from Blackbox Boutique. Zoe & Morgan earrings $280.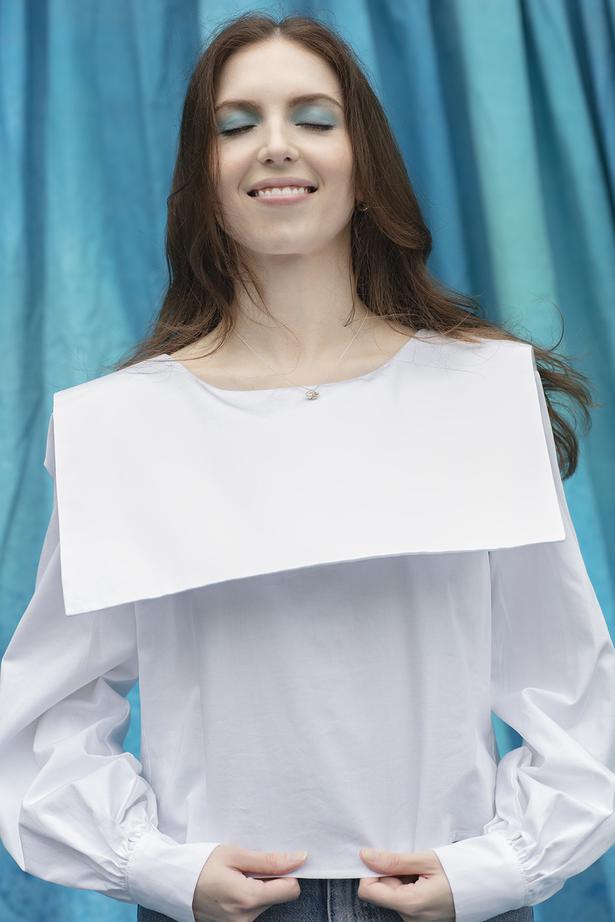 THE DRAMATIC BLOUSE
Julia Gessler, digital and production journalist
If in doubt, a well-pressed blouse always does the trick any time, any place. For local designer Petra Benton, her charming edited collection of sailor-inspired blouses made with crisp cotton is given a luxurious twist, teaming well with a smart skirt for the office or in Julia's case, a pair of classic blue denim jeans. "I love it when the mechanics of something simple are stretched, eked out a little," says Julia. "That's the beauty of an exaggerated blouse. It could be bib-like, or have a collar that looks as if it's been fashioned from a paper plane. The foundations are the same — polished, preppy — but there's room for something more."
Julia wears Benton the Label blouse $329. Rolla's jeans $150. Hera Saabi pendant $440.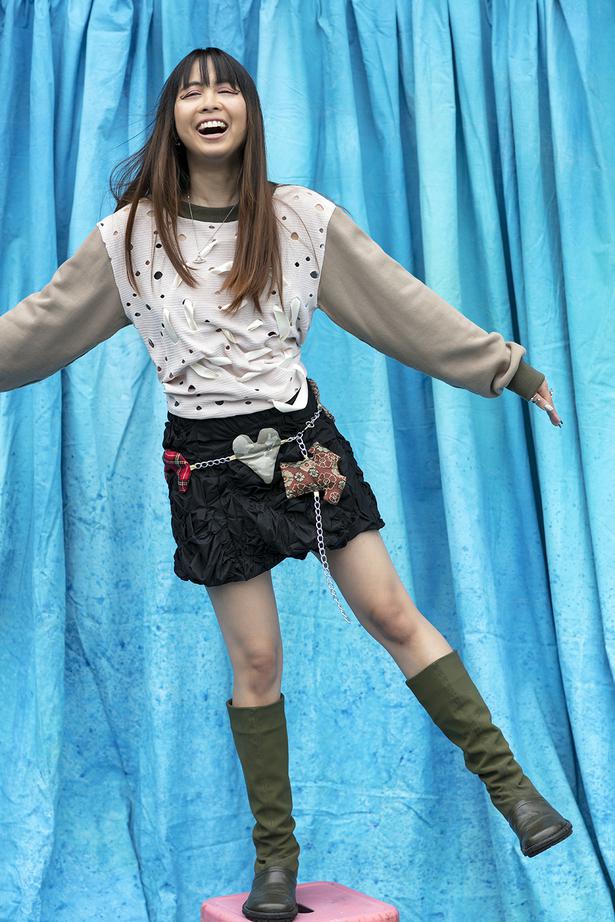 DECONSTRUCTED TEXTURES
Alessandra Banal, art director
Lived-in textures and the concept of deconstruction are finding interest among a new generation inspired by garments that are freely sculpted, festooned with strategic cut-outs or tied with ribbons and chains. "The humidity this summer had me wearing breathable cotton full time," says Alessandra. "Autumn, for me, means a return to a wider variety of fabrics and textures. I love how this Heather jumper looks like an off-duty ballerina explosion. Perfectly paired with the bubble skirt. I still think about Emma Jing's inspiring runway show at Parnell train station."
Alessandra wears Heather Brennan Evans Ballet jumper $260 and charm belt $210. Emma Jing mini skirt $249. Marithe Francois Girbaud Boots Alessandra's own.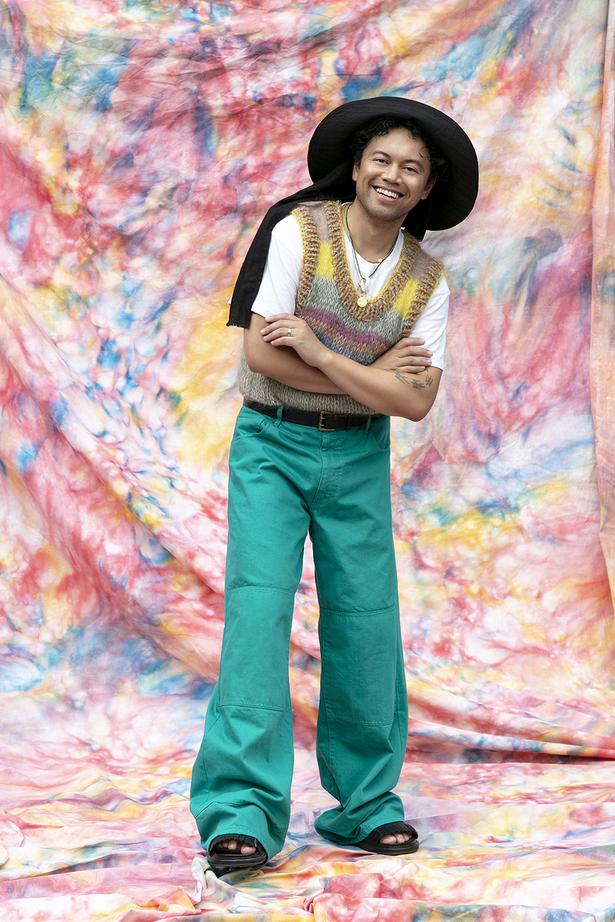 HOMESPUN KNITWEAR
Dan Ahwa, creative and fashion director
Allie Buckley of Itchy Knits' hand-knitted, one-off creations are made using pre-loved yarn sourced from knitters all over Aotearoa, with this multi-coloured vest using a mix of mohair. Local makers like Geo Knits Slow, Alice Duncan Gardiner, Wynn Hamlyn, Nicole Leybourne and many more have revitalised the beloved craft into something truly individual. "Knitwear pieces like this are a welcome tonic to my reliable uniform of black and navy, and a helpful reminder that life's too short to exclusively prescribe to a wardrobe of sensible classics."
Dan wears Itchy Knits vest $380. ERL T-shirt, $169, from Fabric. Raf Simons trousers, $1080, from Zambesi. Marni sandals, $1500, from Farfetch. Companion hat $145. Levi's belt $89. Dan's own pendants.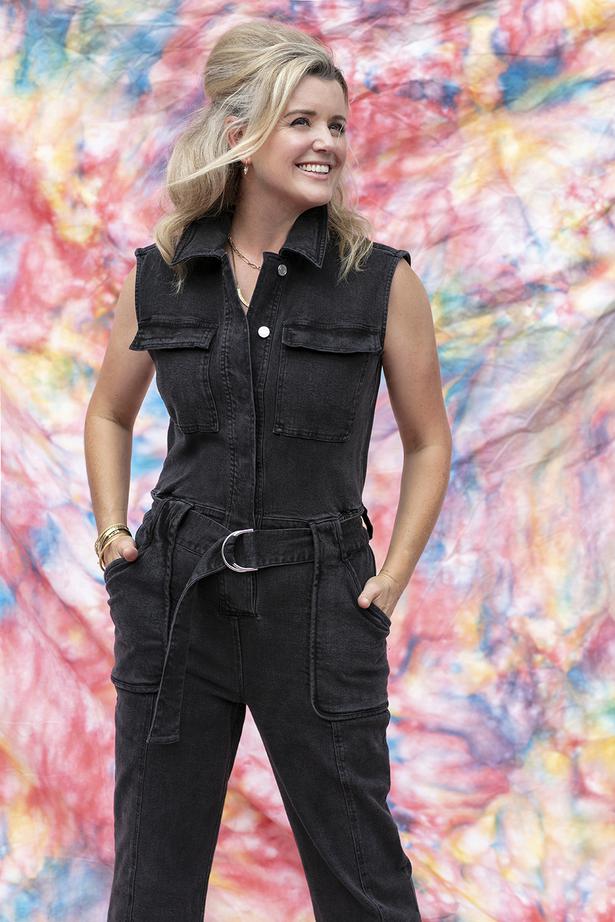 THE UTILITARIAN JUMPSUIT
Babiche Martens, photographer
Who better to explore the eternal reliability of utilitarian-inspired dressing than our resident photographer, Babiche Martens? When the devoted mother of two isn't running around after her children she's on assignment photographing a diverse variety of subjects including portraits, recipes, interiors, fashion and in this instance, the people behind the scenes at Viva. "Fashion that's functional, I'm all for it," says Babiche. "My job finds me in all sorts of situations that require comfortable clothing with pockets handy for camera accessories, batteries and my phone. I love a utilitarian boiler or jumpsuit so I still look stylish while squeezing into awkward positions to create the right image for my subject."
Babiche wears Derek Lam 10 Crosby jumpsuit, $950, from Muse. Silk & Steel chain necklace $199. Babiche's own bracelets and earrings.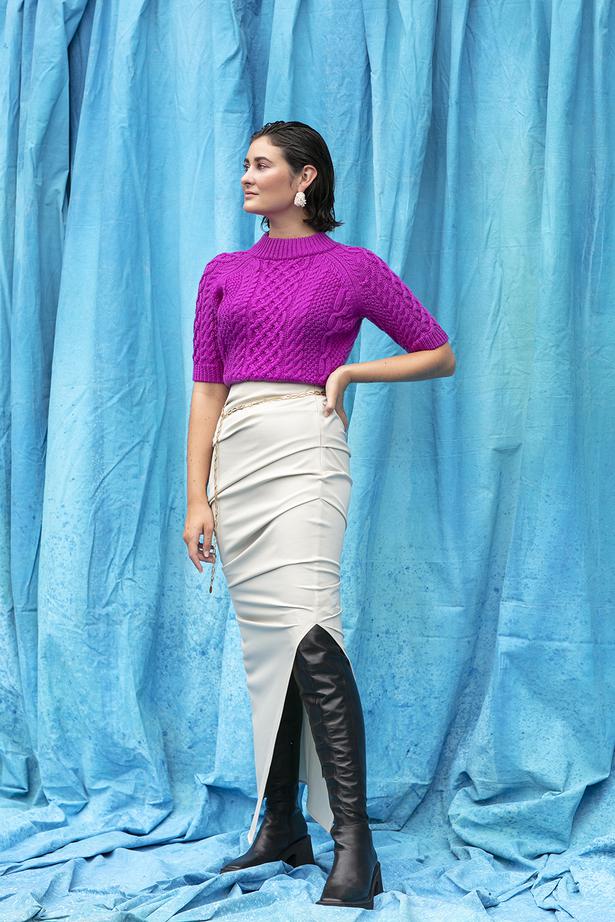 THE DRAMATIC BOOT
Annabel Dickson, fashion assistant
Ready for boots? Whether it's a pair of knee-highs peeking out from a mid-length skirt or day dress for a nod to a classic 70s silhouette or, in Annabel's case, a pair of ubiquitous combats plucked from the closet of Lara Croft (giving edge to an otherwise prim look), boots are a seasonal wardrobe essential that work overtime in every situation. From the office to the weekend, a reliable pair of knee-high boots are a great way to complete a look — or take it a step further with a thigh-grazing pair. Annabel says: "A good outfit must begin or end with a great shoe. As we head toward cooler weather, you can't go wrong with a decent pair of reliable boots."
Annabel wears Mi Piaci boots $640. Emilia Wickstead knit top, $1085, from Simon James. Paris Georgia skirt $640. Jasmin Sparrow earrings $980 and chain belt $1495.
Photographer / Babiche Martens. Fashion director / Dan Ahwa. Makeup and grooming / Shirley Simpson and Madison Connon. Fashion assistant / Annabel Dickson.
Share this: