The Do's and Dont's for a Wedding
A wedding etiquette refresher on how to tackle some all-too-common scenarios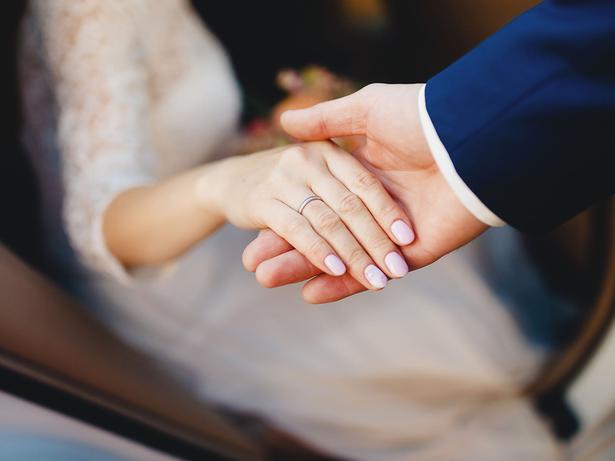 Thursday Sept. 21, 2017
Weddings are complicated. From plus-one invitations to picking the bridal party to discussing the budget, wedding etiquette can be tricky for the couple and their guests. And it doesn't help that expectations are constantly evolving with technology and changing social norms. So, how can you avoid, or address, sticky and sometimes stressful situations?
Enter American queen of etiquette Lizzie Post, the president of the Emily Post Institute and co-host of the podcast, Awesome Etiquette (and, yes, the great-great-granddaughter of society doyenne Emily Post). Here, Lizzie tackles some all-too-common wedding problems, offering advice on how best to navigate them.
What do you do if you are invited to a wedding but did not receive a plus-one and want one?
You do nothing. I hate to say it, but there are no options. That's when you buck up and say, "Maybe I'll meet someone cool at the wedding — whether it be a friend, a romantic interest or just a gal pal." You put on all your best "person out on their own" tactics, whether that be some good conversation starters or allowing yourself the permission to say, "I'm going to use this weekend as an opportunity to enjoy time with myself and celebrate the couple."
My original plus-one is no longer able to attend. Can I bring someone else in their place?
I would call the bride or groom, whichever person you're closest to, and say, "Hey, listen, it turns out my plus-one can't come after all. I'd love to bring someone else and I have a person in mind. Is it okay if I switch and get you the new, correct name?"
READ: Essential Wedding Planner Apps
I think as long as you've been issued a plus-one you should be fine, but a phone call is the way to find out. If you send a note along with the invitation, it sounds as though you are dictating [the switch] rather than if you mention it to them directly. Either way, you need to let them know ahead of time. You don't want someone else's name on the table cards.
Can I live-stream or Snapchat the wedding ceremony?
Not unless the bride and groom have specifically requested it. The bride and groom will set that up if that's something they would like to do. I think it'd be pretty rude to do it on your own accord without checking with them first. I'd also caution people against posting anything at or about the wedding before the bride and groom have had a chance to do so.
Should I bring a present to an engagement party?
No, but this varies regionally. When I RSVP, I would ask the host, "Are you expecting people to be bringing presents?" It's a good question to ask because you can always send an engagement gift to the couple's home. I've been to engagement parties where it was all about opening gifts — almost like a bridal shower — which was very unexpected.
I want to cut corners and have a cash bar. Will my family members disown me?
No, and yes. Cash bars are inappropriate. You don't ask someone to come and celebrate one of the most special days of your life, suggest gifts that this person would buy and then say, "Hey. Can you also pay for your drinks?" No. No, no, no, no, no. Instead, limit your drinks offering to beer and wine, or serve a specialty cocktail. There are lots of ways to do it, but make sure you are picking up the tab for it.
LISTEN: Throwback: The Best Wedding Songs
What if I want to back out of bridesmaid or best man duties?
First, when someone asks, don't immediately say yes. Say, "Oh, that is such an honour, thank you so much. I would love some time to look at my schedule, and my budget, to make sure I can commit to everything so you have the support that you need."
And, if you can't do it, say: "I really can't commit to this, but I want to show you my love and support on this day. Is there something else we can come up with, whether it be a toast, a reading or just generally being helpful, that I can do to support you? I want you to know it has nothing to do with not being your close friend or standing up there and supporting you. It's totally circumstantial."
Who hosts the bridal shower and who pays?
The bridal shower can be hosted by anyone, but it's usually done by friends or family of the bride. It is not an obligation or an expectation of any of the bridal party members to host this, pay for it or contribute to it. Whoever offers to do the hosting should do the paying.
I am a bridesmaid in a wedding and the maid of honour (MOH) isn't fulfilling her responsibilities. What should I do?
You can take the reins, by all means, but please don't micromanage the maid of honour. Check in with the bride directly, not the other bridesmaids (you don't want to step on any toes). I'd say, "I know when I was a MOH these were my duties and I just want to make sure it's all being taken care of. If you need me to fill in or support you with anything at all, I would be more than happy to help."
How much should I expect to spend if I am a MOH or best man?
That is completely dependent on what your bride is setting forth as her game plan. You need to find out, in advance, what's being requested and what's being offered. Some brides will pay for all the hair and makeup; others don't. It depends on the bride.
If your budget is tight, let the bride know what you can and can't afford to take part in. Provide the real reason, which is usually time and expenses.
READ: How to Look Good in Wedding Photos
How much a faux pas is it to wear a suit to a black-tie function?
It depends on if the dress code is mandatory. I would say worse things could happen to you in life; however, if the attire has been listed as black tie, you really should show up in black tie. If you can't, I hope your suit looks incredible. You'll need a dark suit that looks sharp, a nice tie, shirt and shoes. . . . Everything has got to be in mint condition and fitting well.
If I can't attend the wedding, do I need to send a gift?
This is the only invitation that you'll receive where the gift is considered obligatory. This is a big-deal invite; this is not a birthday party. The actual wedding itself — to be there and to be asked to be present when someone is committing his or her life to another person — is a massive honour. It's important to recognise that commitment and say, "Thank you for considering me someone you would like to have at this very special moment."
Can I wear a white dress to a marriage ceremony of two men?
Ask the grooms ahead of time, but I would assume yes.
The invitation says no children, but I'd still like to bring mine. How do I broach this subject with the bride or groom?
First of all, your wedding invitation should never indicate "no kids". You shouldn't write "adults only"or "please get a babysitter," or anything like that, on the invitation. . . . The bride and groom indicate a "no kids"policy by only inviting the adults of the family to come or, in some cases, kids over 14.
When the person writes in "Oh, Kevin and Kelsey will be joining us, too!" you call them up and say, "I am terribly sorry, but I think there has been a misunderstanding with the invitation. We will have babysitters on-site, but we're really keeping it to guests ages 14 years and older." It's okay to spell that out and make it clear to someone — you just have to do it politely.
Is it inappropriate to give newlyweds a wedding cheque?
No! Who doesn't like money? Just make sure that cheque isn't going to bounce.
Who should be the first people you tell about your engagement?
The very first people you should tell are your children, if you have any. Beyond that, parents and siblings, grandparents, aunts, uncles, godparents, best friends and then you can start opening it up to work colleagues and social media.
You want to get through that list of your friends in your closest inner circle, and I advise that you do so in person and over the phone to your closest family members and friends, and a phone call or email to the extended family. Then, at last, social media. A lot of people ask, "Well, why?" and the reason is you don't want your Aunt Karen finding out about the wedding from what your co-worker posted on Facebook.
How do I get my guests to RSVP in a timely manner?
You don't. This is one [topic] that has plagued etiquette experts and hosts alike for years. What you do is put an RSVP date on the invitation, but people just don't, it's really annoying, so you have to call them up and ask for their RSVP. You are allowed to do that as often as you need to, but remember to be polite with each phone call.
I'm considering sending online wedding invitations. What do you think?
Not much. If you are hosting a casual, relaxed wedding, with just your peers, I think you're in a lot safer territory to do that. If you're hosting a formal or semiformal event with lots of generations attending, I think that you need to think more about your guest list rather than convenience.
This is a big-deal day, especially if you're setting up a registry. Don't give it a small invitation, and all online invitations are small and casual in my book. A formal invitation suggests a formal event. You run the risk of the invitations going to spam or people forgetting about them.
READ: Wedding Day Tips for Grooms
How do I broach the subject of paying for the wedding with my parents or partner's parents?
Have a candid and respectful conversation: "Mum and Dad, Jim and I are looking at our budget for the wedding, and, before we start making decisions, we just want to double check and see if you want to, or are interested in, contributing to the wedding. We have no expectations, of course, but wanted to ask before we set our budget and started making decisions based upon it." It's a conversation, not an expectation.
If someone asks me to be in their wedding, do I have to reciprocate when it's my turn?
No.
— The Washington Post
Share this: