Defining Wellington Style
Zoe Walker explores what is (or isn't) so unique about the Wellingtonian look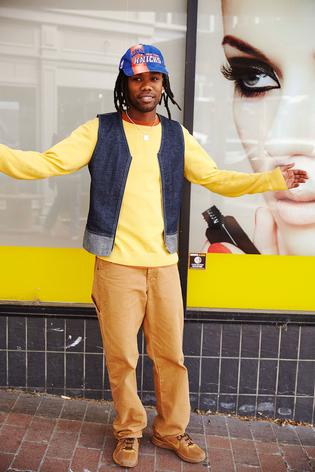 Wellington style is… a man in a suit on a bike, riding along the waterfront. It's the woman having dinner at The Green Parrot, in red cat-eye glasses and a metallic leopard print jacket. It's an essay in Salient about the writer's weakness for denim overalls. It's a 20-something in a vintage sweatshirt serving craft beer in Te Aro Valley, or ladies lunching in bold printed tunics at Nikau or Prefab. It's the young man walking down Cuba St, wearing a grey sweatshirt and carrying two skateboards.
As a visiting outsider, it seems easy to detect style tribes defined by pockets of the city: the creative arts, public servants, vintage-loving students and craft beer-drinking hipsters. But don't tell the locals; they'd be horrified to hear their city be so narrowly defined.
READ: Street-style Star Natalie Joos on The Power of Vintage
Ask Wellingtonians to define their home's look, and you'll be met with words like independent, soul, edgy, unique, individual. I suspect that they like to think they're much cooler and more interesting than big city Aucklanders (although one does get the sense that it is just as self-conscious).
Although a walk up Cuba St does offer a variety that you wouldn't necessarily get wandering Ponsonby Rd — from architectural graduate Lydia Hamer in a pastel pink Marimekko dress to the bold streetwear of jeweller Brent Paye, or the rock 'n' roll elegance of Chrissy O, the flame-haired owner of Wellington institution Hunters and Collectors.
"Our city culture is one that allows for a melding of styles and creative expression and it's valued and respected, even if it is something we might individually never contemplate wearing or even like," says Anna Ronberg, the owner and buyer of Wellington boutique No.16.
She's lived in Wellington her entire life but has something of a global perspective on her hometown's look; stocking high-end international brands like Dries van Noten, Acne and Junya Watanabe and travelling to Paris often.
She would compare Wellington to London: "It's that freedom we have here to be exactly who we want to be and that's absolutely fine. No one judges, you can be who you want to be.
"You just can't make judgements about anyone based on the way they dress in Wellington — you might find yourself getting it very very wrong."
The city's size means locals aren't necessarily as stuck to their community, as say, the sprawl of Auckland.
"We are a small city embraced by a green belt and our suburbs all bleed into one another," says Anna. "It means that the conservative, the students, the politicos, the marginalised of society, the young families and the city suits all are forced to engage with each other every day and that's brilliant.
READ: A Design Tour of Wellington
"We are seeing different characters and styles every day and we are unintentionally influenced by each other. It's quite unique for a capital city to have such diverse groups engaging that closely every day. I think we are so lucky."
Geography influences how people dress. The city is compact, so people walk — you hardly see anyone wearing heels; comfortable sneakers and ankle boots are everywhere — and then of course, there's the wind. There's a reason why Wellington-based designers like Twenty-seven Names know how to do a good, proper coat (as opposed to a light overcoat often favoured by designers based further north).
"We don't bother with heels because Wellingtonians walk everywhere," says Lucy Revill of The Residents, a website that showcases locals and all things Wellington. "It's small yet flat in the centre of town, all the way from Lambton Quay to Cambridge Terrace.
The size of the city means we go on foot; we often just go from an evening show on Courtenay Place to a dive beer bar on Leeds St so people tend to dress in a chic, yet comfortable manner which allows them to transition between many people and places."
The influence of the arts offers another interesting perspective on how people dress. You're reminded, often, that Wellington is the country's cultural capital, home to the New Zealand Symphony Orchestra, Royal New Zealand Ballet, Te Papa and more.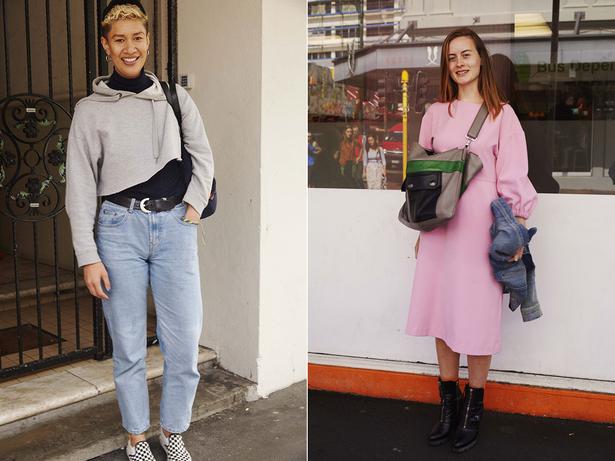 That creative element shows itself in subtle ways: an appreciation for contemporary jewellery, plenty of tunics and bold prints. (Wellington-based artist Seraphine Pick created watercolours for the carry bags at No.16, while textile artist Marta Buda has worked with designers like Twenty-seven Names, Penny Sage and Sherie Muijs.)
At one time, it felt like there was a burgeoning Wellington fashion scene with the likes of Alexandra Owen, Starfish and Deborah Sweeney.
Starfish's Laurie Foon was a staunchly proud Wellingtonian, using her label to support and showcase community issues: most well-known, her Bypass My Ass T-shirt in support of local protest against the traffic bypass through upper Cuba St. In 1998 she shot her campaign against state houses in Lower Hutt's Naenae, to reflect on what it was to be a New Zealander.
Things are much quieter now — Alexandra Owen closed her label in 2012, and Lela Jacobs moved to Auckland around the same time. Starfish closed in 2013, although Laurie is still an advocate for Wellington, working at the Sustainable Business Network and hosting a Wellington-focused radio show called B-Side Stories.
READ: Eccentric & Elegant Fashion in Wellington
There are still, however, designers doing interesting things in the city but it is more disparate (blame the internet; young designers can build their own communities online, beyond the constraints of their physical neighbourhood).
There's Shark Week with its dishevelled, 1990s-influenced streetwear beloved by the student community, and Okewa Rainwear, championing the city's signature: actually waterproof stylish rain jackets.
Anjali Burnett and Rachel Easting of Twenty-seven Names have had their workroom on Ghuznee St for several years, before the area was developed into the creative hub it is today. They often photograph campaigns around the city, and recently collaborated with fellow locals and craft beer champions Garage Project too.
Gosia Piatek launched her conscious label Kowtow from Wellington in 2007, and has quietly grown it to be one of the most interesting labels in New Zealand's fashion industry right now. She continues to return to the city, splitting her time between a home in London (she loves Wellington's proximity to the ocean, and its boutique cinemas). Today, she opens the brand's first boutique on College St.
All these labels, but in particular Kowtow and Twenty-seven Names, are part of what could be considered Wellington's style today: fresh, practical, versatile and not overly concerned by location.
Think of local boutiques like Ena or Caughley, stocking modern and minimal labels based in Stockholm, New York and Auckland, or even department store David Jones, bringing high-end brands like Valentino and Saint Laurent to the city. While the 'new Wellington' may feel a lot slicker, a diverse spirit stays the same.
"You are likely to find that the grungier street style guy drinking coffee on Ghuznee St is heading downtown later that day to KPMG to get investment in his craft brewery," reflects Lucy of her hometown, "or that cardigan-wearing Doris from communications in a public department is putting on a one-woman show at Bats Theatre where she will be covered in nothing but glitter.
"You always need to be nice in Wellington, because you never know what people do, how much mana they may have and who they know. If there is one thing Wellingtonians don't like, it's being put in a box."
Share this:
More Fashion / Street Style