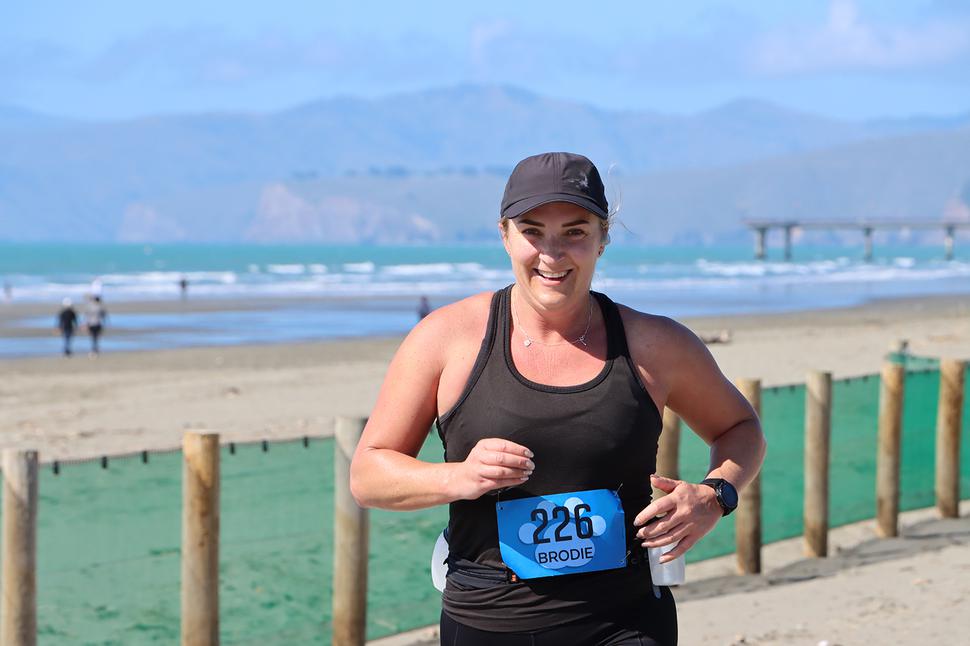 What Athletes Wear: Marathon Runner Brodie Kane
Through the highs and lows of an endurance sport, this is gear that goes the distance
Monday Feb. 1, 2021
"My love for running has grown in the past few years, particularly around the time I trained for my first marathon in 2018. Training for a marathon is like nothing else. I did so much of my training on my own, and it teaches you about discipline and how far you can push yourself.
No one run is the same, so one day you'll feel amazing, the next will be awful. But the learnings from running help with everyday challenges in life, which is part of the reason I love it.
I usually run three to four times a week if I'm training for something. For the Queenstown Marathon last year, two sessions were speed and technique sessions, one was a long run, and the fourth a recovery jog.
I've had coaches for both my marathons; I think it helps to have someone to offer advice and act as a mentor for you. I'm no running expert, so having someone there with you along the way makes a big difference.
My last marathon didn't go as expected. The first half of the course was way more challenging (hills and hills and more hills) and I should've adjusted my pace, but didn't. I hadn't properly recovered from my last big training run and hadn't rested enough in the week leading up.
READ: What Athletes Wear: NZ Black Sticks Hockey Player Rose Keddell
By halfway, I was cooked — and that shouldn't have happened. But, the thing I'm most proud of, is that I had to work through the disappointment and anger of it going wrong and shift the mindset to just finishing the damn thing. It was so hard, but I have learned so much to take into runs in the future, which is awesome.
Running a marathon changed my life for the better. They are ridiculously hard, but the whole experience, from training, to turning up on the day, the highs and lows, it's all part of a really valuable life experience you can't put a price on. The next big one will be the Hawke's Bay Marathon in May.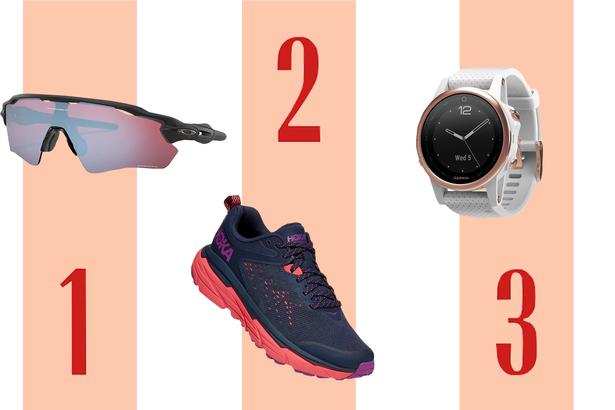 1 Oakley Radar EVs $257 / 2 Hoka shoes $270 / 3 Garmin watch $729
I'm a bit of an active relaxer, so a run is a good way to zone out, or even work through whatever is going on in my mind. Sometimes I think it's my own form of therapy. It's so bloody good for the mind.
My advice for new runners is to find your 'why'. Why do you want to run? And is that reason for you? That's a good place to start. Also, take your time with training and don't compare yourself to others.
When it comes to what I wear, everything has to be comfortable, and it can take a while to figure out what you like running in.
I wear Lululemon Fast and Free tights, which are high-waisted and the most comfortable running tights I've ever run in. I like the Energy Bra from Lululemon. 2XU do really good running tees.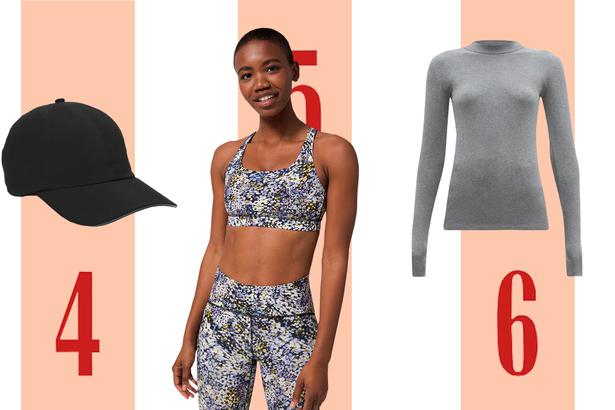 4 Lululemon Fast and Free Run Hat $55 / 5 Lululemon bra, from $49 / 6 Vaara top, $269, from Workshop
If I'm doing a longer run I'll take my water bottles on a belt (from The Frontrunner), and some Pure Sports Nutrition Gels, which I take every 40-50 minutes for energy.
I wear a Lululemon Fast and Free hat or a visor and I've got Oakley Radar EVs, which look absolutely ridiculous — but the lenses are amazing and it's made such a difference running with glasses.
My Jaybird Vistas are little earbuds which sit comfortably in my ears and blast out my running playlists. My watch is a Garmin Fenix 5S and while you basically have to take out a mortgage to get one, they're good with your stats when coupled with a heart rate monitor.
Running in Christchurch in the winter can be pretty full-on, so the right amount of layers is key.
For shoes, they have to be really supportive and light. Hokas are the most comfortable shoe I've run in so far."
Share this: