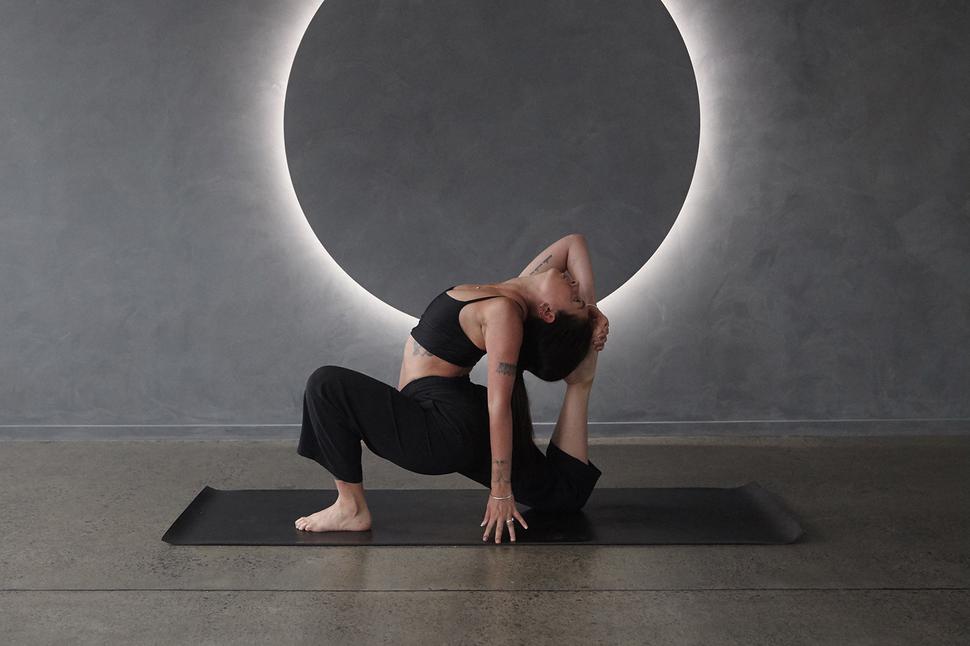 What Athletes Wear: Sala Yoga Studio Founder Sarah Lindsay
Moving fluidly — and feeling good while she does it — is key to her kit
Monday Jan. 25, 2021
"Yoga, for me, is a way to process my everyday experiences. It's amazing exercise, but it's also an exercise in patience and compassion.
Physically, yoga allows you to tune in and access your whole body and mind map. Your skin becomes more sensitive; you can feel things more. You'll see muscles that you didn't realise you had.
With yoga there's a lot of refinement, you're physically lengthening your whole body because you access all of the quiet spaces in between muscles, which gives you a better shape.
READ: What Athletes Wear: NZ Black Sticks Hockey Player Rose Keddell
I opened Sala two years ago because when I moved to Auckland, I couldn't get any work as a teacher. I'd gone from having a successful yoga teaching career in London to arriving here and feeling like I didn't have any connections or community.
I knew that there would be other people looking for a community that felt different to what was available. And that's what's happened, it's brought all these like minded people together.
Before I had my baby I was teaching a class at Sala once or twice a day, and doing a lot of self-practice and development. I'm always training; yoga is a huge part of my life. Every year I'd train for six weeks with my own teacher.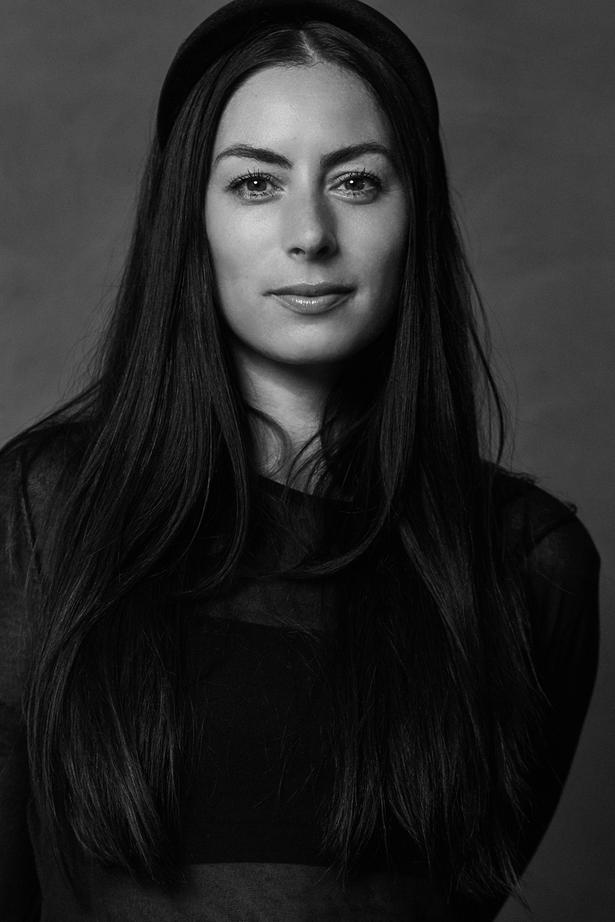 I taught my first teacher training last year, which was 200 hours. I did that when I was six months' pregnant — I was doing 70-hour weeks for six weeks straight. That level of practice isn't sustainable and it was actually a big wake up call. It was a tipping point in my life where I asked myself what's the point of working this much? It made me realise how far from the original point of yoga practice that I'd accidentally moved from.
I took six weeks off from teaching at the studio after I had my baby and got to experience it as a student again, which was great.
My daily practice now is teaching the 7am class at Sala, then walking with my husband to his work with the pushchair.
READ: Talking Yoga & Self Care With Juan Diaz
I try to get a yoga practice in, but it's not a 90-minute luxurious practice, it's 10-minute intervals in between other things.
I did a lot of pregnancy training during my 10 years' teaching, but having experienced it and having taught it until the week I was due, I learned so much about my body.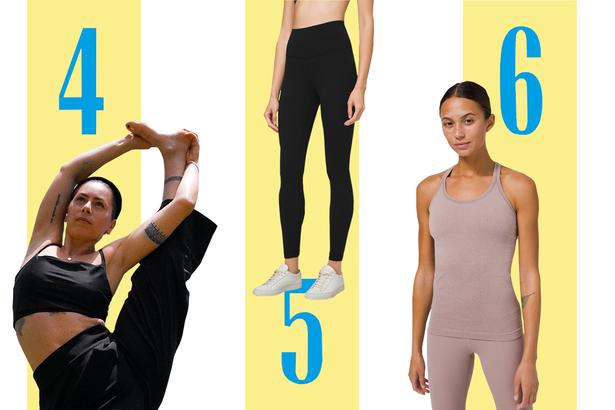 1 WeAr Yoga pants $145 / 2 Mini gym bag $52 / 3 Lululemon drink bottle $55
Now, when people ask, I'll tell them not to start anything new; it's not the time to start Olympic weightlifting, but to trust the intelligence of your body to remember the movement patterns that it's already created. So if you did it before, I don't understand why you can't keep doing it.
When it comes to yoga gear, during my pregnancy I didn't want to buy anything new. I wore the same Lululemon pants right through. That deserves a shout-out. I began to enjoy wearing biker shorts because my skin was sensitive and I felt hot all the time. So that was the first time I got into crop tops, which is kind of ironic.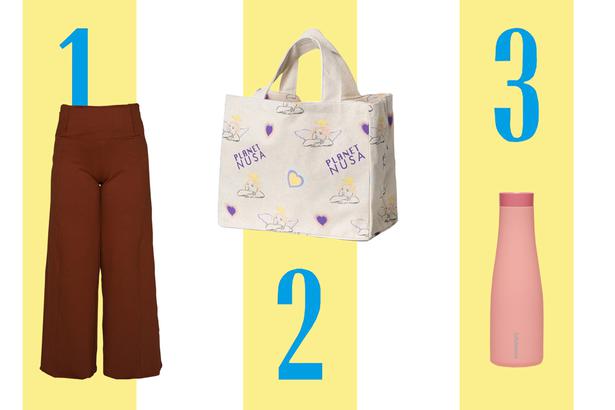 4 Planet Nusa top $109 / 5 Lululemon Align 7/8 pants $135 / 6 Lululemon tank $79
Planet Nusa's clothes are made from recycled and sustainable materials, like fishing nets. The material is beautiful, it holds you in and makes you feel good — it also dries quickly, which is ideal for hot yoga. I like their shorts as they don't bubble or fray, and the SP2 Shape top (pictured above).
I'm also obsessed with the mini gym bag, it's perfect for storing sweaty kit. Mine is currently moonlighting as a baby changing bag. For yoga tops, I love racer back shapes, they're so flattering.
I'm not exaggerating when I say I have 10 Lululemon long-sleeve tops in all colours. They're really handy as a base layer.
For yoga beginners, try looser pants. You feel comfortable, but you're also free to move more fluidly and it doesn't expose your alignment as much, which can be a big thing when you're just starting. Just hide in a tent — that's my advice.
Lululemon does a great hot and cold drink bottle — you can have your tea or coffee in it, and water stays cold forever. In terms of mats, I use one that's a bit thicker than other mats, it's nice on your knees."
Share this: