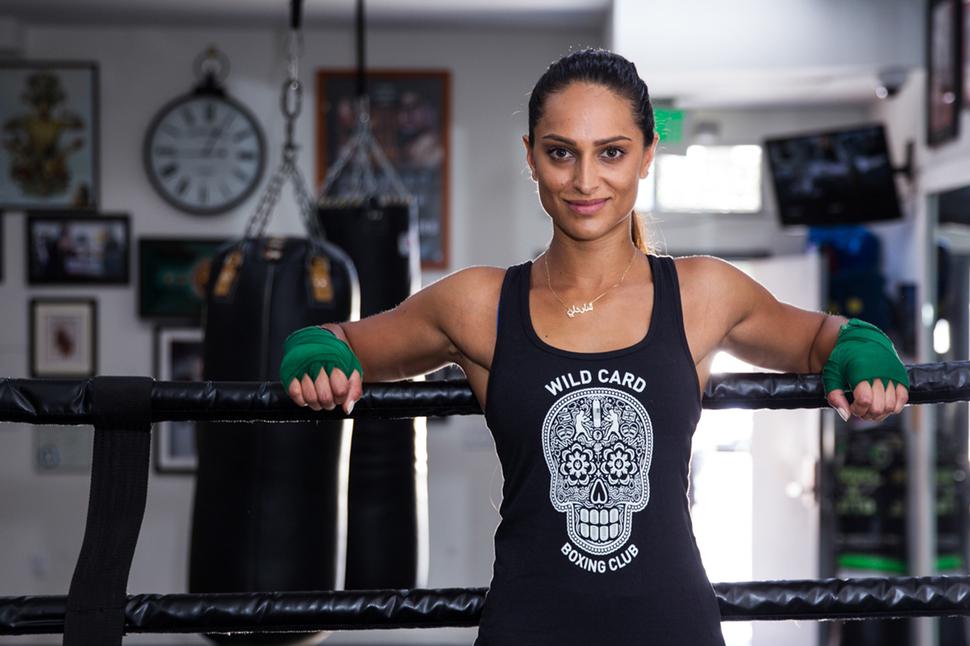 What Athletes Wear: Studio Box Instructor Shardae Mitha
Her gear, like her sports, pack a punch — and they're comfortable too
Friday Jan. 29, 2021
"I've been boxing and in the martial arts scene for 15 years. David Tua was my first coach. Training with him was twice a day, six days a week. I'd be up at 4.30am — he trained me like a professional fighter. I think my life changed because I haven't been able to train to any less of a standard. After a couple of injuries I learned that I need to slow down, that's when I started to focus on fitness and became a certified personal trainer.
I've been a trainer at Studio Box for a year and a half. I love people and I want other women to find the confidence I've found through boxing. When I started boxing, it was just for fun. It helped my fitness and my cardio was through the roof.
I was working in a very male dominated environment at the time and it just gave me this confidence. Boxing was this edge I had. I want to share that with Mûve, a women's fitness brand I'm launching in the next three months, which will offer a more holistic approach to boxing and fitness (follow @_mûve for updates).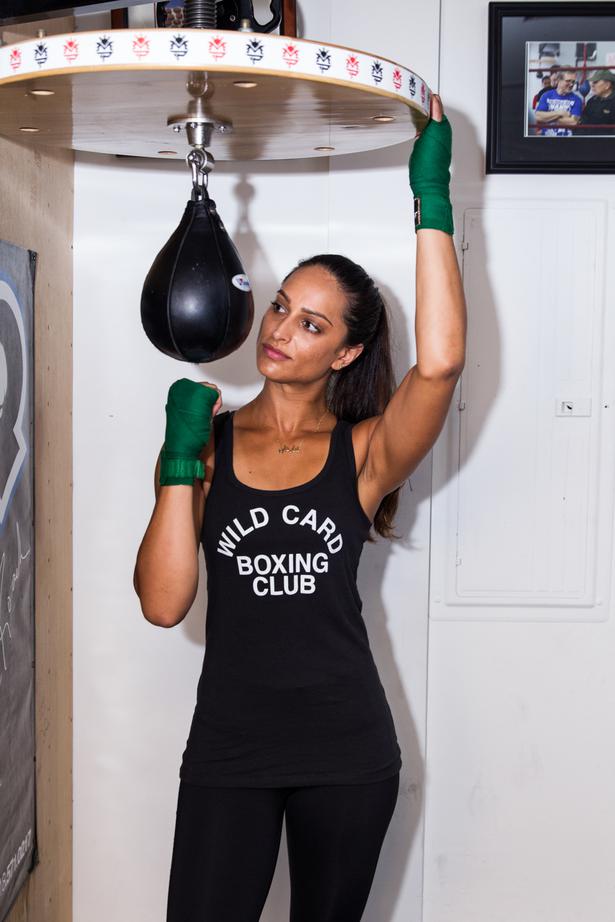 Boxing is a complete, full-body workout. There's not one part of your body that doesn't get a workout. You get out what you put in, so you can hit the bag or the pads or shadow-box lightly, or you can go for it.
Warm up can be anything from stretches, to skipping, shadow-boxing (sometimes with weights to warm up the shoulders), lots of good mobility and stretches.
READ: Everything You Need To Know About Auckland's Newest Boxing-Inspired Workout
With my clients we're doing cardio, bag or pad or footwork, throwing combinations or doing strength and conditioning — it's never the same.
There's a real essence to martial arts; it's a form of self-expression, like dance. It makes you focus inwardly, which I think is important, especially with social media being more prevalent. For me, boxing is a tool to break through areas of your life, it can be a therapy session.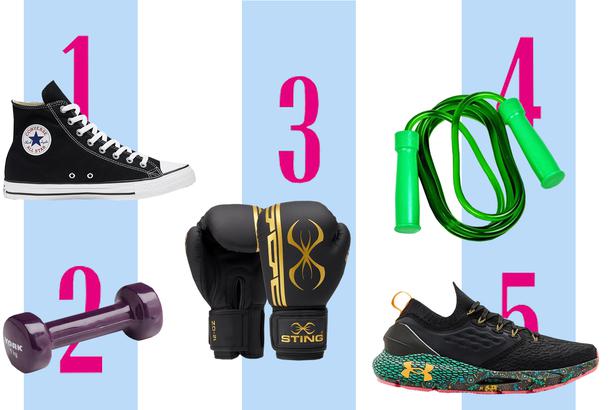 1 Converse shoes $130 / 2 Dumb-bells from $5 / 3 Armaplus gloves, $100, from Sting / 4 Skipping rope, $39, from NZ Boxer / 5 Under Amour Phantom shoes $200
Outside of teaching, I train in boxing and kickboxing at City Kickboxing, where I'm a martial arts student. If I'm training for a fight I'll be there twice a day. I have a strength and conditioning coach at Les Mills and we train once a week and I do other training on my own.
My aim is to run three times a week again, because it's been a long time since I was able to run after an Achilles injury. A lot of people ask me where I get the energy. My body is just used to it.
You can wear anything to box, but I like to wear shorts and a singlet or T-shirt. I have Nike Huarache boxing shoes that I bought in LA but you can wear Converse Chuck Taylors or Reebok shoes that are flat and feel like socks. These are shoes you don't wear outside the gym.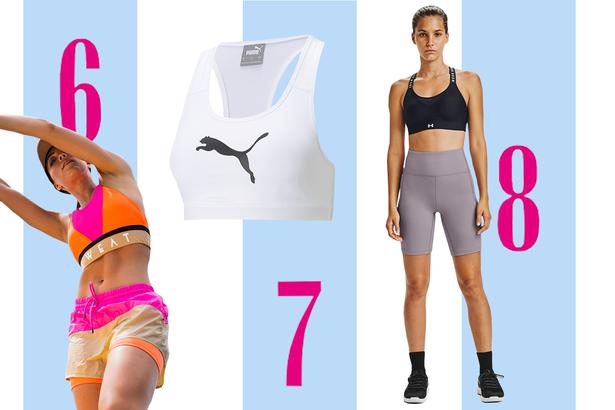 6 Finisher crop, $79, and shorts, $79, from Augustine / 7 Puma sports bra / 8 Under Armour bike shorts $100
You'll need a good pair of at least 12-inch gloves and wraps to protect your knuckles are essential. Studio Box has just released a line of wraps that are great. A skipping rope is another great tool, and 1kg dumb-bells if you want to be really hard-out. For running, I have some Under Armour Phantom shoes that are great. They're so comfortable and good for high-impact activity — my knees take a lot and I've noticed the difference with these shoes.
I need to feel comfortable in what I'm wearing, and if it's matching it gives me a bit of extra confidence
I bought an animal print set from Lorna Jane and the material is the nicest I've felt in a long time. I used to have wallpaper on my laptop of Naomi Campbell running with a cheetah, so I needed to have this.
I have pieces from Ryderwear in the US, their fabric feels so good on your skin — I love their stuff. I'm also looking forward to wearing the Finisher set from Augustine's Sweat Republic range."
Share this: