What Did the 1970s Ever Do for Us?
The Seventies are back in a big way. Was it all really that bad first time round?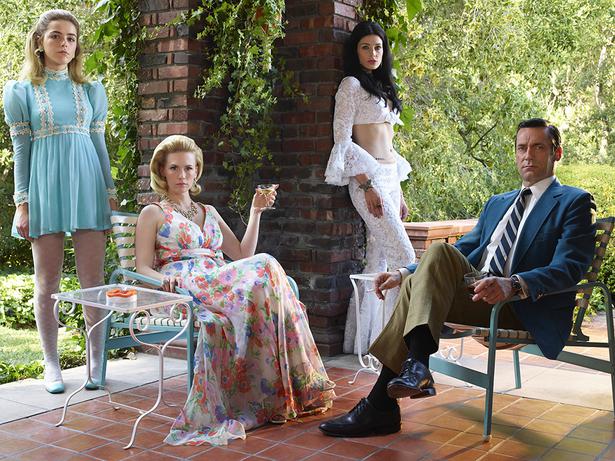 Thursday May 14, 2015
The Seventies are back. Again. Those of us who lived through that afflicted decade know there are many strains of Seventiesness, from glam-rock to punk. We also know that unless you lived on Paris's Left Bank and were besties with Yves Saint Laurent, you probably looked — compared with today's glossy standards — a bit rough around the edges for most, if not all, of it.
There was no decent foundation, no idiot-proof eye-shadow palettes from Bobbi Brown, no Touche Eclat, no John Frieda Frizz-Ease, no bio-identical hormones or collagen injections, no Pilates (to speak of), no waxing, threading, flossing... Honestly, it makes you wonder how we tolerated one another. Even the stylists on Mad Men can't get round the dodgy sideburns and garish suits.
Hedi Slimane's Saint Laurent or Anna Sui's versions of the Seventies may be highly idealised readings of the decade - but that's the point, isn't it? We don't want the echt Seventies, because they were really quite rubbish.
If you grew up during the Seventies, as I did, fashion was a constant torment. Vogue might find its way, very occasionally, into your bedroom and taunt you with glamorous pictures of women with double-barrelled names whom you didn't have a hope of emulating.
High-street chains were ropy and drab. Inexpensive shoe shops were even worse - at least two years behind catwalk trends. When they finally did cotton on to a trend, it was mono-mania, unlike today, when you can find kitten heels, stilettos, platforms and wedges on the same shelf.
There were no YouTube style tutorials. Fashion was not a click, but a universe, away. And good stuff was utterly unaffordable. There weren't diffusion lines, no mercy drop of high-end glamour into H&M every six months.
Yet beyond the split-ends, bad teeth, communist-style shops and three-day weeks, there was a spirit about Seventies fashion that was bracing. Style had far less to do with labels than verve. Diversity was beginning to have a real impact. The phrase "Black Beauty" was coined in the late Sixties, but when Diana Ross became a movie star in the early Seventies and Britain finally got its own black girl band in the form of the Three Degrees, it became more than cant.
Hardly anyone had a huge amount of money, so fashion really was about raiding second-hand shops, which weren't called "vintage" then and hadn't acquired fancy prices. Plastic surgery was for freaky ageing Hollywood stars, so body ideals were more varied, although since this was just before the dawn of our current obesity epidemic, the general population was much slimmer. Boobs could be small, without anyone getting too hung up. In fact, smallish boobs were fashionable, as was pubic hair. No one thought orange skin was attractive.
* Get the look with these pieces that survived the 1970s
But they did believe that comfort was important and that empowering women through clothes - though they didn't call it this - was important. The Seventies saw the birth of the suits-every-age-and-size jumpsuit, the (mass) arrival of mannish-inspired tailoring for women and of roomy, practical handbags. In the Sixties, handbags were silly little things just big enough for a powder compact. Once women began having proper careers that kept them out of the house most of the day and often into the night, they needed bigger bags to match their broader horizons. But they certainly didn't spend the equivalent of £1,200 (around $2540) on them.
Midis (no more crises for fat-kneed girls), blazers, feminine blouses that could be juxtaposed with home-made tank-tops, riding boots, skinny scarves, soft, floaty, forgiving dresses, block heels that were high but not punishing... Seventies fashion was drenched in good ideas, even if at the time they weren't always brilliantly executed.
It's true that you couldn't Get Rihanna's Look by nipping into Zara for a skilful "tribute" to her YSL bag, but you could copy Ziggy Stardust or Debbie Harry for pennies, by dunking your hair (at home) into the appropriate shade of hairdye. There was derring-do, irreverence and a lack of self-consciousness that seem quite enticing. Above all, there were layers and layers of clothes - an aspect designers have gleefully pounced on.
Compare the current styling on the catwalks - boots, tights, long skirts, waistcoats, blouses - with the unrealistically skimpy outfits of a few seasons ago and you soon realise just how many great clothes the decade spawned. Fashion was about having fun, rather than flaunting your bank account. So while the doom merchants who believe this endless recycling of decades is killing fashion's originality have a point in general, they're wrong about the Seventies in particular.
Revisionist, moi? You bet. But that's what fashion's for.
Share this: