What Exactly Is Saint Laurent Saying About Female Sexuality & Empowerment Here?
A Spring 2019 collection built on cowboy influences and sharp tailoring, but also bared breasts, platform heels and short-shorts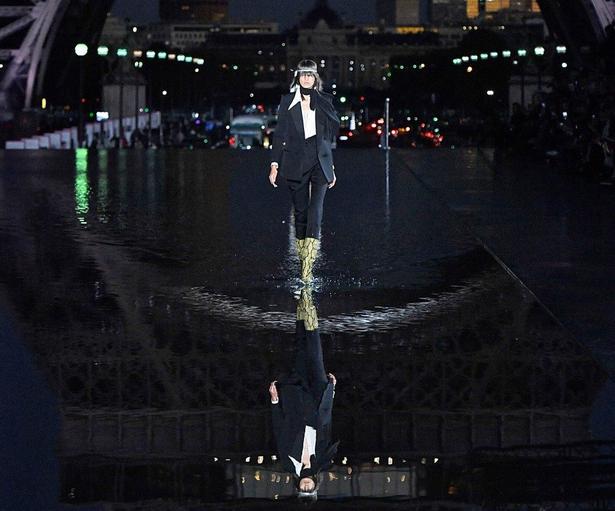 Thursday Sept. 27, 2018
Under the twinkling lights of the Eiffel Tower, with hundreds of young Parisians perched on a nearby stone wall and tour buses moving extra slowly on the adjacent streets, models for the spring 2019 Saint Laurent slow splashed their way through a shallow infinity pool.
They were perched atop chunky-heeled sandals, wearing flat-topped wide-brimmed hats. They wore slim, tailored blazers with Saint Laurent's classic strong shoulders. And they wore teeny-tiny shorts, sometimes in snakeskin, at least once in frayed denim.
They wore sheer black chiffon and leopard print dresses that revealed their breasts. One model's breasts were fully exposed but adorned with feathers. One hesitates to call them pasties because they were a cut above. But still.
READ: Check Out Yves Saint Laurent's Famous Garden
It was a collection that brought together the points-of-view of the designers who have had the biggest influence on this storied French brand. It was firmly rooted in the vision of its founder and namesake, Yves Saint Laurent, who celebrated female sexual power by blurring gender norms and experimenting with androgyny. It recalled the work of Hedi Slimane, now at Celine, who infused the brand with the rebellious attitude of contemporary youth culture in which girls looked like they were taking their hangovers to the next music festival or underground rock club. And it speaks to the sensibility of current creative director Anthony Vaccarello, whose motto might well be: When in doubt, show a lot of leg.
Designer Tom Ford is also part of the Saint Laurent legacy. For one of his runway presentations in the early 2000s, he painted the models' nipples purple.
Yes, the female form is beautiful, but is it made more beautiful by borrowing clothes from the boys, by wrapping it in a cloud of debauchery, by having parts exposed in a way that makes a woman "all legs" instead of full human?
This is not to say that the collection was bad or offensive or improper, only that it raised questions. And raising questions is good, particularly in this moment when the culture, both here and in the United States, is considering its male and feminine norms and realising that for generations many of those norms have been wholly abnormal. When the comedian Hannah Gadsby makes one rethink the masters of Western art and their legacy of reclining nudes and bathing nudes, it's hard not to reconsider the codes of Western fashion.
Saint Laurent was founded in 1961 with a focus on women and their sexuality. Over the years, as the brand dressed the likes of Catherine Deneuve, it firmly embedded itself into French culture. Its archive has served like a temple of modernity, influencing generations of designers around the world.
Saint Laurent has always had a man at its creative helm, so it has always viewed women's sexuality through masculine eyes, interpreted and defined by a man. And those men have told women that it is empowering and satisfying to wear teeny-tiny snakeskin shorts with towering heels, to splash through shallow waters with breasts bared on a night chilly enough that guests were swaddled under blankets. They have told them that the ideal female form has the spindly legs of a filly — so immature and scrawny that one half expects the model to collapse in a heap from the sheer exhaustion of having to walk upright.
READ: Trends To Wear Now From Fashion Week Spring 2019
The models walked out with their faces set in an expression of determination. Perhaps some were feeling especially powerful and self-confident. Surely others were simply thinking about not slipping in the water while keeping their gaze focused on the bank of photographers at the end of the runway. Some most definitely looked as though they were willing themselves not to shiver.
None of the big brands showing in this city has its aesthetics so tied to the sexuality of women. Dior casts its gaze on beauty. Chanel tangles with independence and liberation. Louis Vuitton's history dates back to trunks, luggage and travel. Hermes is focused on craft. Saint Laurent, with all of its cultural stature, speaks most directly about the glory of the female body.
Yes, the female form is beautiful. It's inspirational. But what has it inspired? And has that been empowering to women or simply satisfying to men?
 — The Washington Post 
Share this: